On the market for a new TV but not sure which to get? Then you'll want to check out our best TV buying guide.
Shopping for a TV is pretty tricky, first you have to pick that resolution you want – which thanks to the arrival of the Samsung QE85Q900R now includes 8K as an option.
Then you have to decide if you want to invest in an HDR-ready TV. After all that you have to then shop around to find a model that will fit into your budget. To help streamline the process we created a definitive list of the best TVs we've currently reviewed.
If you're not on a strict budget then the Panasonic FZ950/FZ952 is the best overall TV available and offers gorgeous accurate picture quality.
If you don't want to break the bank and aren't dead set on getting an OLED TV, then the Samsung MU7000 is the best value TV money can buy.
If neither of these tickle your fancy there are plenty of other great TVs up for grabs, including the stellar Samsung Q9FN, Sony AF8 and LG C8 . Scroll down to a full list of the best TVs we've reviewed.
How we test TVs
Our crack team of TV reviewers use both their naked eye and specialist tools to check every set they test for contrast, black level, maximum brightness and input lag, plus any hint of backlight bleed, blooming or anything else that might spoil your viewing enjoyment. A variety of test footage is used to cover every type of scene, so we can assess a TV's strengths and weaknesses, as well as how it performs against the competition. Sound quality isn't forgotten, either – we give the built-in speakers a thorough listen to determine whether you'll need to invest in a soundbar or speaker system to beef things up.
Get a free Xbox One X when you buy any Samsung QLED TV and Soundbar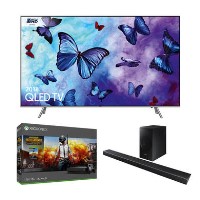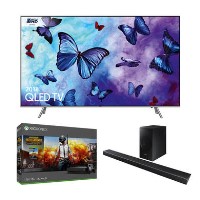 With the combination of 4K TV, Soundbar and a free Xbox One X this deal is a gamers dream. With prices starting from £1600 or £50 a month. Running til the 13th November

Panasonic FZ950/FZ952
Pros:
Gorgeous, accurate pictures

Powerful sound

Good smart interface

Good app support

Light-up remote
Cons:
Some of the menus could use a facelift
Years ago, Panasonic was top dog. And then the plasma TV industry died and the company lost its edge. After that, Panasonic poured its plasma experience into developing OLED, and the results are so good that professional colourists in Hollywood use them to grade movies.
The Panasonic FZ950/FZ952 OLED is one of those TVs. In 2018, you won't find an OLED TV with a more natural picture, or one more close to the stuff that filmmakers play with before release. New for this year is a dynamic Look-Up Table – a map telling the TV where to put colours – which optimise the picture every 100 milliseconds. The result is more precise colour handling, especially in midtones and highlights.
Samsung MU7000
Pros:
Good brightness and contrast
Strong shadow detail
Intuitive smart TV interface
Cons:
Limited viewing angles
Black levels could be deeper
The UE49MU7000T is a 49-inch 4K LCD TV from just above the middle of Samsung's 2017 range. It doesn't get Samsung's new QLED technology, with its ground-breaking brightness and colour properties, but it does feature Dynamic Crystal Colour technology based on Samsung's 2016 flagship TVs, along with a claimed peak brightness of 1000 nits.
Having dropped in price since its release to well under the £1000 mark, it's a compelling option for those wanting 4K HDR on a budget. It's well built, easy to set up and has a great smart TV system with all the services you could want.
Its picture performance is where it really shows off what it's made of though, and we like what we see. It'll go bright for a mid-range TV, which means it can give HDR a good go, though blacks don't go quite as deep as further up the range.
Colours look natural and subtly blended, and both 4K and 1080p images are sharp and detailed. For the money, it's one of the most appealing TVs Samsung has released this year.
Buy now: Samsung MU7000 for £640 from Amazon

Samsung QE85Q900R
Pros:
Native 8K pictures are like nothing you've seen before
Brightness and colour are out of this world
The upscaling processing makes 4K look better than it does on 4K TVs
Cons:
Some occasional backlight issues
Some occasional colour fading issues
Sound is a little swallowed
A lot of people still haven't made the jump to 4K. But that hasn't stopped Samsung from jumping the shark and releasing a full-fat 8K TV. This may make the catchily named Samsung QE85Q900R sound like a marketing stunt, but having gotten our mits on the giant 85-inch telly, you can colour us impressed.
Though there isn't much commercial 8K content on the market, the Samsung QE85Q900R can expertly upscale 4K and even 1080p content, making whatever you play on it look instantly better in the process. It's also the brightest TV we've ever seen with a peak max of 4800 nits (in Dynamic mode).
The only downside, outside of the lack of true 8K content to enjoy, is the Samsung QE85Q900R's eye watering £15,000 price tag.
LG C8
Pros:
Sharp and colourful picture

Excellent upscaling

WebOS still rocks

Low input lag
Cons:
Motion could be better

Better suited to darker rooms
LG did extremely well in 2017, but the company has managed to surpass itself. The LG C8 OLED is armed with the new Alpha 9 processor, and ends up with a brighter picture plus better sharpness, noise reduction and colour management.
Black levels are perfect as always, but there's more detail in the shadows. Meanwhile, brightness levels are high enough to make for a properly dynamic picture. Unless you're viewing in sunlight or a very bright room, it's very hard to make the suggest OLED isn't bright enough – LG has completely torpedoed that argument.
If that weren't impressive enough, there's also an excellent game mode with low latency. This is easily one of the best TVs 0f 2018.
Samsung Q9FN QLED
Pros:
Gorgeous brightness and colours

 

Impressively deep blacks

 

Full-array local dimming

 

Lovely finish
Cons:
Not quite OLED levels of shadow detail
The Samsung Q9FN is a truly brilliant telly. This is the best performance we've ever seen from an LED LCD, thanks to the use of a direct backlight with full-array local dimming, plus some very effective dimming algorithms. Samsung made a lot of its QLED TVs (Quantum Dot LED) in 2017, but 2018 is the year it really shines.
Usually in TV land you choose to prioritise light performance (LCDs) or low-light performance (OLEDs). There are LCDs that offer decent shadow detail, or OLEDs that offer great highlights, but there just hasn't been a TV that excels in both extremes. Until now, that is.
The Samsung Q9FN offers astonishing levels of brightness and colour, but it also has properly deep blacks that generally have no business  on an LCD TV. The result is a hugely versatile picture: whether you want to watch films in a darkened room or put on the football with the lights blazing, this will do nicely.
The biggest surprise is the reasonable price tag – this flagship telly costs £3799 at 65 inches, which puts it in direct competition with some of LG's more affordable OLEDs.
If you want a more affordable option, keep an eye out for the Samsung Q8DN, which has fewer dimming zones but comes at a lower price tag. We'll be reviewing that one very shortly.
LG B7 OLED
Pros:
Unrivalled blacks and contrast
Improved shadow detailing
Vibrant yet accurate colours
Supremely low input lag
Cons:
Imperfect motion processing for interlaced broadcast
Peak brightness insufficient for impactful HDR
If you've been looking to buy a 2017 OLED but have been waiting for prices to drop, this is your chance. The LG 55OLEDB7 is the least expensive in the range, and it's now even cheaper thanks to some fairly sizeable price drops.
It's as big a bargain as £1699 can ever get you, because the picture performance is almost identical to its £4000 sibling, the LG OLED65E7V, save for the lack of built-in soundbar. And most people buying a TV at this level would likely be considering a separate sound system anyway.
Picture quality is nothing short of stunning, and makes it one of the best performing sets this year, not to mention one of the best value. Contrast is outstanding, detail levels are high, and colours are vibrant but believable. It was a great TV at its review price – now, it's a steal.
Buy now: LG B7 OLED for £1,499 / $1,597 from Amazon
Sony A1 (KD65A1)
Pros:
Outstanding picture quality
An innovative sound system that works
Gorgeous design
Cons:
Expensive
Uninspiring remote
If we had a prize for most unusual TV design, this would win it.
The Sony A1 isn't just an OLED TV – Sony's 'Acoustic Surface' technology does away with speakers entirely and shakes the screen to make sound. And it totally works.
Crazy sound systems aside, Sony's first commercial 4K OLED TV is a huge success, with bags of fine detail, lovely colours and class-leading motion handling. It's a bit on the pricey side, but if you want something that can show off what TVs are all about in 2017, this will do nicely.
This here is the 65-inch version, but it also comes in 55 inches.
If you're not keen on that leaning design, check out the Sony AF8 OLED, which is the same TV in most respects, except for a more conventional design.
Buy now: Sony KD65A1 for £3,599 from John Lewis
Samsung QE55Q7F
Pros:
Bright with lovely colours
Strong contrast
Premium build and design
External connections box
Cons:
Occasional lighting issues
Expensive
Samsung's QLED range is the best the company has to offer this year, and the Samsung Q7 is the most affordable option. It boasts a peak brightness of up to 1500 nits – up from the 1000 nits offered by last year's best. It's not just brighter, Samsung has also worked hard on colour.
This QLED series is a new take on Samsung's existing Quantum Dot technology. The Quantum Dot crystals have been wrapped in a metallic alloy, with the aim of improving contrast and vibrancy. It totally works, giving you some seriously lush and bright images that OLED screens aren't capable of. The downside, however, is that dark-room performance isn't amazing – there are some noticeable lighting uniformity issues that you'll spot in blackened rooms.
Still, for those who like to watch TV with the lights up, you'll struggle to find anything more impressive. Well, except perhaps the brightest and biggest QLED model, the QE65Q9FAM.
Buy now: Samsung QE55Q7For £1,048 from Amazon
Panasonic TX-65EZ952B
Pros:
Class-leading colour accuracy
Perfect blacks with excellent shadow detail
Low input lag
Cons:
No Dolby Vision support
HDR could do with a little more impact
Panasonic took a break from OLED in 2016, but this year it's back. Everybody seems to be handling OLED differently this year, but Panasonic is taking the no-nonsense approach. It's not the most fancy of designs – gone is the strokable Alcantara back of the CZ952 – but you do get the most natural, believable colours available on an OLED TV this year.
If that's not enough for you, check out the Panasonic EZ952's stablemate, the EZ1002 – that's the professional option, with USB 3D lookup tables, a Technics-tuned soundbar and an extra filter to catch reflections. That's a lot more expensive, mind. For most people, the EZ952 will be plenty. It's available in 65 and 55 inches.
Buy now: Panasonic TX-65EZ952B for £2,899 from John Lewis
Panasonic TX-58DX802
Pros:
Stunning SDR and often gorgeous HDR playback
Excellent sound quality
Eye-catching design
Cons:
Some backlight flaws with high-contrast HDR images
The design could be divisive
Limited effective viewing angle
Panasonic hasn't given us any of its upper-midrange LCD TVs yet, but while we wait there's this. The 58-inch Panasonic TX-58DX802 sits towards the top of Panasonic's 2016 TV range, and is nothing if not different. Its 4K/UHD, HDR-capable screen is mounted in a seriously striking easel-type stand. Rather than trying to fit speakers into its slim frame, it ships with an external soundbar.
Colours look absolutely beautiful for most of the time, with both HDR and SDR content. The wide colour gamut we're now routinely getting with HDR content is delivered with bags of impact. The addition of the soundbar helps to deliver one of the best out-of-the-box sound performances of any TV we've tested in the past year. It's particularly strong at outputting bass that's far beyond the capability of the speakers built into typical mainstream flat-screen TVs.
With its striking design, seriously impressive sonics and mostly lovely UHD and HDR picture quality, the TX-58DX802 does more than enough to justify its £1600 asking price.
Buy now: Panasonic 58DX802 for £799 from John Lewis
Philips 55POS901F/12
Pros:
Gorgeous design
Mostly outstanding picture quality
Decent sound quality
Cons:
Can be complicated to use
Uses a 2016 OLED panel
Input lag slightly high
Philips operates on a different timetable to the other manufacturers, leisurely releasing this TV at the end of 2016, way after everyone else had their products on the market. It's possible the company took that time to learn about the competition, because this OLED TV is the most impressive one to come out of 2016.
It uses LG's OLED technology, but the processing that Philips added on top makes for a picture that's more detailed, subtle and overall more impressive than LG's own efforts. On top of that, you get Philips' own Ambilight technology, which projects light on the wall behind the TV. It's supposed to make for a more comfortable viewing experience.
The Philips 901F doesn't have the latest OLED specs, and 2017 models are definitely a step up, but it does have price on its side.
Buy now: Philips 55POS901F/12 for £1,925 from Amazon
Hisense H70NU9700
Pros:
Great size:price ratio
UHD Premium
Impressive contrast
Good smart TV interface
Cons:
Colours could be more natural
Other UHD Premium TVs are more subtle
The Hisense H70NU9700 is a 70-inch monster. But it's not only massive, it's the company's first UHD Premium TV. That means it meets the minimum requirements to be considered a next-gen TV. It's capable of up to 1000 nits of peak brightness, and it can handle HDR with its 10-bit panel.
It's not nearly as refined as the best from the bigger TV brands, as colour accuracy could be better, but contrast and lighting uniformity are very impressive for an LCD TV.
If you're looking to upgrade to a huge screen and you're not too picky about your colours, £3000 gets you a lot of TV for your money.
Sony KD-65XF9005
Pros:
Excellent contrast for a mid-range TV
Impressive colours and sharpness
Class-leading motion processing
Cons:
Android TV is still a clumsy smart TV system
Occasional backlight blooming around bright objects
Limited viewing angles
Sony is the first to bring its 2018 stock to market, and it's starting strong. Curiously, rather than going big with its flagship model, Sony has decided to focus on its upper-midrange model: the Sony XF90. It's a smart move, because these TVs aren't hugely expensive, so they're more likely to sell.
Sony has decided to make the XF90 a direct-lit model. That's a rare treat these days: direct backlighting with local dimming is far superior to the common edge-lit/zonal dimming configuration. If you want good contrast and those top OLED models are just out of your price range, this is well worth checking out.
Buy now: Sony KD-65XF9005 for £2,299 from John Lewis
Those are our top picks of the best TVs. If you want to know more about what to look out for when buying a TV then read on.
TV Jargon Buster
Full HD vs 4K/UHD
Most TVs are Full HD, which gives you a resolution of 1920 x 1080 pixels. These are gradually being overtaken by Ultra HD (commonly known as UHD or 4K), which gives you a resolution of 3840 x 2160.
That's four times the number of pixels, crammed into generally the same TV sizes. It means greater sharpness, detail and clarity.
There used to be a real lack of 4K content, but these days there is plenty to stream from Netflix and Amazon Video – and you can buy 4K Blu-rays. Read our guide: What is 4K TV and Ultra HD?
HDR TVs
HDR stands for High Dynamic Range. Essentially it promises a wider range of brightness, colour and contrast – because your eyes can perceive more information than TVs have traditionally been able to display.
There's not much content mastered in HDR yet, but there is plenty on the way – this is the next big thing in the world of TVs. Read our guide: What is HDR TV?
LCD/LED vs OLED vs QLED
Plasma TVs are no more, so most TVs are either LCD (often referred to as LED) or OLED.
LCD is the most common, though there's a big difference between the cheapest and most expensive LCD TVs due to the types of backlight, panel and processing technologies used.
OLED is a relatively new technology and it's expensive, but it's seen as a natural successor to plasma technology. Unlike LCD, OLED pixels produce their own light, so there's no need for backlighting or edge lighting. Contrast and rich colours are its strengths, although LCD screens are generally brighter. Read our guide: OLED vs LED LCD.
QLED is a tricky one. In the last few years QLED has been used to refer to a theoretical self-lighting technology, similar to OLED. But now Samsung is using the QLED name to refer to its latest Quantum Dot TVs. This is still LCD technology, albeit one with fancy crystals. Consider this a beefed-up version of LCD, rather than an entirely new category.
For more detail, take a look at our guide: What is QLED?
Related: Best TV deals
You may have noticed there are no small TVs in this round-up, and that's because the best TVs only come in larger sizes. If you're looking for a small, typically Full HD-only model, you'll want to look at our Best value TVs round-up.
Also, if you have loyalty to a particular brand make sure to take a look at our ultimate guides:
Which TV takes your fancy? Do you have a preferred manufacturer? Let us know by tweeting @TrustedReviews