We've tested a wide selection of laptops, convertibles and MacBooks. Below are our picks of the best laptops currently available. 
best overall laptop
The new Dell XPS 13 is our pick for the best overall laptop right now. It features the trademark Infinity Edge screen, which means razor-thin bezels, and includes top-notch performance from Intel 8th gen processors.
If you're after a beautiful, no-compromise device the Dell XPS 13 is the best all-round laptop you'll find. But if you're not made of money, featuring above average specs for its price and next to no serious weaknesses, the Lenovo IdeaPad 720S is the best value option.
We've recently reviewed the new 13-inch Apple MacBook Pro 2018, and while it's impressive enough to earn a Trusted Reviews Recommended accolade, ultimately, the high price prevents it from getting full marks.
But before you part with your hard earned cash, be warned, a fresh wave of awesome looking laptops are set to launch in the very near future, especially with Intel's refreshed range of Whiskey Lake and Amber Lake 8th-gen CPUs arriving, bringing along support for gigabit Wi-Fi and integrated LTE (4G) SIM cards.
Other highlights to look forwards to in the laptop world include a new series of affordable Asus Vivobooks, the refreshed Acer Swift range that includes "the world's lightest laptop" and, further down the line, Microsoft's recently-announced Surface Pro 6 and Surface Laptop 2. In the meantime, the Microsoft Surface Go tablet/laptop hybrid is available to buy now, and while that's not the most powerful device out there, for light work and streaming media, it'll satisfy and it's stylish to boot.
We're also expecting Apple to refresh and/or consolidate its MacBook Air or MacBook range later this year too. Should that happen, expect this list to change dramatically.
Best value laptop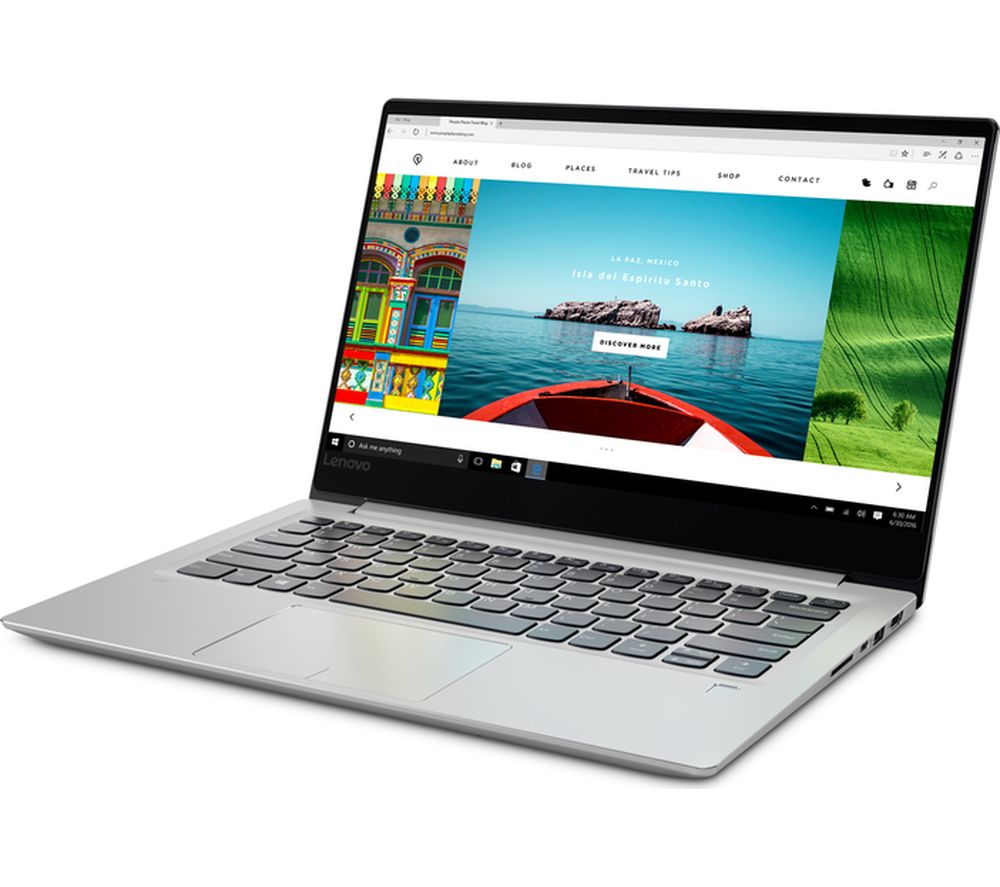 This gets our pick for best value. The IdeaPad 720S won our laptop of the year award for 2017 and for good reason. Considering everything you get for the money, it's outstanding value with great build quality and performance.
How we test laptops 
We put every laptop we test through a set of synthetic benchmark tests to gauge its GPU, CPU and SSD performance. We then test its screen using a colourometer and DispCalGUI. Finally, we run a battery test by synthetically looping 10 minutes of web browsing and five minutes of video playback until it runs out of juice. Afterwards the reviewer uses the device as their primary work and personal laptop for at least a week before giving it a final score.
Dell XPS 13
Pros:
Beautiful design
Great audio
Comfortable keyboard
Solid performance
Cons: 
No full-sized SD card reader or USB ports
Screen not ideal for artists
The XPS 13 is the best 13-inch laptop money can buy right now. It features an improved version of the iconic, near bezel-less design seen on last year's model, a more spacious keyboard and updated new gold and white option that looks outright gorgeous.
It also doesn't compromise on hardware. Kicking off, you now get a 4K resolution, touchscreen option. Coupled with Dell's Cinema optimisations and the laptop's new quad speaker setup the screen makes the laptop an ideal choice for Netflix binging.
Under the hood you'll also get your pick of i5 and i7 Intel 8th gen CPUs and be able to load it with up to 16GB of RAM. The top specced Core i7 CPU, 16GB of RAM version we tested blitzed through our synthetic tests and earned the XPS 13 a place as one of the fastest laptops currently available, in most situations.
The only slight issue is that you're limited to Intel HD graphics. The lack of Iris, or dGPU options mean it won't be able to enjoy even moderate gaming, or edit video in 4K. But considering the fact its cheaper than other laptops with these options, this omission is more than forgivable.
Buy now: Dell XPS 13 for £1,279 from Dell
Lenovo IdeaPad 720S
Pros:
Slim, stylish, all-metal exterior
Great screen
Excellent overall performance
Good connectivity
Cons:
Nvidia graphics not necessary for all
14-inch form factor adds weight
The IdeaPad 720S won our 2017 Best Laptop award at the Trusted Reviews Awards. While its slightly large 14-inch frame means overall weight is relatively high at 1.55kg, this is is still very much an Ultrabook.
It's powerful, with a decent Intel Core i5-7200U processor that's ripe for video and photo editing, along with dedicated graphics from Nvidia. The GPU isn't worthy of the latest games at high resolutions, but if you have a hankering for older titles then it will do just fine.
Battery life is good – we tested at around nine hours – and build quality is excellent for the money. It's more expensive and heavier than the Acer Swift 5, but with the extra screen real-estate and graphics power, it goes a long way to justify itself.
Buy now: Lenovo IdeaPad 720S for £849.99 from Currys

Lenovo Yoga 730
Pros:
Decent power for applications and games
Excellent exterior design
Comfortable ergonomics
Solid screen and speakers
Cheaper than its key rival
Cons:
Dell XPS 15 2-in-1 has more speed
Screen could be a little better
Battery life inconsistent
The Lenovo Yoga 730 is the latest addition to Lenovo's hybrid laptop line-up, boasting a 15.6-inch screen, Intel Core i7-8550U processor and Nvidia GeForce GTX 1050 graphics.
It's a powerful and literally quite flexible machine, that's a compelling (not to mention cheaper) alternative to our current favourite, the Dell XPS 15 2-in-1 – connections-wise, you get two full-size USB 3.0 ports, a Type-C Thunderbolt port and a full-sized HDMI port, which for some, will beat the XPS 15 2-in-1's twin pairs of Type-C USBs.
A 4096-point active stylus comes includes, and there's a slot for that too, and the aforementioned Nvidia GPU (plus 4GB of vRAM) suggests that this is a shoe-in for creatives, too. Unfortunately, the display covers just 84.1% of the sRGB colour gamut, 61.5% of the Adobe RGB gamut, and 68% of the DCI-P3 gamut, which compares poorly to rivals.
Battery life also varies wildly depending on what you're doing. In our looped video test, the Lenovo Yoga 730 gave us an impressive 15 hours of power, which would see you right through most Netflix and iPlayer binges no sweat. When doing something intensive, like gaming, we saw between 1-2 hours.
Buy Now: Lenovo Yoga 730 at Amazon from £949 

MacBook Pro 2018 13-inch
Pros:
Outstanding design and build
High res display with excellent colour, contrast and brightness
Thunderbolt 3 ports
Cons:
Cramped and uncomfortable keyboard
Touchpad depresses awkwardly
Your port options are Thunderbolt, buy an adapter, or go home
Expensive
Apple's recently refreshed range of MacBook Pro's covers a lot of bases, from the 13-inch entry level versions, aimed at photographers and anyone who wants a powerful laptop for general work, to the 15-inch versions that are more geared towards editing and exporting video on the the go.
We've reviewed the highest-end 13-inch MacBook Pro 2018, which features an Intel 8th Gen Core i7 CPU (i7-8559U), 16GB of LPDDR3 (2133 MHz) RAM and a 2TB SSD.
The 2560 x 1600 Retina display is incredibly impressive in terms of detail (227 ppi), colour temperature (6514K) and colour gamut, covering 100% of the sRGB gamut, 84% of Adobe RGB and 98.9% of DCI P3.
Overall performance is excellent, something that's reflected in the high Geekbench scores of 5378 (single-core) and 18885 (multi-core) and Blackmagic read and write speeds of 2631.2MB/sec and 2281.1MB/sec, but not Cinebench (594cb). Real-world testing showed that the 13-inch MacBook Pro could render 4K video quickly in Final Cut Pro, but it took a sizeable chunk out of the battery.
Downsides include a lack of any ports besides Thunderbolt 3 and the overall price of the series. While you do get a level of basic support from Apple's high street stores, and the option of buying these direct from Apple on 0% finance, they're still priced very highly.

Razer Blade 15
Pros:
144Hz display is perfect for competitive gamers

Beautiful design

Solid 1080p gaming performance

Light enough to double as a regular laptop
Cons:
1080p version not great for creatives

Trackpad isn't the best around
The Razer Blade 15 range packs serious high performance gaming prowess into pared-down, near bezel-free streamlined case.
Games and programs load almost instantly. The 144Hz 1080p version is particularly excellent for gaming, though anyone wanting to do some serious photo editing or artwork as well will want to reach for the 4K option. While the 144Hz 1080p Razer Blade 15 does make for a breathtakingly gorgeous gaming experience, it doesn't support the full Adobe RBG gamut.
With Razer wanting £1699 for the entry-level 1080p 60Hz model with an Nvidia GeForce GTX 1060 and £2549 for the top-tier 4K 60Hz with GTX 1070, these prices aren't cheap, but they're also no worse than most competing gaming notebooks.
Regardless of which Blade 15 you opt for, each one has an 8th Gen Intel Core i7-8750H and 16GB of SO-DIMM (DDR4, 2667MHz) RAM – which can be bumped up to 32GB – sitting under the hood.
The noise made by the dual fans is sometimes painfully noticeable, especially after prolonged bouts of gaming, but thankfully, the built in speakers are (normally) loud enough to drown this out – and if fan noise bothers you that much, there are some headsets that'll help with that.
Buy Now: Razer Blade 15 at Amazon From £1,979 /$2,499
Related: Best gaming headsets

LG gram (15Z980)
Pros:
 

Lightweight build

 

Impressive display

 

Long battery life
Cons:
Integrated graphics

Bottom-mounted speakers
The new LG gram 15Z980 notebook is a solid choice for mobile professionals always on the move.
It boasts a seriously lightweight chassis, despite its 15.6-inch size. It doesn't compromise on the specs or build quality, either.
The 15.6-inch IPS panel is as strong as expected from LG, who obviously know a thing or two about eye-pleasing visuals. For a start, the Full HD resolution keeps everything pin-sharp. High-definition movies look great, photos are packed with intricate detail.
Performance is certainly reliable enough for everyday tasks, even at that base clock level. A generous 16GB of DDR4 RAM helps to keep everything running smoothly, even when you have a half-dozen or more apps all active at once.
Even when multitasking non-stop with office apps, browsers and music-streaming software, I managed to get a full seven hours of play time before the laptop gave up. If you dial down the screen brightness and knock off the non-essential features, you'll get even longer.
The slender edges also sport a respectable number of ports. You get three full-sized USB 3.0 connections, plus a Type-C USB for fast data transfer. There's an HDMI port and a microSD card reader, providing plenty of options for hooking up to peripherals and managing your data.
This device is tougher than a tank, while packing some premium components to boot. It's impressive in terms of performance, battery life and build quality.
Buy Now: LG gram (15Z980) for £1.440 / $1,146  at Amazon
Lenovo Yoga 920
Pros:
Versatile form factor

Excellent battery life and good overall performance

Decent stylus included
Cons:
Screen isn't up to pro use

Speakers sound harsh

No card slots
The Lenovo Yoga 920 might not be a huge departure from the old 910, but it's still one of the best Ultrabooks around. The watch-band hinge means the 13.3-inch touchscreen (Full HD or 4K) can fully fold back on itself for tablet use, or into a tent shape for video viewing.
The Full HD screen we tested is good for everyday use, but not up to professional tasks that require wide coverage of the Adobe colour gamut. The supplied Active Pen 2 stylus is excellent, though.
Thanks to Intel's 8th Gen i5 and i7 processors, performance is really impressive, too. But the headliner is the battery life – this is one of the few laptops that could get you through a full working day without charging.
Add to that a beautiful design and premium build quality and there's not much to dislike – unless you're a creative pro or want something that'll cope with gaming.
The range starts at an i5-8250U model with 8GB of RAM, a 256GB SSD and Full HD screen.
Buy now: Lenovo Yoga 920 for £1269.99 / $2,014 from Amazon
Asus Zenbook 13 UX331U
Pros
Very slim and light
Strong usability
Well-designed screen
Cons
The Asus ZenBook 13 UX331U is being marketed as 'the thinnest laptop on the planet'. Measuring in at a meagre 13.9mm thick it's certainly one of the smallest we've tested, only losing out to the even dinkier 9mm Acer Swift 7.
Despite being super thin it packs some solid hardware. You'll have a choice of Eighth Gen Intel Core i5 or i7 CPUs, both of which'll come with 8GB of RAM. Whichever CPU you opt for the combo will power through most everyday offices tasks.
It's 13-inch, FHD screen is above average at this price and coupled with the Zenbook's stellar keyboard and trackpad make the laptop a great choice for any buyer looking for a device that neatly balances portability and performance.
The only downside is that its super thin dimensions mean you only get integrated graphics, which will be an issue for gamers and people that want to edit video or photos on it.
Acer Swift 5
Pros:
Solid performance, quiet running
Pleasingly slim and light
Cons:
A couple of keyboard issues
Integrated graphics
Affordable ultrabooks are normally, at best, a mixed bag. That's why the Acer Swift 5 is such a pleasant surprise. It's one of a select few ultrabooks that delivers in nearly every area, despite costing less than £1000.
Featuring a lightweight design, the Swift 5 comes with a wealth of solid hardware that's sure to meet most users' needs. Highlights include a choice of Intel 8th Gen CPUs, plus an above-average 1080p display.
If you're on the market for a swish, portable, reasonably powerful laptop that won't break the bank, then you should definitely check out the Acer Swift 5.
The only minor issues stopping it from earning our top score are its complete lack of graphics upgrade options, and the keyboard, which doesn't have the best key travel.
Take note, though, the 2018 edition of the Acer Swift 5 – which is rocking Intel's Whiskey Lake CPU – will be launching in Europe this September with a starting price of €999. While there's no UK price or release date just yet, it may still be wise to wait that little bit longer for its inevitable arrival.
Asus VivoBook E200HA
Pros: 
Super-cheap
Attractive design
Slim and light
Good keyboard
Cons: 
Screen is fairly basic
A little slow
Small amount of storage
The Asus Vivobook E200HA is a brilliant little netbook that weighs less than a kilogram but still manages to pack all the features you could want from a budget laptop. With 12 hours of battery life in normal usage and a dinky footprint, this is the most baggable laptop we've ever tested.
With that crazy low price and weight come performance compromises – but if you only use a few browser tabs at a time, you'll be right at home.
Since we reviewed this lovely little netbook, the price has dropped to below £200 at most retailers, although it varies week by week.
Buy now: Asus Vivobook E200HA for £199.99 from Scan
HP EliteBook x360 G2
Pros:
Attractive design
Lots of security features
Good performance
Decent battery life
Cons:
Slower SSD on this model
Stylus costs extra in UK
The EliteBook x360 G2 is one of HP's finest laptops to date and was shortlisted for Best Laptop of 2017 at the Trusted Reviews Awards.
It's very much a business machine, but its price isn't totally out of reach of someone who just wants a premium Ultrabook. Weighing in at just 1.29kg, it's super light. And with its 13.3-inch form factor, you'll have no problem chucking it in a bag to take home from work. It's loaded with security features, too.
Performance is good – although, for the money, the Dell XPS 13 offers more power – and the screen is ready for Windows Ink if you buy it with the optional stylus. The whole package is expensive for a plain laptop, but given its premium design, sturdy hinge and draw-ability, it doesn't seem quite so crazy.
Buy now: HP EliteBook X360 G2 for £1,530 / $1,212 from Amazon
Surface Book 2
Pros:
Excellent performance
Great laptop battery
Improved keyboard hinge
Surface Dial support
Cons:
Expensive
Screen isn't great for artists working in physical media
The Surface Book 2 is the ultimate, money-no-object machine in Microsoft's current hardware lineup.
It sits above the company's regular Surface Pro convertible and brings with it a number of great upgrades. Chief of these is an improved keyboard dock that not only uses a physical hinge to the tablet, but also adds a sizable secondary battery and optional dedicated GPU.
The secondary battery let the top-specced 8th-Gen Intel i7, 1TB Surface Book we tested survive an amazing 16 hours running our standard Powermark test – which synthetically loops five minutes of video streaming and 10 minutes of web browsing with the screen set at 150 nits.
The score puts it a cut above most competing Ultrabooks when it comes to battery life, but it's the secondary GPU that really sets it apart. The GPU makes the Surface Book 2 powerful enough for light gaming, video editing, CAD design and large-scale digital photography and painting projects, despite the Surface Book 2 being small enough to fit in even the smallest of satchels.
The Surface Book 2's support for the Surface Dial and Surface Pen stylus further aid the device's allure for power users and creatives. The improved Surface Pen can detect a whopping 4000+ sensitivity levels, and the Surface Dial makes it quick and easy to adjust tip sizes or blitz between active layers in Photoshop.
The only downside is that its slightly lacklustre Adobe RGB coverage limits its appeal to creatives who need true colour accuracy. But for everyone else, the Surface Book 2 is a seriously impressive piece of kit.
Buy now: Microsoft Surface Book 2 for £1,830 / $2,562 from Amazon
Surface Pro
Pros:
Best battery life on a Windows convertible
Robust performance
Most sensitive Surface Pen to date
Full-fat Windows 10 is great for creatives
Cons: 
Very expensive
Not a huge upgrade over the Surface Pro 4
If the Surface Book 2 is above your price range then the Surface Pro 4 and New Surface Pro', both remain good deals. The newer model is more powerful and its Core m3 and Core i5-powered editions are fanless, meaning they run completely silently.
Both machines are similar, requiring some fairly pricey upgrades to turn them into proper laptops – namely, a TypeCover keyboard and a Surface Pen for taking notes and doodling.
You pay a premium for the 2017 Surface Pro, but it offers better battery life than its predecessor and the rest of the 2-in-1 competition. It's a superb choice, but not a no-brainer upgrade for someone who already has a Surface Pro 4.
Dell XPS 15 2-in-1
Pros:
Excellent performance, even when gaming
Solid build quality
Fantastic keyboard
Amazing screen
Cons:
Very loud when running intensive processes
Battery life could be better
If you're after a power-house 15-inch laptop that can do everything from video editing to lightweight gaming, then you'll want to check out Dell's XPS 15 2-in-1.
The convertible is one of the first laptops to run one of Intel's G-series chips. The chips are the result of an unprecedented between Intel and its arch-rival AMD. Specifically, the chip combines Intel's CPU architecture with AMD's Vega graphics.
The combination works a treat and means the XPS 15 2-in-1 is a powerhouse machine that can match laptops with discrete GeForce 1050 graphics on performance.
Add to this its top notch 4K screen and foldable, Yoga-like, hinge mechanism and the XPS 15 2-in-1 justifiably earns its place as one of 2018's best laptops.
Buy now: Microsoft Surface Pro for £791 / $1,164 from Amazon
Those are our top picks of the best laptops. If you want to know more about what to look out for when buying a laptop then read on.
How much should I spend on a laptop?
What you decide to spend on a laptop will be determined by what you're likely to want to use the laptop for. If you simply want to do a bit of web browsing and send and receive a few emails then a cheap 11-inch netbook or Chromebook for under £200 will do the job. Though be warned most Chromebooks are compromised devices with below average hardware, so you won't get the best user experience out of them.
Saving up for a more expensive laptop that can undertake a greater number of tasks at once will generally be worth it if you don't need the ultimate in thin and light budget machinery.
Want something a little bigger? You can pay between £300 and £400 for a 15.6-inch laptop powered by an Intel Core i3 processor that's powerful enough to carry out the basics without slowing to a crawl. It will even handle a little Minecraft and photo editing.
If you want something thin and light, expect to spend upwards of £500 for a sub-1.5kg laptop. Powered by efficient dual-core Intel Core i5 and i7 processors, these machines are suitable for light photo and video work and should last all day on a single charge if they're not pushed too hard. If you want premium build and a great screen, expect to pay at least £1,000.
You'll need to spend at least £700 on a gaming laptop, and considerably more if you want to future-proof it. Look for "discrete" or "dedicated" graphics from AMD or Nvidia, and check online benchmarking figures to see how well your favourite games will play.
There are alternative form factors, too. Two-in-ones have reversible screens that can be versatile in small spaces, while tablet hybrids are great for drawing and taking notes. The latter often come with attachable keyboards for when you want to get typing work done.
What's the best operating system?
Windows 10 remains the most versatile operating system around, and you'll find it on the vast majority of laptops sold in the UK. However, if you're buying a cheap laptop, Google's ChromeOS is likely to be a better bet. It's lightweight – it's essentially a glorified web browser – but with so many excellent web-based applications now available, most people on a budget will be able to get by with just that.
MacOS is tied into MacBook laptops, so you'll always pay a premium to get Apple's operating system. It's undeniably slick, smooth and reliable, so if you have the money then it offers a better experience than Windows for many people.
Don't want to pay the Windows tax? Some laptops now sell with Ubuntu Linux installed. This free OS is powerful if you know what you're doing, and it has the advantage of costing next to nothing.