Want a list of all the best monitors? Well you're in luck, as we've tested all the monitors we could find to offer a comprehensive guide of the greatest currently available.
best overall monitor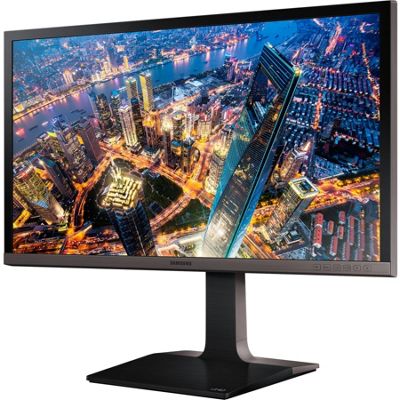 This gets our pick as the best overall monitor for a number of reasons. Chief among them is its versatility: it's a great monitor for work, entertainment or gaming. It also supports AMD Freesync for smoother gaming and impressively low input lag. It also has a lovely stand design.
Before you rush to buy a monitor, keep in mind multiple swish new ones, like the entertainment focused Philips 436M6VBPAB,  have just been unveiled and are set to hit the market in the very near future. As a result it may be worth holding onto your pennies to see how they perform.
But if you're on the market now then the Samsung U32E850R is the best all-round monitor we've tested, featuring wonderfully accurate colours, 4K resolution panel and insane maximum brightness. If you're after something a little less expensive the Dell U2417H is the best value monitor around, though its low ppi will put off most creatives. Similarly, our current joint Best Value winner, the ViewSonic XG3240C, offers a number of high-end features for a great price, but oversaturated colours may put off photographers, designer and digital painters – if you fall into this category, make sure to scroll down to the bottom of the list to check out our current picks of the best professional monitors.
We've also recently reviewed the Asus ROG PG27UQ, one of the first 4K HDR 144Hz gaming monitors to hit shelves, and it's seriously impressive. More UHD high dynamic range-supporting monitors with high refresh rates — like Acer's Predator X27 — have recently gone on sale, so expect a lot of activity in this section of the market.
We don't just review static monitors either. Portable 'mini' monitors, like the AOC I1601FWUX, are a growing segment. These are aimed at hotdeskers, freelancers and students – literally anyone who uses a laptop but could do with a cheap second screen when they're between appointments, meetings and lectures.
How we test
For our reviews we use a combination of our own intuition and experience along with more quantitative tools. These include the X-Rite i1 Display Pro colorimeter for getting brightness, contrast and colour accuracy readings. We also use this tool to calibrate screens to see what they're capable of at their absolute best. We also use a Leo Bodnar input lag tester to see how suitable each panel is for gaming.
Samsung U32E850R
Pros: 
Good overall image quality
Freesync makes it great for gaming
Superb for watching video as well as working
Tidy design with excellent stand
Solid set of features and connectivity
Cons:
So large that corners suffer viewing angle issues
Slightly too small to run at full resolution
Image quality is a touch below the best sRGB options
No 32-inch 4K monitor is going to be cheap, but considering how much you could spend, the Samsung U32E850R is great value. And boy is it a great monitor for any occasion, be it work, entertainment or gaming.
While it only has a 60Hz refresh rate, AMD Freesync tech ensures smooth gaming sessions. The 9.57ms input lag is impressively low, too. Excellent colour accuracy, 98% sRGB coverage and a 0.09 nit black level are all pretty good. A contrast ratio of around 800:1 is nothing special, but it's good enough.
Combined with endless features and excellent stand design, it's a great option for switching to 4K.
Buy now: Samsung U32E850R for £884 from Tesco Direct
Dell U2417H
Pros:
Best-in-class image quality

Elegant design

Versatile feature set

Great value
Cons:
Maximum stand height quite low
Only 92ppi
The Dell U2417 is the best mid-range monitor you can buy right now. Packing a 24-inch PLS panel with a Full HD resolution and a great design, there's almost nothing not to like.
It looks great, with an ultra-thin bezel and stylish metallic stand, and that's before you switch it on. It's exceptionally practical, with DisplayPort, Mini DisplayPort and HDMI inputs alongside a DisplayPort output for daisy-chaining, and three USB 3.0 ports, two of which are easy to reach.
Image quality is exceptional. While it's only a Full HD panel – some will prefer a slightly larger 2560 x 1440-pixel resolution on perhaps a 25-inch monitor – it covers 99.6% of the sRGB colour gamut and produced a 1065:1 contrast ratio for easy-to-read text and pretty images.
With its practical stand and excellent image quality, there's not much better for the money.
Buy now: Dell U2417H for £217.99 / $213 from Amazon
ViewSonic XG3240C
Pros:
Large screen for a low price
Good overall image quality
Decent gaming performance
Plenty of features for the money
Cons:
Over saturated colours
Not as good for gaming as IPS or TN displays
The ViewSonic XG3240C monitor offers a lot of for a great price and at £450, and so is on equal footing with the Dell U2417H for our current Best Value pick. 
For your money, you get a large 32-inch 2560 x 1440 screen, a very high contrast ratio (3000:1), 144Hz refresh rate, AMD FreeSync support and a plethora of ports.
HDR10 support is also included on paper, but it's a bit of a mixed bag. The XG3240C uses a VA-type LCD panel, which has a native contrast ratio of 2500:1, compared to the circa 1000:1 contrast ratio exhibited by most TN or IPS-type panels.
Standard definition content is mastered for use with 1000:1 contrast displays while HDR10 aims for 10,000:1. While 2500:1 is some way off, the XG3240C's panel works together with a wide-gamut backlight that allows the display to reproduce a greater range of colours than standard displays – to the point where it can cover 90% of the DCI-P3 colour space used in the HDR10 standard. For this reason, we're calling this "pseudo HDR", not quite the real deal, but still pretty good – excellent, in fact, considering the ViewSonic XG3240C's price.  
The oversaturated colours mean that this monitor perhaps isn't ideal for creative work, but gamers (and it's gamers that this monitor is pitched at) will probably appreciate the high refresh rates, fast (if not fastest) response times and the low, low price. If you're not yet ready to make the leap to 4K gaming, but want a step up from 1080p, the ViewSonic XG3240C could be just the ticket.

AOC X24P1
Pros:
Impressively affordable

Flexible design

Combats glare perfectly

Crisp, accurately reproduced images
Cons:
Not suited to gaming or movies
The AOC X24P1 is one of the best value monitors we've tested in a while. For just over £200 you get a very crisp and vibrant 24-inch monitor which covers 99% of the sRGB, which is ideal for photo editing. The uncommon 16:10 aspect ratio means it's slightly taller than most monitors, making it better suited for writing and document reading, but less so for watching movies and TV shows.
The 50-76Hz refresh rate and the lack of support for Nvidia G-Sync or AMD FreeSync means it's less well suited to gaming and during our tests, we found that built in sound was pretty weak too. Unless you've got some separate speakers, it's not that good for entertainment.
For work purposes however, it's absolutely fine, and the low price, a little north of £200, represents a good alternative to our current Best Value winner, the excellent Dell U2417H.
Asus ROG Swift PG27UQ
Pros:
Fantastic image quality

Superb gaming performance

Stunning HDR

Incredible 4K detail
Cons:
Mind-bogglingly expensive

Still only a 27-inch display

4K resolution too demanding
The Asus ROG PG27UQ is a powerhouse, bringing 4K (3840 x 2160) resolution, HDR support and top refresh rates of 144Hz to the fight.
Games and video content looks sensational, and if whatever it is you're playing or watching supports HDR, it takes things even further.
Competitive gamers will lament that 4ms response time and will likely pass on this for a TN monitor with 1ms, but if you're a more relaxed player (or most of the games you play are solo titles), this won't be an issue. If you've spent ages tinkering with your gaming rig, you've got a GPU set up that can comfortably handle 4K gaming and you want to be able to show off to the world what your baby can do, then this should be at the top of your list of considerations, if not already in your shopping cart. That said, you may also want to wait until Acer's Predator X27 hits shelves to see not just how those two compare, but also see if this triggers a price war.
And we hope so too, because the ROG Swift PG27UQ is not cheap. It's also a 27-inch monitor, meaning those with room for something bigger might want to wait until larger 4K HDR 144Hz displays hit shelves. If you can wait that long…
Considering what it can do, the ROG Swift PG27UQ is not unreasonably priced, but you will be paying a premium for bleeding edge performance. If you're the kind of person who has already dropped a ton on a custom built PC with multiple liquid cooled graphics cards, then this might not be off-putting, but mere mortals will think twice before opening their wallets. 
Samsung C49J89
Pros:
Huge screen
Great for using two PCs at once
Good overall image quality
Good gaming performance
Decent value
Cons:
Almost too big
Almost too wide for gaming
Low resolution for its size
If you're after a super wide monitor then you'll struggle to do better than the catchily named Samsung C49J89. It's a giant 49-inch wide display with a custom 32:9 aspect ratio – that's the same size as two 27-inch monitors sat side-by-side.
The addition of a KVM, which lets you connect a keyboard and monitor to two PCs and switch between them, or see them both in picture by picture modes at the same time make it the ultimate choice for multi-taskers and power users.
It's 1080p resolution isn't the highest around, but the monitor otherwise offers excellent image quality, with highlights including an insanely good 2974:1 contrast ratio and solid 6885K colour temperature.
AOC Q2790PQU
Pros:
Stylish design
Good image quality
Plenty of useful features
Cons:
On-screen menu a bit clunky
Not great for gaming
If you're on the market for a stylish monitor that won't break the bank, then the AOC Q2790PQU is a great choice.
The monitor is one of the prettiest around, featuring a dark, metallic paint job and an uber thin 2mm thick bezel round the edge of the screen. The 27-inch, 1440p monitor also offers excellent image quality. The IPS LCD panel has excellent viewing angles and colours are rich and vibrant, without being too hot or too cold.
The only slight downside is that its 60Hz refresh rate and complete lack of G-Sync or FreeSync make it a poor choice for gamers. However, with pricing starting at a very reasonable £339, these minor issues are more than forgivable.
Buy Now: AOC Q2790PQU for £356 from Amazon
LG 23MP68VQ
Pros:
Stylish slim-bezel design
Great image quality
Better than average for gaming
Has a VESA mount
Great value
Cons:
Wobbly, non-height-adjustable stand
Less than 90% sRGB coverage
The LG 23MP68VQ is our new top pick for a sub-£150 monitor. With a 23-inch Full HD, IPS panel, a stylish design and a smooth 75Hz refresh rate, it ticks all the boxes for a budget monitor. It even manages a few surprises, including FreeSync support and an easy-to-use onscreen menu. You get excellent contrast levels, decent colour coverage and excellent viewing angles as well.
It's not perfect; it won't deliver spectacular colour accuracy and is slightly wobbly on its stand, but at this price it's hard to find anything better. With only one HDMI port, multi-device setups might be a little difficult to set up, but there is at least a VGA and DVI port as well.
Buy now: LG 23MP68VQ for £112.97 / $146 from Amazon
Philips BDM4037UW
Pros:
Good overall image quality
Incredible contrast level
Screen size and resolution ideally matched
Nice design
Plenty of connectivity
Cons:
Colour accuracy not as good as IPS displays
Clunky OSD
Slow response time
Philips is known for its quality TVs and Ambilight tech, but its monitor brand (a completely separate business, licenced to another company) is looking to get in on the action with the TV-sized Philips BDM4037UW.
Standing at a mighty impressive 40 inches with a slight curve, this is the ultimate TV replacement for those who want big-screen computing with a side of 4K video streaming.
Covering almost 100% of the sRGB colour gamut and 85% of the Adobe RGB gamut, this is a high-quality panel that has no huge weaknesses. Our only real complaint is that its actual colour accuracy isn't as good as IPS panels, which leads to some bright colours looking a bit overcooked.
If you're going to be using this screen for console gaming, you'll be pleased with the 12.5ms response time, which is faster than the vast majority of TVs. For mouse + keyboard PC gamers, that will feel a bit lethargic; this isn't a panel for twitchy eSports games.
Budget for headphones or speakers, too, as the built in speakers here are very poor. Otherwise, this is one of the best big monitors you can buy.
Buy now: Philips BDM4037UW for £569.97 / $549 from Amazon
Eizo ColorEdge CG277
Pros:
Unsurpassed colour accuracy
Superb overall image quality
Excellent stand and ergonomics
Easy-to-use built-in colorimeter
Cons:
Connectivity is limited
Contrast is a touch low
A big ugly brute of a display
Eizo has long set the standard for professional monitors and the ColorEdge CG277 is one more reminder why. Not for Eizo things like 4K as this 27-inch monitor is QHD, but it has all the features required for outstanding colour accuracy.
It offers 99% coverage of the sRGB, Adobe RGB and DCI-P3 colour spaces and features a built-in colour calibration sensor. It also uses a 16-bit lookup table, which means it can display 1.097 billion colours from a palette of 278 trillion.
Basically, if you're doing anything colour critical, get yourself one of these.
Buy now: Eizo ColorEdge CG277 for £2,037 / $2,447 from Amazon
Those are our top picks of the best monitors. If you want to know more about what to look out for when buying a monitor then read on.
Monitor Buying Guide – Jargon Buster
Brightness (luminance) – This is simple enough, but it's worth knowing that brightness is measured in 'nits'. Many monitors boast a maximum brightness of 300 nits or more, but it's normally recommended to use a monitor at about half that much to avoid eye strain.
Black level – This is also measured in nits, but refers to how 'black' a monitor can appear. The lower the number, normally around 0.5 nits or less, the better. A low black level is particularly important for enjoying high definition films and TV.
Contrast ratio – This is the difference between the darkest and brightest peak of a monitor and is expressed as a ratio. A contrast ratio of 1,000:1 is considered good, but the higher the better. Anything less than 800:1 is average.
Input lag – This is something that mainly impacts gamers as it's the difference in time between you moving your mouse and the action appearing on screen. We test this on all monitors, but it's only a concern if you play fast games like first person shooters.
Resolution – What's the difference between Full HD, Quad HD and 4K?
Resolution is one of the most important things to consider. It refers to how many pixels make up the screen. For example, a Full HD monitor – which is the same resolution as most TVs – will have 1,920 horizontal lines of pixels and 1,080 vertical lines.
The higher the resolution the sharper your monitor will appear. A higher resolution also means you can fit more on a single screen, so you can view windows side-by-side at the same time.
Just remember that the bigger the screen the less sharp it will appear, so it's better to have a higher resolution on larger screens of 27-inches and above.
There are three common monitor resolutions:
Full HD – 1,920 x 1,080 – Best for 24-inch monitors and below
Quad HD – 2,560 x 1,440 – Best for 27-inch monitors and below
4K / Ultra HD – 3,840 x 2,160 – Best for 27-inch monitors and above
Further reading
We have lots of extra information on monitor technology and how to choose what's best for you. If you're looking for a gaming screen, check out our guide to refresh rates. Want to know more about how colour coverage is measured, check our guide to colour spaces. Finally, if you're curious about the differences between IPS, VA and TN screen panels, take a look at our screen technology explainer.