What is the best smartwatch to buy in 2018?
Right now, the Apple Watch Series 3 is the best smartwatch, but it's only an option if you're an iPhone user. Our best value recommendation would be the Mobvoi Ticwatch S, which has dropped in price considerably since we first reviewed it.
There's also a load of new watches coming soon. The recently announced Apple Watch 4 and the Skagen Falster 2 are leading the pack.
How we pick the best smartwatches
The best way to test a smartwatch is to simply wear it every day, so that's exactly what we do. Taking the time to test a smartwatch over a prolonged period allows us to get a feel for a multitude of elements. At a basic level, we get an idea of comfort – not all smartwatches are pleasant to wear, especially if they're big and heavy.
best overall smartwatch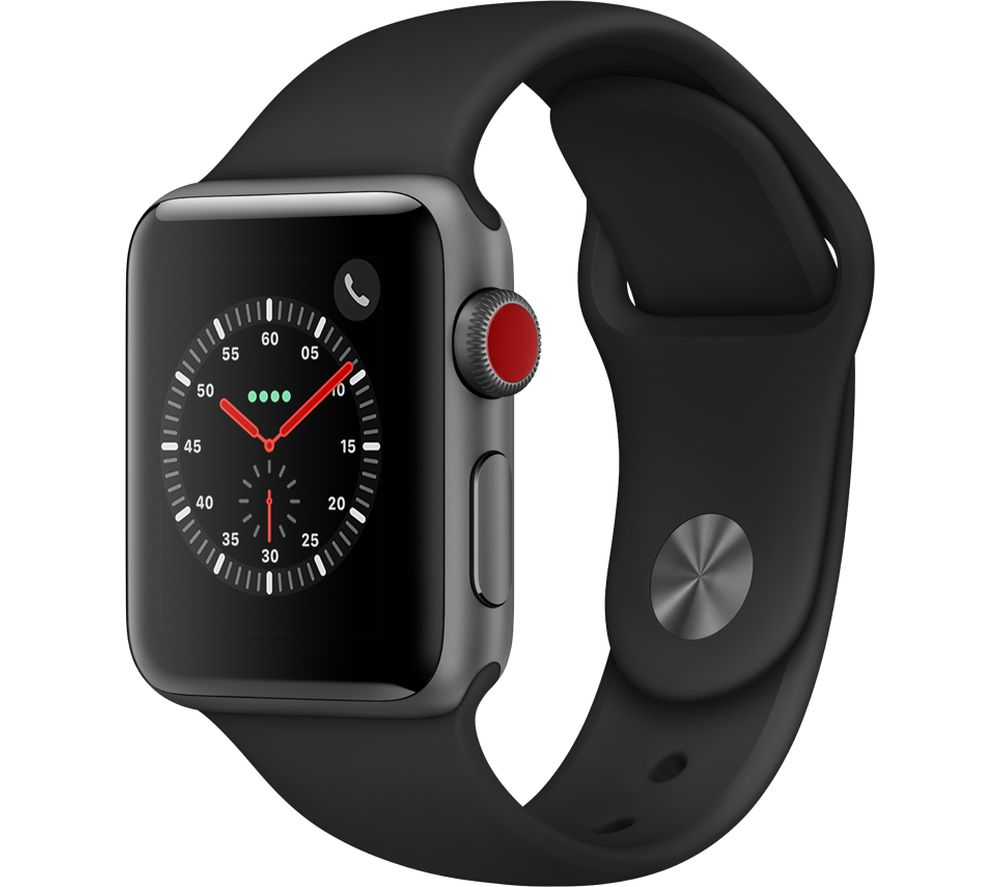 Our pick for the best overall smartwatch is the Apple Watch Series 3. But the important caveat being that you'll need to be an iPhone user. The Apple Watch delivers the best combination of well-developed smartwatch functions alongside new sports-friendly tracking.
The quality of the materials used should also be a consideration – for the straps, for example; otherwise, you'll have to factor in swapping out the straps. Note, too, that some models use only proprietary straps, rather than standard options, so this could be an added expense.
Next up, wearing a smartwatch over an extended period enables us to get a feel for how well it works as a companion to a phone. For instance, how well does it handles notifications? Some smartwatches simply mirror your notifications, whereas others will let you respond directly from your wrist.
best value smartwatch
We've really had to re-assess the Huawei Watch 2 now that it has dropped in price so significantly. If you're an Android user it's now a great choice for the money as it includes plenty beyond just smartwatch functionality. The built-in GPS and health tracking are great extras.
We also need time to get a feel for the apps available. Different smartwatches run different operating systems, so app availability could vary drastically between models.
Many smartwatches now serve a dual function as a fitness tracker and sports watch, so if relevant we also put them through their paces from a fitness perspective.
Finally, battery life is a major consideration. There's nothing worse than carrying around a dead smartwatch on your wrist because it's run out of charge.
Apple Watch Series 3
Pros
Snappy performance

Improved exercise tracking

Super-bright and clear display

Decent battery life (when not reliant on LTE)

watchOS 4 improvements

Apple Pay is still super-useful
Cons
LTE has a big impact on battery life

Needs more dedicated watch apps to make use of LTE

Siri doesn't always work

No LTE roaming
It's no longer the latest smartwatch from Apple, but the Series 3 is still a great buy. And the price is even better on the wallet too, as it now starts at £279.
It builds on the excellent foundations of the Apple Watch Series 2, but improves in a number of important areas.
First, there's now an option of an LTE-capable model allowing for always-on connectivity. This is through the use of an eSIM inside and an antenna cleverly hidden behind the display. The great news is that your Apple Watch 3 will share the same phone number as your iPhone, whereas other LTE-capable smartwatches have required you to juggle two phone numbers. You'll need to pay for an additional smartwatch plan for the functionality, however.
Even if you opt for the cheaper non-LTE model, you still get an upgraded S3 dual-core processor that offers 70% improvements over the S2 in the Apple Watch 2. The W2 wireless chip has also been improved for better wireless performance.
The other upgrade comes in the form of a built-in altimeter. Previously, to get elevation data during a workout you'd need to have your iPhone with you, but now you're set free. This, paired with the built-in GPS, heart rate monitor and the ability to save music from Apple Music offers up a fantastic phone-free experience.
Like the Watch Series 2, the Series 3 is water-resistant to 50 metres and comes complete with swim-tracking.
The watchOS app ecosystem is the most fully developed of all the smartwatch operating systems, meaning the Apple Watch 3 offers the best combination of smartwatch convenience alongside solid fitness tracking and sports applications.
Buy now: Apple Watch Series 3 GPS + LTE 38mm for £349.99 from John Lewis
Samsung Galaxy Watch
Pros
Smart design
Rotating bezel is a clever trick
Great array of fitness sensors
Bright and sharp display
Offline Spotify support
Cons
Lack of apps
Bixby is poor
Samsung Pay support is limited
The Galaxy Watch is the best wearable from Samsung yet. It has an elegant design, vast array of sensor-tech and still impresses with its general smartwatch features.
Apps are something off an issue and aside from the clever Spotify integration there isn't much going on. That can be said about most smartwatches though and even the Apple Watch is losing apps.
Battery life is strong at a couple of days; it's water-resistant to 5ATM and packs a lovely, crisp OLED circular display. There's also multiple sizes and the option to include LTE connectivity if that's something you require.
TicWatch Pro
Pros
Flagship-class feature set
Competitively priced
Excellent battery life
Stylish design
Cons
Limited fitness tracking options
Laggy performance
No cellular option
For under £220, the TicWatch Pro is one of the better Wear OS buys right now. The design is stylish and it boasts pretty much every feature you could want: GPS, NFC and excellent battery life. It's coolest addition though is the display, which features a secondary FSTN panel that'll offer up basic watch features and extend the endurance.
This secondary screen is monochrome and always-on, with the watch jumping to the more traditional full-colour Wear OS face when you raise it.
As with other Wear OS devices the performance is merely so-so. The Snapdragon 2100 SoC is old and needs replacing, giving everything an extra laggy feel. There's also no cellular option and the fitness tracking is limited.
Buy Now: TicWatch Pro for £219 / $249 from Amazon
Mobvoi Ticwatch S
Pros
Comfortable to wear
Big, sharp display
Solid sports tracking
Budget-friendly price
Cons
No NFC
Average battery life
Proprietary straps
Built by Mobvoi, a company founded by ex-Google employees, the Ticwatch S is the best value smartwatch currently available. It's the sporty option in the company's current line-up, sitting next to the more fashion-focused Ticwatch E.
Despite costing a modest £120, it offers a number of great features. Highlights include a comfortable, not too chunky design, super sharp 1.4-inch OLED display and wonderfully smooth performance.
The inclusion of a GPS and heart rate monitor and use of Google's Android Wear OS, also means it can double as a running watch, or entry-level fitness tracker, as well as a smartwatch, which is pretty darned impressive considering its price.
The only minor downsides are its so-so battery life and complete lack of NFC. Though you'll struggle to get these on any smartwatch at this price point.
Buy Now: Mobvoi Ticwatch S for £177 / $199 from Amazon
Huawei Watch 2
Pros
Comfortable and lightweight design

 

Android Wear 2.0 is a big improvement

 

Plenty of sports sensors

 

NFC and Android Pay convenience
Cons
Small display

Thick bezels

Uninspiring design
We've had to revise our view on the Huawei Watch 2, predominantly because its price has dropped so drastically since our initial review. It first launched at £329, but is now readily available for around £200, which makes it a great value combination device offering smartwatch features with sports watch capabilities.
The Huawei Watch 2 was one of the first smartwatches to launch with Android Wear 2.0 (now known as Wear OS), so delivers the handy Google Assistant straight to your wrist. Other improvements include more ways to respond to messages from your wrist, including a new on-screen keyboard. Wear OS doesn't quite rival Apple's watchOS for app support, but it has a decent stable of apps you'd expect.
The Huawei Watch 2 comes into its own if you're looking for a smartwatch that can double as a sports watch, thanks to built-in GPS and a heart rate monitor on its rear. Use the 4GB of built-in storage to save your Google Play Music playlists offline and you can pair Bluetooth headphones for a phone-free experience. The Huawei Watch 2 will work with Huawei's own suite of fitness apps, Google Fit, or other third-party apps such as Strava, offering excellent choice.
Overall, the updated lower price makes the Huawei Watch 2 a much better prospect if you're in the market for a smartwatch, especially if you're an Android user. While Wear OS smartwatches will work with iPhones, the experience is more limited compared to pairing with Android. For this reason, if you're an iPhone user for whom money is no problem, then we'd still recommend opting for an Apple Watch.
Buy now: Huawei Watch 2 for £189.99 / $241 from Amazon
Casio Pro Trek Smart WSD-F20
Pros
 

Plenty of sensors

 

Great hiking features

 

Versatile two-layer screen
Cons
A bit bulky

Typical Android Wear battery life

Low-end CPU
This isn't a smartwatch for everyone, but if you're outdoor-inclined then it might just be the best choice for you. Casio's second Android Wear smartwatch is a serious piece of kit that's been tested against the MIL-STD-810G standard, so you know it's capable of withstanding some serious wear and tear. It's also water-resistant to 50m.
It has all the sensors you might want if you're an avid runner, but it goes so much further. If you're a hiker, you'll love the altimeter, air pressure read-outs, the clock showing the sunrise and sunset times, compass and the indicator of the day's tide levels. You can also download map data for use offline, meaning if you're the Bear Grylls type then you'll be well prepared.
Of course, since this watch runs Wear OS, you can also bolster its capabilities with a raft of apps as well as benefit from having access to the usual smartphone controls.
Buy now: Casio Pro Trek Smart WSD-F20 for £450 / $399 from Amazon
LG Watch Style
Pros
 

Attractive and slim design

 

Slick Android Wear 2.0 performance

 

Bright and sharp display
Cons
Weak vibration motor

Average battery life

No NFC
The LG Watch Style was announced alongside the sportier LG Watch Sport, and both smartwatches were the shining lights to showcase Google's new Android Wear 2.0 operating system.
While the Watch Style lacks many of the sporty features of the Watch Sport, it's far sleeker for it; it's one of the slimmest Android Wear watches available. Pair this with its rotating crown for interacting with Wear OS and it makes for one super-attractive smartwatch.
Of course, Wear OS brings a raft of improvements, including much better handling of notifications, an on-watch keyboard for responding, and Google's clever Assistant for interacting. If you don't need advanced sensors such as GPS for sport, the LG Watch Style is a great choice.
Buy now: LG Watch Style for £229 from Argos 
Samsung Gear Sport
Pros
Accurate GPS/GLONASS

Rotating bezel interface is still great

Spotify offline playback

Good activity tracking
Cons
Shortage of Tizen apps

No Bluetooth HRMs

S Voice is forgettable

Limited Samsung Pay support
The Samsung Gear Sport is, as the name implies, a sportier approach to the Samsung Gear S3.
It's a smaller smartwatch and so will be suitable for a greater number of people compared to its bigger sibling. It shares many of the best elements of Samsung's other Gear smartwatches, including the excellent rotating bezel that makes navigating intuitive without obscuring the display.
It also has an excellent AMOLED display with vibrant colours. The Gear Sport is water-resistant to 50 metres, which makes it more resilient than the Gear S3 and on a par with recent Apple Watch models.
As you'd expect, it has GPS and GLONASS alongside a heart rate monitor to bolster its fitness credentials. Other features include offline Spotify support, which is great for anyone who wants music without having to carry along their phone. Tizen is currently the only watch operating system to offer offline Spotify, too. Unfortunately, Tizen app support is otherwise lacking compared to rivals.
We're now left wondering how Samsung's forthcoming Samsung Galaxy Watch will handle.
Buy now: Samsung Gear Sport for £285 / $229 from Amazon
Samsung Gear S2
Pros
Bright, sharp display

R

otating bezel is the best wearable feature yet
Cons
Tizen is limiting

Expensive for what you get

Poor, slow voice search
Now that the Samsung Gear S3 has been released, the older Gear S2 is much cheaper. In many respects, we still prefer it over the much chunkier Gear S3, even if it does lack many of the sensors that will appeal to outdoor adventurers.
The Gear S2's 1.2-inch circular screen has a 360 × 360 resolution and uses AMOLED tech, making it one of the sharpest and most vibrant displays available on a smartwatch. The rotating bezel is also one of our favourite methods of interacting with a smartwatch, as it means your fingers don't obstruct the display.
Add to this solid two-day battery life and the Gear S2 becomes one of the best smartwatches around, at least from a hardware perspective.
Its only drawback is its use of Samsung's own Tizen OS. Tizen is a custom OS that's based on Linux. On paper it's pretty good, letting you pair the Gear S2 with any Android smartphone, not just Samsung Galaxy phones. But it's nowhere near as developed as Wear OS, which itself isn't perfect. There aren't nearly as many apps available as the Wear OS app store, but the core functionality is at least present from what is available.
Buy now: Samsung Gear S2 for £237 / $177 from Amazon
Polar M600
Pros
Comfortable to run with

Accurate GPS and HRM

Water-resistant

Wear OS
Cons
Silicone strap picks up lint and fluff

Poor-quality display

Charging is slightly fiddly
If you're looking for a sports running watch that serves double duty as an Android Wear-powered smartwatch, take a serious look at the Polar M600. While it isn't the most stylish-looking wearable around – it looks like a sports watch – it will happily stand up to some serious workouts thanks to its rugged IPX8 water-resistance rating.
With GPS to track your distance and pace and a heart rate monitor, it ticks all the boxes for serious runners looking to improve their performance. All of the data pulls into Polar's Flow app, so you can keep tabs on your exercise routine.
Android Wear is the icing on the cake, meaning there's a good selection of apps and smartwatch functionality. The great news is that the Polar M600 is among the list of confirmed smartwatches receiving the Android Wear 2.0 update, too, so you won't feel left behind.
Buy now: Polar M600 for £217 / $289 from Amazon
Those are our top picks of the best smartwatches. If you want to know more about smartwatches and what to look out for when buying one then read on.
Best smartwatches – Which operating system?
Currently, there are three big smartwatch operating systems: watchOS from Apple, Wear OS from Google and Tizen from Samsung. Fitbit is a relative newcomer to the smartwatch space and has its own Fitbit OS, but so far none of its smartwatches has made this list. A big reason for this is the lack of app support.
That's what you'll want to consider when picking your smartwatch. Right now, watchOS is by far the best supported for apps, followed by Wear OS, then Tizen lagging behind.
Related: Best Bathroom Scales
Best smartwatches – What to look for?
Aside from the operating system, it's worth considering how you intend to use your smartwatch. Many smartwatches now double as fitness trackers and sports watches, so if this is important to you then you'll want a smartwatch with built-in GPS and a heart rate sensor. Often, these watches are much bigger as a result.
Water-resistance is ideally something you'll have. Even if you're not a swimmer, it's nice to not have to take your smartwatch off to shower.
Battery life is the other big consideration. Many smartwatches have improved considerably in this regard, with most now offering at least two days' stamina. That's the minimum we'd recommend. In the early days, many smartwatches would struggle to even make it through a single day.