If there's one appliance that every home needs, it's the washing machine. Making it faster, easier and cheaper to keep your clothes clean, getting the best washing machine is a priority.
From the 38 units we've reviewed, we currently recommend 10 washing machines. Of this elite group, two stand out.
For the ultimate performance and convenience, the Samsung AddWash WW80K6414QW comes highly recommended. Cleverly, it allows you to pause a cycle mid-wash, to open a small drawer and drop in that sock you may have missed. For those on a tight budget, the Indesit MyTime EWD 81482 is a great choice, costing less than £300, yet managing to clean effectively.
How we pick the best washing machines
The only way to recommend washing machines is to test them thoroughly. We put every single machine through the same in-depth tests, which allows us to accurately compare models.
We've picked a range of washing machines, from a basic model that costs £249, running up to a far more feature-packed appliance at £899.
For each machine, we measure the power and water usage, which lets us accurately work out running costs and efficiency. It's our wash tests that make our reviews stand out, giving you the confidence to buy a machine that has the cleaning power you need.

Here's an example 'test stain' strip that is placed in every washing machine we test. It features wine, blood, ketchup, coffee, fruit juice and oil – it will be placed inside every machine we test, and washed using a branded non-bio detergent.

This is what a test strip looks like after a standard cotton wash in one of our recommended washing machines. Almost all the stains are entirely removed. There's just a hint of oil remaining, which is normal given we use a non-bio detergent.


Here's the result from a less proficient machine, one that didn't receive such a glowing review. The oil is almost untouched, while the wine (far left), coffee (middle) and fruit juice (second from right) are still clearly visible.
Samsung Family Hub (Sponsored)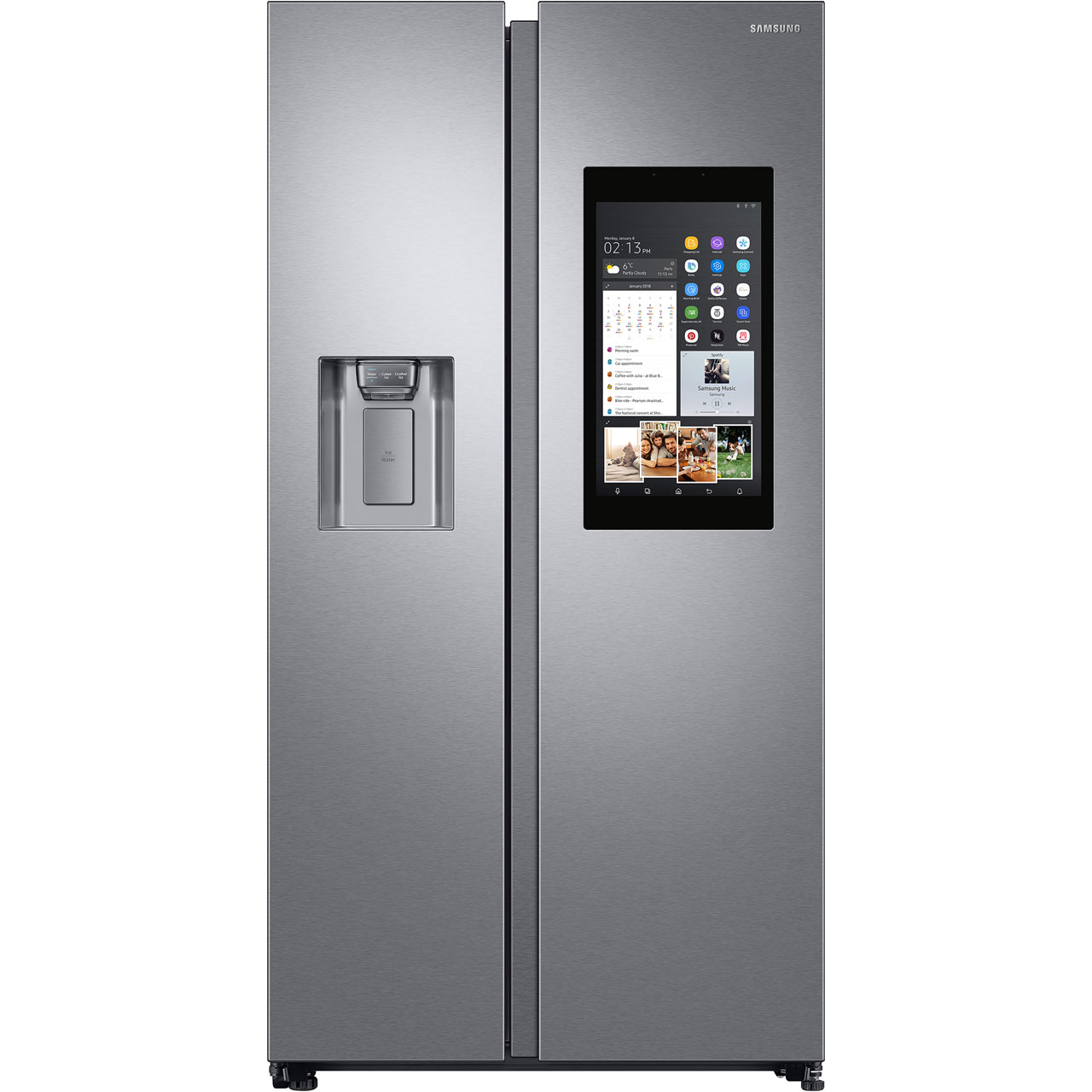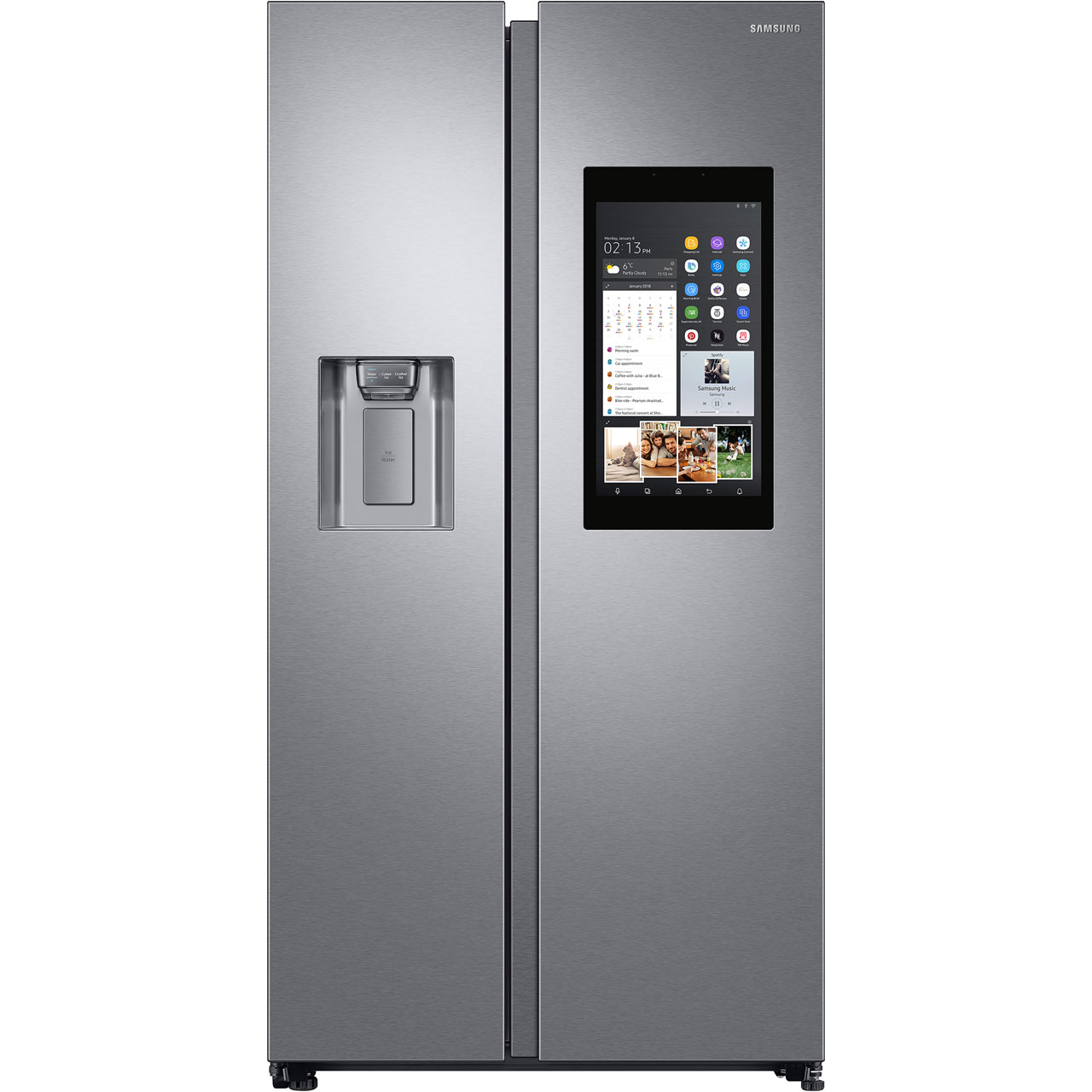 The Samsung Family Hub Fridge Freezer has an incredible amount of technology including a built-in display and food management cameras.
That's a poor result, but it's important to know that there are cheap machines that wash well and do so efficiently. More expensive machines do typically wash better and have more features, but you don't have to spend lots of money to get a machine that will do the job well. Some models in our list of best washing machines cost less than £300.

Samsung AddWash WW80K6414QW
Pros:
Amazingly frugal Super Eco Wash
Excellent AddWash feature
Smart Control app control
Good stain removal test
Even quieter than label states
Cons:
High water use on standard Cotton wash
If you think you're immune to getting giddy over a washing machine, think again. With Samsung's brand-new AddWash feature and app-based Smart Control, the Samsung AddWash WW80K6414QW has more bells and whistles than any washing machine to have ever graced our testing room.
So what's AddWash, and why should you be excited about it? Simple yet genius, the AddWash feature lets you pause the washing cycle, open a small drawer built into the door and add small items such as socks and undies that you might have dropped on your way to load the machine. Brilliant.
Speaking of pausing, the WW80K6414QW's Smart Control feature is just as exciting. With an app on your phone, you can start, stop and pause a cycle any time – and even receive notifications when your load is done.
Along with a nigh-on unbeatable estimated yearly running cost of just £33, a solid array of programmes and great washing performance, the WW80K6414QW is our favourite washing machine right now.
Buy Samsung AddWash WW80K6414QW from Currys PC World for £550
Miele WDB020
Pros:
Exceptionally easy to use
Great wash results
Potentially amazing efficiency
Very low water consumption
Choice of innovative Caps
Cons:
Limited 7kg drum size
Half loads not as efficient
Eco cycle not the most eco
Only average spin efficiency
No caps supplied
The WDB020 is one of the most affordable washing machines in Miele's appliance catalogue, with pricing starting at a reasonable £650. For your money, you get an A+++ energy rated 1400-spin machine with Miele's innovative CapDosing system, which makes it an outright steal.
In tests, the WDB020 delivered great wash results and was wonderfully simple to use. This coupled with its stellar build quality and spectacularly good energy and water efficiency make it a great choice for small families on a budget. The 20-minute quick wash is also a godsend if you find yourself needing to do an emergency wash.
Larger families may want to look elsewhere, however – the WDB020 has a limited 7kg drum capacity. People in flats should also be aware it isn't the quietest machine around and could lead to some complaints from neighbours one floor below.
Buy Now:  Miele WDB020 from Appliances Direct from £614 and get it delivered tomorrow
Indesit MyTime EWD 81482
Pros:
Speedy programmes
Easy to use
Fairly quiet spin
Decent stain removal
Good value
Cons:
Poor spin results
Small porthole
Cramped drum
Poor half load eco
Knobs can be slippy
The Indesit EWD 81482 is a budget machine that offers a relatively quiet spin, sensor load adjustment and a host of standard programs that take less than an hour to complete. While the drum is cramped for an 8kg machine, this affordable washer is great for doing sensibly sized loads while keeping your energy bills trim.
In our tests, wash results were good for a model at this price point, and our test stain strip cleaned up relatively well, even using non-bio powder. A nice touch is the LED indicator on the right side of the fascia, which tells you what stage the wash cycle the machine is at.
It's a neat and tidy appliance that's easy to operate, which makes it a no-brainer for those on a budget when you consider its overall washing performance and energy efficiency.
Buy now: Indesit MyTime EWD 81482 from £249 at AO
Hotpoint Ultima S-Line RZ 1066 BUK
Pros:
Wealth of options
Solid wash results
Monster capacity
Slick user interface
Cons:
Takes some getting used to
Noisy water inrush
Opaque door
The Hotpoint Ultima S-Line RZ 1066 BUK pulls out all of the stops. This flagship model has a gorgeous finish and is packed with cutting-edge features.
Controlled through the combination of the rotary knob and large LCD, this washing machine is super-easy to programme.
With sound generally under 50dB, the Hotpoint Ultima S-Line RZ 1066 BUK is exceptionally quiet in use. Despite this, wash performance is excellent, with the machine performing well with our selection of stains. The only slightly strange thing is the opaque door, which makes it hard to see what's going on during a wash.
With its 10kg drum, the Hotpoint Ultima S-Line RZ 1066 BUK can take a staggering load of clothes (or a large duvet).
Provided you use the machine near its capacity, running costs are also very low. This sleek and modern performer is an efficient and contemporary machine.

Hotpoint RSG964J
Pros:
Good wash performance
Low energy on full loads
Good basic programmes
Anti-Allergen programme
Easy to use
Cons:
Poor energy on half loads
So-so spin efficiency
Noisy maximum 1600 spin
Eco programmes take ages
The Hotpoint RSG964J is a solid, mid-priced machine with A+++ credentials and a good selection of programmes. It's easy to use and delivers good cleaning results. It's most energy efficient when handling larger loads, so you should think carefully about whether you'll be able to use the RSG964J to the max before you buy.
The machine boasts Hotpoint's Smart+ symbol, but this doesn't suggest smart home connectivity or fancy app control. It actually refers to built-in technologies including an anti-microbial seal around the door to reduce mould and musty odours, automatic load balancing, load sensing, and Direct Injection of pre-mixed water and detergent to best penetrate fibres.
The RSG964J is a slick looker, too, sporting a stylish, solid-looking door, control knob, bright orange LED display and a novel pivoting soap drawer. Fairly low running costs and easy operation mark out the Hotpoint RSG964J as a solid all-rounder at the price.
Buy Hotpoint RSG964JX from Currys PC World for £430
Blomberg LWF29441W
Pros:
Super-low running costs on Eco
Excellent programme selection
Very quiet wash and spin
Inspiring build quality
Top-spec inverter motor
Cons:
Not 9kg real-world capacity
Average spin efficiency
Non-Eco cycles are costly
Solid and inspiring build quality, a wide selection of programmes and excellent cleaning performance make the Blomberg LWF29441W one of the best machines around at the £400 price. It's A+++ rating puts its running costs nice and low for a machine that cleans so well, and the full-load fast wash is a winner, delivering a thorough clean in just over 30 minutes.
The machine boasts a 9kg capacity, but we reckon 7.5-8kg is about the maximum realistic capacity it can handle before you have to cram in clothes, which would impact wash performance. Still, that's a decent-sized load, and the supremely effective Eco Cottons cycle makes up for any load size misgivings.
There's a 16-strong programme list with a great range of cycles, including a super-fast 14-minute wash to freshen up lightly soiled loads. High-quality touches include an inlet hose with a built-in mechanical safety shut-off valve to stop flooding in the event of a failure, and a high-tech inverter motor with a 10-year guarantee. Few machines offer such good build quality and features for this price.
Hotpoint Ultima S-Line RPD 10667 DD
Pros:
Great energy efficiency
Excellent spin drying
Low water consumption
Effective Steam feature
Anti-microbial door seal
Cons:
Only Eco programmes deliver A+++
Average stain removal on full loads
Not quiet at full spin
Max load less than 10kg
The Hotpoint Ultima S-Line RPD 10667 DD isn't the most straightforward machine to use – you have to put in some effort to get the results you want. Nevertheless, it offers great potential through its useful features and low running costs.
We're rather taken with its appearance, particularly the neat, modern-looking fascia, chunky dial and orange display, as well as the bold and enormous smoke-tinted door.
Billed by Hotpoint as its greenest and most efficient washing machine ever, the Ultimate S-Line offers extras such as a Steam Hygiene intensive clean and Direct Injection stain removal. The latter feature pre-mixes water and detergent, activating biological powders before spraying the mix directly into the wash. There are 14 programmes in total, including a Woolmark-approved wool cycle for hand-wash items, a Bed & Bath cycle for towels and bedsheets, and a Baby and Anti-Allergy cycle.
Achieving the best wash results requires a specific combination of programmes and options, alongside keeping the load large but not excessive (about 7kg, in fact). Using the machine to its full potential takes some mastering, so we wouldn't recommend this model to those after a plug-and-play solution.
Get all that correct, however, and you have yourself a big-capacity machine that delivers on its impressive A+++ -40% energy promise.
Buy Hotpoint Ultima S-Line RPD 10667DD from Amazon for £469
Whirlpool FSCR10432
Pros:
Quietest washer on the market

 

Extremely energy efficient

 

Huge programme and options list

 

FreshCare post-wash tumble

 

Low water use

 

Effective 1400rpm spin
Cons:
Average stain removal in standard wash
Programme/load specific performance
No delay start
The kitchen is a noisy enough place without the infernal rumbling of a washing machine. But worry no more, because the Whirlpool FSCR10432 is here to restore domestic peace and tranquillity. Part of the brand's top-spec SupremeCare series, it packs in sensor load detection, water-jet washing, a gentle wave-motion drum, and a tumbling cycle once the wash is complete to keep it from stagnating. And its most important feature of all? Silence.
This feat is down to a new traction motor system. In our regular cycle tests, the FSCR10432 hummed gently along at an average of 44-45dB, peaking at 48db at faster spins. If there's anything going on in your kitchen much nosier than someone reading a Sunday paper, you simply won't hear this machine. Peace at last.
Along with its stealthy silence, the FSCR10432 packs in a whopping 18 programmes and a respectable wash. You probably do need to leverage all of these programmes to make the most of this machine's performance. After being left disappointed by the machine's main wash stain results, we had to turn to the Intensive and Bio Stain options.
Buy Now: Whirlpool FSCR10432 from Appliances Direct for £549 
Grundig GWN59650CW
Pros:
Excellent wash results
Low running costs on Eco
Handy auto-dosing system
Lots of programmes… and options
Quiet running
Cons:
Touch buttons can be finicky
Half loads not as Eco
Not always intuitive
The smart Grundig GWN59650CW sits near to the top of the company's range of washing machines, and as such, offers stacks of features, including an A+++ energy rating and maximum 1600rpm spin.
We're most taken with its automatic ProDose technology, which detects the material type, the load and how dirty the clothes are, adding in just the right amount of detergent and softener, so none goes to waste. Clever stuff.
It's also packed with programmes – 14, in fact (plus two drum-cleaning options). Within this selection there's the ability to customise the wash, so you can tweak temperature, spin speed and soil level, as well as add an extra rinse, set timers and select favourite programmes.
Its cleaning is pretty impressive, seeing away most of our test stains on a cool wash. To get the rest, activate its special stain-removing modes and bump up the temperature and we reckon they might disappear entirely.
As far as costs are concerned, it's really cheap to run, and we didn't notice any drop in performance between standard and eco modes (although you'll have to wait longer for the latter).
Elsewhere it ticks the boxes for spin efficiency, plus it runs quietly too. Its touch-sensitive controls can be a bit hit and miss, but you get the hang of them with time.
It isn't the cheapest, but there's a lot to love here for the money. A solid buy.
Buy Grundig GWN59650CW from Currys PC World for £579.99
Whirlpool SupremeCare FSCR12441
Pros:
Extremely good Eco wash
Genuinely high-load capacity
Great wash results
Auto-dosing detergent
Good app features
Lowest running costs we have tested!
Cons:
Epic long Eco wash time
Premium price
One washing machines that received a rare five-star rating in our tests, the Whirlpool SupremeCare FSCR12441 is a top performer and a dream to use. Plus, it delivers on its A+++ energy rating to offer some of the lowest running costs we've ever seen. With its huge 12kg capacity and whisper-quiet 50dB-ish noise level, sadly that means it comes at a big price. Nevertheless, we're confident that the budget stretch is worth it.
So what does a £900 washing machine do that others can't? For starters, it has Whirlpool's 6th Sense load and turbidity (dirtiness)-sensing technology, which will automatically dose the load with exactly the right amount of detergent and conditioner to limit waste.
There's also a 6th Sense app, giving you the power to control the machine from your phone, along with wash-selection and alerts. Perhaps most innovative is the app's ability to synchronise the FSCR12441 washer with the HSCX10441 dryer, which is pretty neat.
That big budget also buys you simplicity: the SupremeCare FSCR1244 is incredibly easy to set up and navigate, with a crisp LCD panel spelling out exactly what you've selected alongside direct symbol buttons for each wash programme. There are eight everyday programmes alongside a further eight special cycles.
The level of detail displayed on the panel is superb, including graphs to denote how frugal (or not) your selected options are. Put simply, it's one of, if not the best sub-£1000 washing machine we've ever tested.
Buy Whirlpool Supreme Care FSCR12441 from Amazon for £699
Those are our top picks of the best washing machines. If you want to know more about washing machines and what to look out for when buying one, then read on.
Best washing machine – What size drum do I need?
Washing machines have different drum sizes. These are measured in kg, and tell you the maximum weight of dry washing that you can put in. The bigger the number, the larger the drum and the more washing that you can do in one load. Larger drum sizes are also useful if you want to wash more generously sized items, such as duvets. Typically, most households will find that a minimum of a 6kg drum will do for weekly washing; go for 8kg or larger if you have a lot of washing or regularly wash larger items.
Best washing machine – What spin speed do I need?
Spin speeds, measured in revolutions per minute (rpm), tell you how fast the drum spins. The faster a drum spins, the more water can be expelled from your clothes, leaving them drier when the cycle is complete. This cuts down the time that your clothes have to be hung up for, and can reduce the time needed in a tumble drier. Budget machines tend to spin slower. If you want the best performance, look for a machine rated at 1400rpm or 1600rpm.
Best washing machine – What are efficiency ratings?
All electrical appliances have an energy certificate that tells you how efficient they are, with A+++ at the top and A at the bottom. The more efficient the machine, the lower the running costs. We work out the running costs of each machine, based on typical usage, so you can compare total running costs.
Best washing machine – What wash modes do I need?
All washing machines will give you basic wash modes for cottons and synthetics, plus half load or eco options. If you want to clean a wider variety of clothes, look for the wash modes to match. Woolmark certification is essential if you want to wash woollen items; a silk wash is useful; and a handwash mode can save the drudgery of washing delicate items.
Best washing machine – What temperature should I wash at?
All washing machines have a variety of temperature settings from which to choose. Our reviews demonstrate how well each mode performs, but there are some general tips. Washing at the cold setting (20ºC or below) is great for lightly soiled items and reduces running costs. Most normal clothing can be cleaned at 30ºC or 40ºC. A higher 60ºC wash is useful for very soiled items or to reduce bacteria, such as on towels or underwear. Some machines even have a 90ºC wash, which you shouldn't need very often, but could be handy to run as an empty cycle to keep the inside of your machine in tip-top, bacteria-free condition.
Do you have another product you'd recommend? Let us know on Twitter @TrustedReviews