iPhone SE Camera – Surprisingly decent considering the phone's size
The rear iSight camera is where the iPhone SE gets interesting. It packs the same sensor and lens as the iPhone 6S, which means it has one of the most impressive phone cameras on the market right now.


It's not just the quality of the pictures the iPhone SE delivers that makes it a corker; it's also dead easy to use. This is thanks to the simple and robust camera app, which also enables the shooting of Live Photos – pictures that can also be viewed as short videos.
The iPhone SE's camera produces results that belie its specs.

The iPhone SE can deliver cracking photos in good light
A 12-megapixel sensor seems adequate these days, rather than impressive, as does the f/2.2 aperture. By comparison the Samsung Galaxy S7 has a wider f/1.7 aperture and the LG G5 an f/1.8 aperture. This is one of those cases where you want the number to be smaller. A smaller aperture means more light can get into the sensor, making for better low-light performance and less chance of blur.
Related: Best iPhone Deals
However the iPhone SE doesn't seem to suffer by comparison. The lens is plenty fast and the "Focus Pixel" (otherwise known as phase detection) technology it uses means speedy focusing too.
Cropped  image of a pigeon taking off, showing that the iPhone SE can focus quickly and capture movement well
Shots look more natural and lifelike when compared to some of its high-end competitors, and noise is kept to a minimum.

Macro shot of an orchid shows the iPhone SE can capture details and natural colours
Is it better than the Samsung Galaxy S7 or LG G5 when it comes to image quality in good light? The lines are fine and some will prefer the punchier colours the Samsung or LG deliver over the more lifelike tones of the iPhone. Others won't. There's no definitive winner.
It's in low light that the iPhone SE suffers. Wider apertures and optical image stabilisation (OIS) help competing phones deliver more detailed, contrasty shots in dark environments.

The cameras on the iPhone SE and 6S Plus are identical apart from OIS, but this makes a difference at night
Of course, there is a flash on the back of the SE and this is of the True Tone variety we first saw on the iPhone 5S. Two LED lights adapt to produce a varied flash depending on the ambient light. The aim is to reproduce a realistic colour tone, where a normal flash tends to produce a "ghost face" effect. It's not just a gimmick, either – True Tone does work.
Since the SE has the same camera and processor as the 6S, it also shares 4K video recording at 30 frames per second. Not only that but it comes with the excellent slo-mo video recording that lets you shoot at a whopping 240fps for 720p and 120fps at 1080p resolutions.
We continually check thousands of prices to show you the best deals. If you buy a product through our site we will earn a small commission from the retailer – a sort of automated referral fee – but our reviewers are always kept separate from this process. You can read more about how we make money in our Ethics Policy.
Today's Best iPhone 7 Deals
Get double the data with this brilliant iPhone 7 tariff on O2, providing superb value for money for anyone who's after an Apple device that won't break the bank, and with a fair share of data to go with it.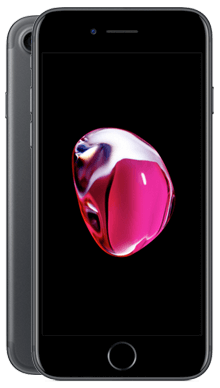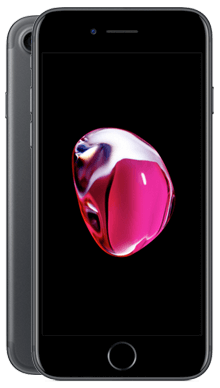 If you're looking for a cheap, no frills contract to keep your kids happy, look no further than this super affordable offer on a refurbished iPhone 7.
Powered by
Trusted Reviews
The rear camera on the iPhone SE is outstanding, particularly considering how much less this phone costs than the iPhone 6S.
The front camera is less impressive. Instead of the 5-megapixel sensor on the iPhone 6S it's a disappointing 1.2-megapixel one. Megapixels aren't everything, but with a difference this large you can expect poorer shots.

There's a big difference between the iPhone SE (left) and 6S (right) when it comes to the front camera in low-light conditions
It seems strange that Apple's decided to opt for a weak front camera. I see the iPhone SE being popular with kids whose parents don't want to fork out for the iPhone 6S, but it's exactly these young people who tend to make the most out of a selfie cam.
The one plus side is that Retina Flash makes an appearance. Retina Flash allows the iPhone SE's screen to light up three times more brightly than normal, so you get some light when taking a selfie in the dark. It works well enough but the smaller screen size means it's not quite as effective as on the iPhone 6S.
There's more to a phone than its cameras and the iPhone SE manages to squeeze incredible performance into a small shell.
Unlike other sites, we thoroughly test every product we review. We use industry standard tests in order to compare features properly. We'll always tell you what we find. We never, ever accept money to review a product. Tell us what you think - send your emails to the Editor.