Best Android Phones 2018: The top Android smartphones right now
This is why you should trust our list of the best Android phones:
We've been reviewing Android phones since Google's mobile OS first launched. Since then our team of experts has reviewed phones of every shape, size and price you can think of. All our reviews are unsponsored, so all our buying advice is honest and impartial as a result.
We may make money if you click one of the links to buy an Android phone, however. That means we want you to be happy with your purchase, so you come back to us again the next time you need something.
best overall android phone
Right now, the best overall Android phone if money is no object is the Galaxy S9 Plus. The 6.2-inch OLED screen is beautiful and the overall design remains appealing. Performance is no slouch and the cameras are also excellent. The dual aperture lens make the low-light performance excellent, too.
£869.00
View deal
We're still waiting to review the Xperia XZ2, Huawei P20, LG G7 and HTC 12. For now the Galaxy S9 Plus is the best overall Android phone on the market if money is no object. If you're on a budget the OnePlus 5T is our current pick for the best value Android phone.
How we test Android phones
best value android phone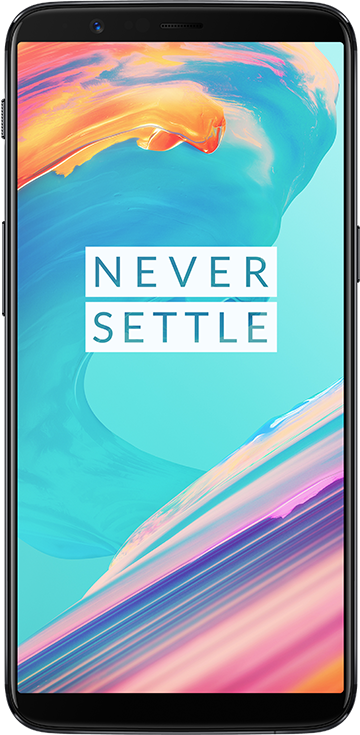 OnePlus has long been synonymous with good value phones, and that hasn't changed with the OnePlus 5T. Considering it costs what you would expect a mid-range phone to be, you get a lot of bang for your buck. Performance is top-notch and the OLED display is gorgeous.
£449.00
View deal
Before scoring any Android phone one of our expert reviewers will spend at least a week using the handset as their primary smartphone. During that time we see how the phone handles with everyday use, but we also run it through a series of synthetic benchmark and battery-burn tests. All of these tests are repeatable, so we can accurately compare like for like.
Galaxy S9 Plus
Pros:
Feels great for a big phone
The OLED display is great and highly customisable
Numerous camera features on offer
Cons:
Battery life could be better
AR Emoji are just bad
Some lag with Samsung's software
If you want a complete Android phone in 2018 then the Samsung Galaxy S9 Plus should be for you. It has a lovely 6.2-inch OLED display, speedy Snapdragon 845/Exynos 9810, plenty of RAM and a clever camera.
The new 12-megapixel camera can now switch between an f/2.4 and f/1.5 aperture, which should ensure your low-light snaps come out nice and bright. It works, mostly, but you might end up with overly bright shots if you're not careful. There's also a secondary 12-megapixel camera with lots of bokeh modes.
Samsung's display tech remains some of the best and the 6.2-inch OLED display is gorgeous. It's brighter than previous Samsung phones and supports HDR content too.
This is certainly one of the best Android phones around, although the battery life doesn't compare well with some of 2018's other flagships.
Buy now: Samsung Galaxy S9 Plus SIM free for £869 from Amazon
OnePlus 5T
Pros:
Good OLED screen
Slick software experience
Still excellent value
Seriously fast
Sign up for the newsletter
Get news, competitions and special offers direct to your inbox
Cons:
No water-resistance
Average camera
OnePlus has already superseded its mid-2017 flagship with the OnePlus 5T, and it will annoy those who recently picked up a OnePlus 5.
For everyone else, though, the 5T is a great device. Its new 18:9 6-inch OLED display is gorgeous – a real standout feature. The Snapdragon 835 and 6/8GB of RAM remains a potent combo, and there's plenty of storage on offer too.
We'd have liked to see a bigger battery and better rear camera – but at least the latter is slightly better at capturing shots in the dark, thanks to the new dedicated 20-megapixel low-light sensor.
The OnePlus 5T ships with Android 7 – an update to Oreo was released but pulled shortly after – but it isn't short of some nifty tricks, such as a fantastic reading mode and a surprisingly fast face unlock.
Buy now: OnePlus 5T SIM free for £449 from OnePlus
HTC U11+
Pros:
Great screen
Good camera
Large battery
Runs latest Android version
Cons:
Uses last year's parts
Only a minor upgrade on the regular U11
The HTC U11+ is a spruced-up version of HTC's older U11, which is no bad thing. Featuring a refined, near-bezel-less design, improved screen, larger battery and running Google's latest Android 8.0 Oreo software, the U11+ is a fantastic choice for any smartphone buyer.
It's also got one of the cleanest Android skins you'll find. HTC's Sense skin has long been one of our favorites, thanks to HTC's wise decision not to load it with any duplicate applications. The end result is a UI that, outside of the addition of HTC's Blinkfeed notifications service, is as close to native Android as you'll find on a device that isn't part of Google's own Pixel range.
Add its Hi-Res Audio support and wonderfully clear omnidirectional mics to the mix and the U11+ justifiably earns its place as one of the best Android phones currently available.
Buy now: HTC U11+ SIM free for £689 from Amazon
Razer Phone
Pros:
Superb screen
Great performance and cooling
Best in class speakers
Cons:
Terrible camera
No IP67 rating
Despite Trusted Reviews going on about the benefits of using a close-to-unskinned Android OS for over half a decade, most big-name companies still insist on using custom skins.
Which is why we're over the moon to see that Razer takes a refreshingly light touch with its first smartphone.
Described by Razer as "the first phone made by gamers for gamers," the Razer Phone runs a close to untouched version of Android Nougat; an Oreo update is confirmed for Q1 this year.
Running a pristine version of Nova Launcher Prime, the handset is pleasingly free of bloatware – and what little changes Razer has made are generally to the device's benefits.
Highlights include improved display setting options designed to help you take advantage of the Razer Phone's super-swish variable refresh rate display, and a booster mode that lets you increase the frame rate for specific apps.
This, plus the Razer Phone's super-slick hardware and best-in-class speakers, make this one of the best Android phones available.
Buy now: Razer Phone SIM free for £699.99 from Amazon
Huawei Mate 10 Pro
Pros:
Great screen
Pretty design
Powerful performance
Above average camera
Cons:
EMUI software is still full of bloatware
It's time as a flagship may be drawing to a close, but the Huawei Mate 10 Pro is still a great phone.
This is a huge phone with serious power, a great camera and a lovely OLED screen. It's a shame that Huawei's software is still one of its weaker points, even with such a focus on AI intelligence. A lot of this AI power comes from the Kirin 970 CPU, which is Huawei's fastest and most efficient chip yet.
The f/1.7 aperture rear camera takes excellent low-light shots, and the camera app provides great freedom to alter your shots by offering numerous modes. You can also shoot pictures in pure monochrome, if you're a fan of that retro look.
There's no headphone jack – you'll have to use the dongle or included USB-C headphones – and the device is rated IP67 for water-resistance.
Buy now: Huawei Mate 10 Pro SIM free for £529 from Amazon
LG V30
Pros:
Loads of features
Stunning audio
The nicest looking LG phone yet
Cons:
Screen isn't great
Stuck on Android 7
LG's software is still ugly
LG has finally made a great flagship phone, free of silly gimmicks and leather-clad backs last year.
The LG V30 stands out as a result of its 18:9 display, which crams a quad-HD 6-inch OLED panel inside a much smaller body than you'd expect. LG's OLEDs still need some work, though, and they lack the contrast of those made by Samsung.
Inside is a Snapdragon 835 CPU, 4GB of RAM, 64GB of internal storage and a big battery. None of these components are groundbreaking, but they'll comfortably get the job done.
Like the G6, there are two cameras on the back. One is your standard 16-megapixel sensor, while the offer takes wide-angle shots, ideal for landscape photos. It's a good camera and it offers some impressive video recording options, too.
Buy now: LG V30 SIM free for £579.99 from Amazon
Samsung Galaxy Note 8
Pros:
 

Stunning design and build

 

Great screen

 

Well-implemented stylus and software

 

Superb cameras
Cons:
Average battery life
Wildly expensive
Following the failure that was the Note 7, Samsung had much at stake with the Galaxy Note 8. Thankfully, the device is more than up to the job. This is a stunningly beautiful, achingly fast phone that ticks all the boxes.
The big updates from the S8 include a secondary telephoto 12-megapixel camera for zoomed shots and a portrait mode, plus the useful S Pen for doodling and notes.
The Infinity Display is simply stunning; the processor is fast; and Samsung's software is the best it has been.
Our only quibble? Battery life could be better.
Buy now: Samsung Galaxy Note 8 SIM free for £742 from Amazon
Samsung Galaxy S8
Pros:
Awesome display
A phone that feels like the future
Stunning camera
It's actually innovative
Cons:
Awfully placed fingerprint sensor
Bixby is a bit of a dud
It may be last year's model, but the Galaxy S8 is still a great phone that has had nice price cut since the S9 launched. It has a fantastic HDR quad-HD+ 5.8-inch display with almost no bezel surround, and a sleek metal and glass design that's curvy in all the right places.
It's fast, too – obviously – and retains handy features such as an IP68 water-resistance rating, Qi wireless charging and a microSD card slot.
The 12-megapixel camera doesn't have dual lenses, but it's still one of the best out there. The 3000mAh battery is again great, although you're still likely to need to charge the S8 every night.
Buy now: Samsung Galaxy S8 SIM free for £461 from Amazon
Google Pixel 2 and Pixel 2 XL
Pros:
Truly amazing camera
The best version of Android
Nice display
Cons:
Google's second wave of Pixel phones are damn good. The Pixel 2 is compact device offering up plenty of power, an excellent camera and clean software.
The least surprising feature here is the excellent camera, which surpasses the Galaxy S8 and iPhone 8. It's a 12-megapixel sensor, with OIS, which captures stunning snaps in any light. 4K video looks great too, as do selfies.
The device is fast, too, thanks to the combination of speedy Snapdragon 835 CPU, 4GB of RAM and software built by Google.
Android has never looked so good, and the neat tricks Google has added simply make it even better. You can squeeze the sides to bring up the Assistant and Lens can identify what's in your photos. A 2700mAh battery lasts the day, while charging is snappy.
It's IP67 water-resistant, which is great, but there's no headphone jack. It also look, well, a little dull. That huge bezel might hide stereo speakers, but it still looks like its from 2015.
Buy now: Google Pixel 2 XL SIM free for £649.99 from Amazon
Xiaomi Mi Mix 2
Pros:
Excellent screen
Powerful internals
Gorgeous design
Cons:
No water- or dust-resistance
Camera could be better
The Xiaomi Mi Mix 2 is a veritable bargain if you're looking for flagship performance and design at a mid-range price point. Like many of its more expensive rivals, it has an eye-catching bezel-free design, maximising its display size.
It feels great in your hands as it's constructed from some premium materials including metal for the chassis and ceramic for the back.
The display is a massive 5.99 inches leaving you plenty of space for movie watching and your apps. Inside is the very capable Qualcomm Snapdragon 835 paired with a generous 6GB of RAM. There's 64GB of onboard storage, too.
Round back is a 12-megapixel camera with 4-axis optical image stabilisation to keep your photos looking sharp. There's a decently-sized 3400mAh battery that'll get you through the day without any issues, and then there's Quick Charge 3.0 to top you up rapidly.
All in all, the Xiaomi Mi Mix 2 is difficult to beat for the money.
Buy now: Xiaomi Mi Mix 2 SIM free for £404 from Amazon
Honor View 10
Pros:
Great 18:9 design
Good feature set for the price
Excellent performance
Cons:
Camera is inconsistent
Display lacks warmth
Honor's latest high-end (yet still very affordable) device, the Honor View 10, has a lot going for it, and very little that we don't like.
There's a big 6-inch 18:9 display, fast Kirin 970 processor and plenty of RAM (6GB) and storage (128GB). You've got the same software as you'd find on the Mate 10 from Huawei, which means there's Oreo and a heavy skin.
The 12-megapixel camera is good too, and the battery is huge with enough juice for the whole day.
Buy now: Honor View 10 SIM free for £379.99 from Amazon
Those are our top picks of the best Android phones. If you want to know more about what to look out for when buying an Android phone then read on.
Android Phone buying guide
Before handing over your cash for a new Android phone, there are a few things you should consider. Chief of these is what software its running and what you need it for.
Android skins
Outside of Google's own Pixel or Nexus devices, most phones run using a custom"skinned" version of Android. The skins add custom features and rework Android native user interface. Each one comes with its own set of issues – Huawei's Emotion UI removes the OS' app tray, for example. But whichever one you pick will impact how quickly, or even if, the phone will be upgraded to new versions of Android. This is because the custom code needs to be tweeked to work with Google's, a process that can be time consuming and expensive.
Generally companies are pretty good at making sure flagships get at least one Android version upgrade, but cheaper phones still have a tendency to be overlooked. You should always be aware of this when shopping for a new Android phone.
What you need it for
These days if you spend over £600 on a well know companies flagship, chances are you'll be happy and end up with a great phone. But shopping at the lower end of the market is still a little bit of a wild west. As a result if you have a specialist need for a decent camera, or titan-battery life we'd recommend doing your research to find one that fits your specific needs. The Razer Phone is perfect for movie binges and gaming, but terrible for mobile photographers, for example.