iPhone 8 Plus – Battery life
Apple was very coy about battery life when it announced both the iPhone 8 and iPhone 8 Plus, probably because both of these handsets actually include smaller cells than last year's models. That's worrying for the iPhone 8, but I was impressed by the stamina of the Plus model last year. However, Apple did say that these new devices should last around the same time as the outgoing models, thanks to the more efficient A11 Bionic chip.
And that claim is pretty much spot on. As is usual with the Plus-model iPhones, the devices will comfortably make it through the day. Even with intensive use, I haven't yet managed to completely drain the battery in a day. However, on the iPhone 8 this requires that I constantly alter my settings and dim the brightness to ensure that it does last. This isn't the case with the iPhone 8 Plus. As an example, an hour of streaming Netflix on the iPhone 8 consumes 11%, while on the 8 Plus it's more like 7-8%.
Related: Best iPhone Deals
My biggest issue with iPhone battery life isn't the initial stamina, but how it drops off a few months down the line. It will be interesting to see if this remains the case this time around.
The iPhone 8, 8 Plus and iPhone X are the first Apple phones to support wireless charging, even though it's a feature that's been around since the Palm Pre (RIP). It's been a feature on Samsung's Android flagships since the Galaxy S5.
Like Samsung, LG and a boat-load of other Android phone makers, the iPhone uses the open Qi charging standard – none of that proprietary nonsense we're so used to seeing from Apple. That means the 8 Plus can be juiced up on a host of pads, even a Samsung unit. Apple will be releasing its own version, dubbed AirPower, next year – but until then it's recommending a Belkin or Mophie pad.
I've been using the Belkin one and it's fine, but it won't really become that useful until a software update later in the year unlocks 7.5W fast wireless charging. Currently, the iPhone 8 Plus seems to gain a couple of per cent every 10 minutes – which is fine when leaving it overnight, but almost pointless for a quick top-up.
We continually check thousands of prices to show you the best deals. If you buy a product through our site we will earn a small commission from the retailer – a sort of automated referral fee – but our reviewers are always kept separate from this process. You can read more about how we make money in our Ethics Policy.
Today's Best iPhone 8 Deals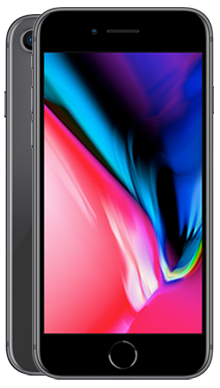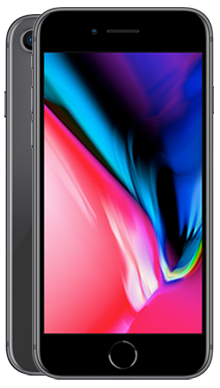 Finally, picking up an iPhone 8 with a high data allowance no longer costs an arm and a leg, evident by this stellar offering from Fonehouse, with 30GB of data coming courtesy of Three.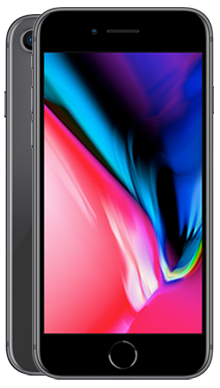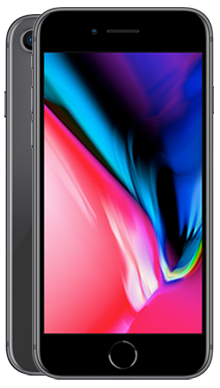 With absolutely nothing to pay upfront and a small asking price of £22 a month, this refurbished iPhone 8 contract is perfect for anyone on a budget.
Powered by
Trusted Reviews
The company has also now finally added fast wired charging – but there's a catch: you have to buy two accessories to get it working. Since the wall plug in the box is of the measly 5W variety that all iPhones are shipped with, you'll need to pick up a MacBook 12-inch USB-C charger and a USB-C-to-Lightning cable to take advantage of the quicker speeds. This is ridiculous, especially when £150 Android phones such as the Moto G ship with fast charging straight from the box.
Related: What is AirPower?
It takes just over two hours to fully charge the iPhone 8 Plus from 0%, while an hour will give 56-58% of power.
Should I buy the iPhone 8 Plus?
The iPhone 8 Plus is a 7S Plus in all but name. There are plenty of improvements, yes, but it feels like Apple's real focus this year has been on the iPhone X. That just isn't good enough when you consider that the iPhone 8 Plus costs £799/$799.
Nevertheless, once you look past the design, the iPhone 8 Plus remains a splendid handset that's easy to recommend to those who simply wouldn't want anything other than an Apple smartphone. If you want a change then the Samsung Galaxy S8 (£679, $699) and OnePlus 5 (£459, $499) are great choices – or you could hold out to see what the Pixel 2 from Google has to offer.
The A11 Bionic chip is super-fast and the camera feels like a step in the right direction. The display might only be 1080p and IPS LCD, but it's still one of the most vibrant around.
I really like the iPhone 8 Plus, but I have a feeling I'm going to like the iPhone X more.
Verdict
The iPhone 8 Plus is familiar – but sometimes that's a good thing.
Unlike other sites, we thoroughly test every product we review. We use industry standard tests in order to compare features properly. We'll always tell you what we find. We never, ever accept money to review a product. Tell us what you think - send your emails to the Editor.