iPhone 8 Camera – 12-megapixels with an f/1.8 aperture
The iPhone 8 has with numerous minor improvements if you're upgrading from an iPhone 7; be it the screen, processor or battery life. But the one area where it feels like there's been a dramatic step forward is the camera.
Related: Best camera phones
Photos taken with the iPhone 8 look great. Colours are punchy, detail is good and there's a lot more saturation and definition between colours than seen on previous iPhones. This deep saturation trick is used a lot by Samsung, and it feels like Apple is following suit. The pictures taken with an iPhone 8 are still more natural-looking than Samsung's flagship, but the difference isn't what it was.
Apple says it has completely rebuilt the sensor this time around, adding in 'deeper pixels' and a brand-new image signal processor. This may sound like marketing fluff, but in reality I've been more impressed with the pictures on the iPhone 8 than any iPhone in recent years.
Related: Best smartphone
The now permanently on auto-HDR mode – it can be switched off, but you'll have to dig in Settings to do so – does a fantastic job of levelling out exposure. This means photos taken on the iPhone 8 won't be overblown in the lighter portions, instead displaying much better balance. Auto-HDR is particularly helpful for landscape photos, where the sky can tend to lose all colour if you're not careful, but it removes the risk of pictures looking unnatural and artificial by using it only sparingly.
When the light isn't great, the iPhone 8's focusing slows down significantly, with noise more common than some of the competition. Again, it's a close race and it is possible to achieve some excellent shots even when it's dark – but the results are pretty similar to those of the iPhone 7. I'd have liked to see Apple widen the aperture, which would have enabled more light to reach the sensor, resulting in brighter shots.
Where the iPhone 8 seems to impress the most is in textures. The way it captures the tiny scrapes in metal, dust on bricks and individual hairs on a head is fantastic. The iPhone 8 is also the device that's best at taking pics with the flash on – an odd claim to make, maybe, but the softer, more diffused flash used here means it doesn't completely blow out faces.
We continually check thousands of prices to show you the best deals. If you buy a product through our site we will earn a small commission from the retailer – a sort of automated referral fee – but our reviewers are always kept separate from this process. You can read more about how we make money in our Ethics Policy.
Today's Best iPhone 8 Deals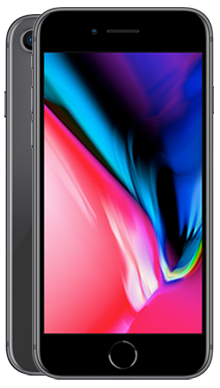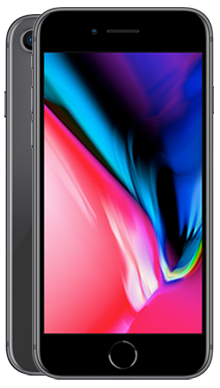 Finally, picking up an iPhone 8 with a high data allowance no longer costs an arm and a leg, evident by this stellar offering from Fonehouse, with 30GB of data coming courtesy of Three.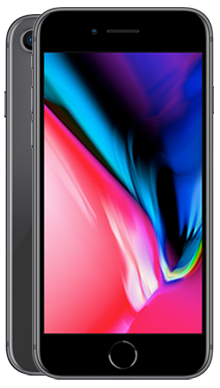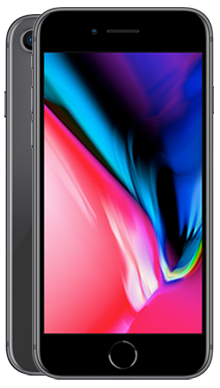 With absolutely nothing to pay upfront and a small asking price of £22 a month, this refurbished iPhone 8 contract is perfect for anyone on a budget.
Powered by
Trusted Reviews
Being able to shoot more frames per second gives footage a smoother look and is especially great for shooting motion, such as sports. Dialling it back to 24fps achieves a more cinematic feel. Note that you do notice the lack of OIS on the secondary camera when recording at 60fps. I also still believe that the Google Pixel 2 does a better job of stabilising video overall than the iPhone 8.
Another first, for a phone at least, is slow-motion recording at 240fps in 1080p. Previously, this was available at 720p, but now it looks sharper and there's more scope for zooming.
The front-facing camera is still 8 megapixels and it's actually one of the better ones around. Skin tones look natural and there's plenty of detail. It's biggest downside is the lens' narrow field of view, meaning you have hold the phone much further away to cram in lots of faces.
Unlike other sites, we thoroughly test every product we review. We use industry standard tests in order to compare features properly. We'll always tell you what we find. We never, ever accept money to review a product. Tell us what you think - send your emails to the Editor.