Sections
Page 1

Dyson V8 Absolute Review
Verdict
The V8 is so powerful it can replace a corded cleaner for most jobs, including picking up pet hair. This model has been eclipsed in power by the more recent V10 and V11 models, but it continues to be an impressive cleaner, and works well in combination with a powered cleaner.
Pros
Better cleaning than many mains-powered machines

Improved bin emptying

Outstanding air filtration

Good battery life

Great tools for all jobs
Key Specifications
Review Price: £499.00
0.54-litre bin capacity
2.61kg
Soft Roller Cleaner Head (hard floors)
Direct Drive Cleaner Head (carpets)
Mini Motorised Tool (stairs & furniture)
Combination Tool (dust and debris)
Rigid Crevice Tool
Up to 40 minutes battery life
We continually check thousands of prices to show you the best deals. If you buy a product through our site we will earn a small commission from the retailer – a sort of automated referral fee – but our reviewers are always kept separate from this process. You can read more about how we make money in our Ethics Policy.
What is the Dyson V8 Absolute?
We loved the power and versatility of the Dysons V6 Absolute cordless vacuum cleaner, with only minor caveats of shortish battery life and occasionally tricky bin emptying. Enter the new Dyson V8 Absolute, promising more power, double the run time and easier bin emptying. Clearly, Dyson has been listening.
Unsurprisingly, the new V8 Absolute tops Dyson's extensive range of cordless vacuum cleaners. That means it comes with all the tools imaginable, including the fabulous Soft Roller hard-floor head (aka the 'Fluffy'), two further powered brush heads and detail cleaning tools.
While the newer Dyson V11 and Dyson V10 models are built to be the only vacuum cleaners that you need, the V8 isn't quite there. It's powerful enough to deal with most situations, but the battery life and suction power mean that you'll still want a powered vacuum cleaner for a deeper house clean.
Dyson V8 Absolute – Design and Accessories
The V8 is an evolution of the V6 and at a quick glance you could mistake them for identical twins. Yet, look closely and the V8 and all its tools have undergone subtle yet significant upgrades.
The battery pack is a little chunkier and has a much higher capacity, the bin diameter is slightly larger and the rear twist-to-remove filter is a little bigger. The V6 had its maximum power switch in the middle of the filter housing, but this has moved to a more convenient slide switch on top for the V8.
The handle and trigger remain positioned between the motor housing and battery pack, lending it near-perfect balance in the hand. The new kid weighs nearly 300g more than the original – 1,576g vs 1,296g on our scales – but you won't notice it in use.
Related: Best Vacuum Cleaners
The most significant design change is almost invisible from the outside and that is the way the bin is emptied. On the V6, a slide-clip released the base of the canister, but debris like matted hair did sometimes need a little encouragement to fall out – either a thump on top or poking with your finger. Not so the V8.
The V8 has a top clip that allows the central cyclone to pull up and away from the bin while the base flap simultaneously opens. The net result is that any debris in the bin is immediately ejected out of the base without any need for jiggery pokery.
The new emptying system is much easier to use
All of the tools attach to the handheld unit directly or via the extension tube supplied. Annoyingly, the fitting for tools is slightly different to the V6, so you can't use cleaning heads from previous cordless models.
Likewise, the neat wall docks are unique to each generation. While the central cyclone core filters are identical, the new V8 rear exhaust filter sports a larger body and side vents rather than the all-over vents of the V6 Absolute. Both are fully washable, but the design of the new rear filter housing polarised opinion in the test team.
There's good reason for this change, however. As exhaust air on the V8 is now directed in two jets out to the left and right of the cleaner, instead of straight out the back, it's less likely to blow straight into your face like on previous models. Even when it does, the high-efficiency filtration means it is only air, though, as particles down to as small as 0.3 microns are captured by the filters. As 0.3-micron particles will suspend in the air, the V8 should in theory leave the air in your room cleaner than when you started vacuuming.
Related: Best Cordless Vacuum Cleaners

The Soft Roller 'Fluffy' head is great on hard floors
Tool choice is definitely not something you will be struggling with – well, only too much of it perhaps. The V8 Absolute comes with three powered heads all with motorised brush bars for different surfaces and situations, a well-designed and suitably handy crevice tool, and a combination soft brush with wider-neck crevice tool.
There has been some subtle fettling of the design of these tools since the earlier generation, too. Tweaks include a springy rear bar on the rear of the Direct Drive head and a new brush bar design for the Mini Motorised head.
Our favourite tool remains Soft Roller cleaning head, which is specifically designed for hard floors. This uses a combination of soft fibres and static carbon bristles on the rotating bar, plus a rear soft roller to ensure it is very gentle on all hard surfaces. It's easy to dismantle for cleaning, has a fully articulated and pivoting neck and the motor is placed inside the roller to keep the weight of the head well balanced. A neat design touch is an internal scraper bar that dislodges dust from the fibres and into the airflow. Having seen more than our fair share of vacuum cleaner floor heads in the last few years, this is a work of art.
The Direct Drive head is best on carpets
The Direct Drive cleaner head is fully articulating, allowing you to get very low under sofas and the like, and is ideal for carpeted floors. This uses a more traditional powered brush bar with rows of bristles – albeit of different textures. The stiff nylon bristles are designed to agitate carpets and pick up larger dirt debris, while rows of carbon-fibre filaments will attract fine dust particles. It is also belt-free and offers easy maintenance via a coin-turn end panel.
Need something for smaller areas such as stairs, the dog's beds or snug-fitting upholstery? The Mini Motorised Tool is less than 150mm (6 inches) wide and features a powered rotating brush bar with stiff nylon bristles. The front floor plate of this head tilts through about 50 degrees, so while the neck isn't articulated you can still keep the tool in perfect contact with the floor.
Dyson V8 Absolute – Cleaning Performance
Like the V6, Dyson's new V8 cleaner once again sets the benchmark for how much sheer suction power a cordless cleaner can deliver. On maximum power mode, simply placing your hand over the open nozzle demonstrates more power than budget mains-powered cleaners can muster and a very high rate of air flow too.
Block up the nozzle completely and the digital motor pulses on and off, ensuring any debris blocking the airway is let go without having to stop cleaning. Switch to normal power mode and there is plenty enough suction to eclipse most of the cordless competition, too.
Related: Best Lightweight Vacuum Cleaners

The V8 fits easily under most furniture
Side by side, the V8 sounds a little quieter than the old V6. Yet according to our sound measurement equipment that's a bit of an illusion, as they measured exactly the same – around 75dB on standard power and 83dB on max power using a floor head over carpet.
The perceived difference is more to do with the pitch and tone of the sound. The V6 has more of a high-pitched whine, while the V8 better muffles the noise of the extremely fast digital motor, resulting in a less aggressive sound. On max power neither model is a paragon of ultra-quiet cleaning, but they certainly get the job done.
Before

After
On open carpets using the Direct Drive floor head, cleaning results are absolutely first class. And not just first class for a cordless stick cleaner, but first class generally. A single pass of our test patch of carpet-freshening powder and baking soda mix produced a near-clean result and the three-pass standard test was 100% clean.
Moreover, the same great result was achieved right up to the skirting, the V8 and Direct Drive head competing very favourably with some of the best mains-powered cleaners we've tested in edge-cleaning ability. This is a definite improvement over the V6 model, which did leave some fine particles in the carpet dip at the skirting. Clearly, the V8's extra suction power has done the trick here.
Several rooms that had been recently cleaned with a budget cleaner saw full bins' worth of extra dirt cleaned up, thanks to a combination of the V8's great cleaning ability and its manoeuvrability. The Direct Drive and Soft Roller heads will go almost anywhere, including right under low beds and sofas. Thanks to their articulating necks, you can clean with the handheld unit almost at floor level, poking these heads deep under low obstacles. Both heads turn and steer with a light twist of the wrist and the V8 never felt heavy or awkward.
Before

After
Buy Now: Dyson v8 Absolute from Tesco from £348
We already knew our tool of choice for hard floors would be the Soft Roller head and it did not disappoint. On standard power it passed our tile test, cleaning up mixed dried oats and grains, with ease in a single pass and did not leave a single grain behind on the backstroke.
Predictably, edge cleaning on hard floors was excellent and if you engage max power mode the V8 will pull dust and debris from deep floorboard cracks and crevices. Over softwood parquet this head remains unbeatable, cleaning up dust, dirt, pet hair and small stones with ease, and buffing the surface as a finishing flourish.
The bin is, of course, rather bijou, but it's about 20% larger than the V6 model's, now offering a reasonable 0.54 litres. Moreover, we found that in daily use we would push the bin to the limit before emptying, as the new dust-ejecting system made it easy to empty even when it was rammed.
We continually check thousands of prices to show you the best deals. If you buy a product through our site we will earn a small commission from the retailer – a sort of automated referral fee – but our reviewers are always kept separate from this process. You can read more about how we make money in our Ethics Policy.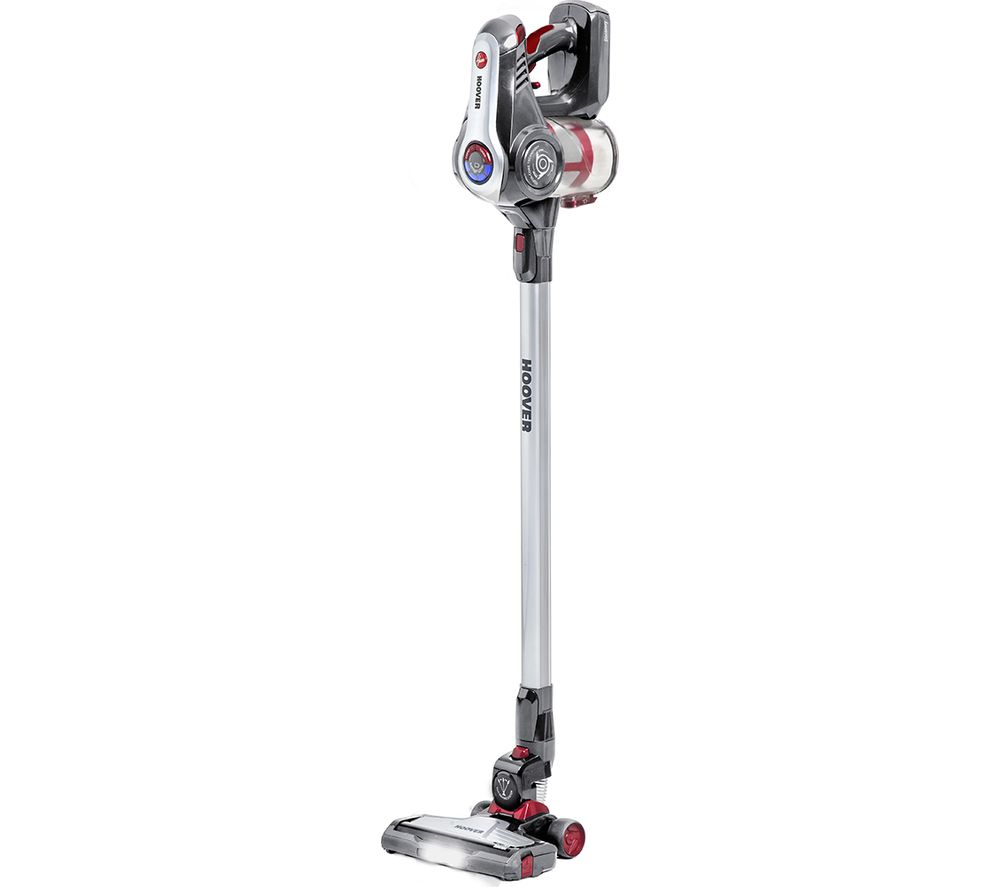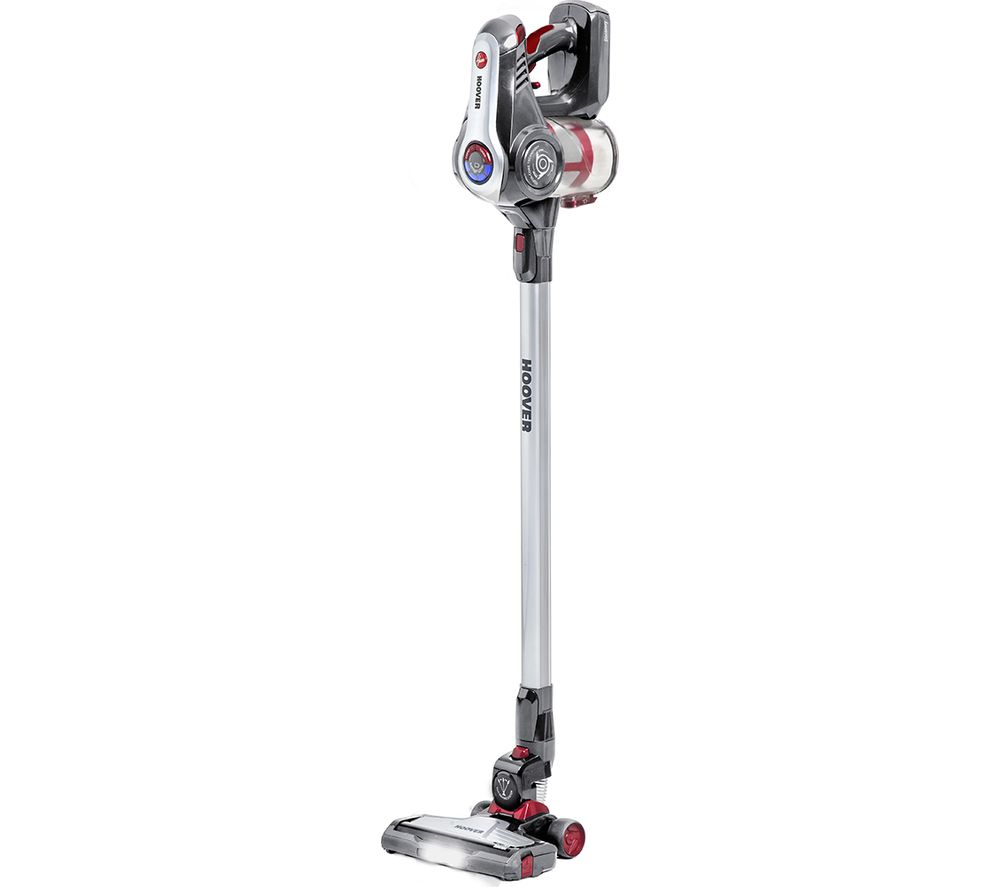 The Hoover Discovery has a 35-minute run time and the clever HSpin-Core separation unit makes emptying the bin more hygienic.
Powered by
Trusted Reviews
For our farmhouse, with dogs and more mud this year than Glastonbury, we found the additional length of time you could clean was more a function of the increased bin size than the battery, but both are big plusses for this new model.
We continually check thousands of prices to show you the best deals. If you buy a product through our site we will earn a small commission from the retailer – a sort of automated referral fee – but our reviewers are always kept separate from this process. You can read more about how we make money in our Ethics Policy.
Unlike other sites, we thoroughly test every product we review. We use industry standard tests in order to compare features properly. We'll always tell you what we find. We never, ever accept money to review a product. Tell us what you think - send your emails to the Editor.