Black Friday & Cyber Monday Smartwatch Deals: Cyber Monday is here and these are some of the best smartwatch deals we've seen.

There have never been more high-quality smartwatch options than there are right now, whether you're wowed by the punchy screen of the Apple Watch 4, the fashion-friendly stylings of the Fossil Q, or the fitness focus of a Fitbit.
All of which means that this coming Black Friday 2018 should be your best prospect for picking up a great smartwatch at a low price.
Best smartwatch Black Friday & Cyber Monday deals
See the offer below for our current favourite smartwatch. Currently we're loving the Fossil Q Explorist which is £150 off today only.
Fossil Q Explorist Amazon Deal
Bag this Fossil Wear OS smartwatch for a bargain price.
Black Friday & Cyber Monday Smartwatch Deals
We've already seen some stellar Black Friday discounts from retailers like Amazon, Argos and John Lewis on the likes of the Huawei Watch 2, Fitbit Versa and more. One of the best deals we've seen so far is on the Apple Watch Series 3, as you can get one for just £199 from Very.
We've broken down the below deals into different operating systems.
All prices were correct at the time of publication, but do tend to change quickly. Act fast if you want to snap up a bargain.
Best Smartwatch Deals – Overall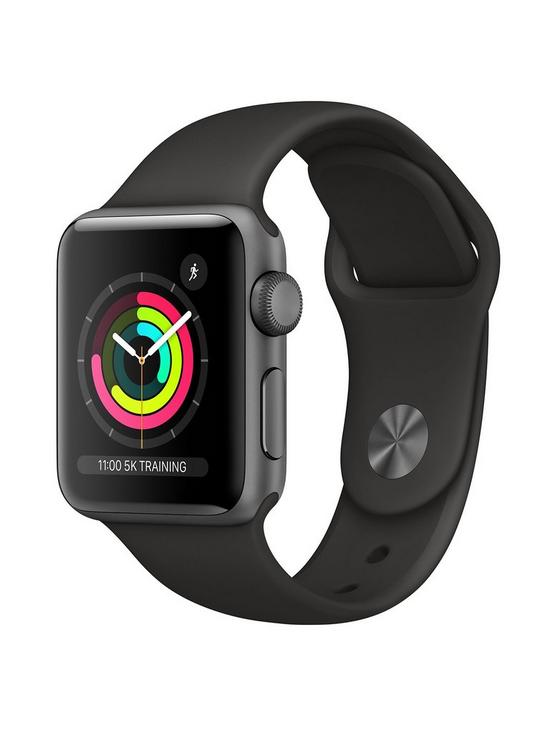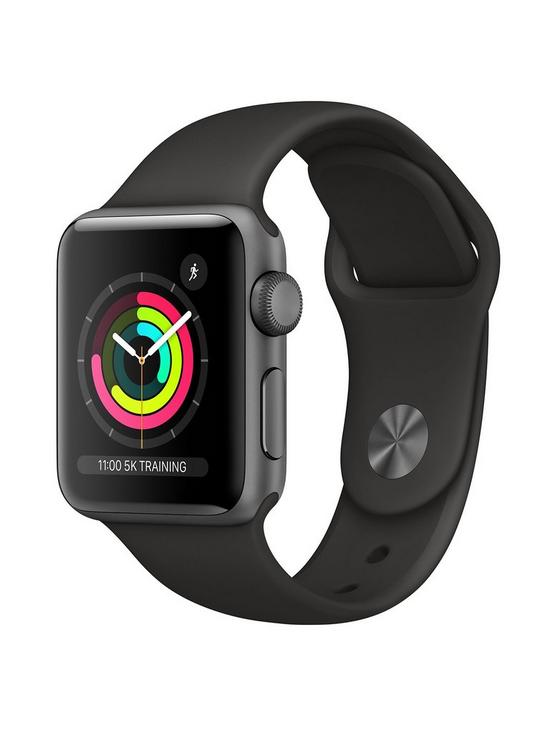 You can bag the Apple Watch Series 3 for a ridiculously good price if you use Buy Now, Pay Later to take another £50 off. Use code N77PP at checkout.
With the best battery life of any touch screen smartwatch right now, the Fitbit Versa is an excellent purchase at this reduced price.
Wear OS (Huawei, LG, etc.)
Previously known as Android Wear, Google's OS for smartwatches is a dream come true for customising your watch's interface. It is currently the most widely adopted smartwatch OS on the market and as such, it has a huge amount of support from third-party developers.
Best Wear OS Smartwatch Deals
The Explorist might not be the most feature packed smartwatch on the market but it is one of the most stylish. Smartwatches of this design tend to go for a far higher price.
Fossil Q Explorist Amazon Deal
Bag this Fossil Wear OS smartwatch for a bargain price.
Unlike Apple's Watch OS, watch faces can be customised relentlessly with Wear OS, giving you access to more information at a glance and saving you from having to scroll through various pages.
Wear OS also supports the use of Google Assistant which is still one of the best AI's on the market due to its gigantic resource of information. It goes without saying that watches utilising Wear OS tend to be much cheaper than the Apple Watch, but there are still deals to be had on the latter if you're set on buying one.
Watch OS (Apple Watch)
The OS powering all of Apple's smartwatches is an ode to luxury. The system adheres to a minimalist design, leaving all clutter behind and giving the watch a clean and clear look that is undeniably fashionable.
Best Apple Watch Series 4 Deals – GPS
Don't expect massive discounts on this new model just yet, but going with John Lewis does get you an extended 2-year warranty over anywhere else.
For £30 more you can also opt for the larger 44mm model with the same 2-year warranty.
Best Apple Watch Series 4 Deals – GPS + Cellular
If you want always-on connectivity, then you'll want the Cellular model. There aren't any real discounts on this new model, but go with John Lewis for the extra warranty.
There's also the new 44mm option for those with larger wrists (or just wanting a bigger display).
Best Apple Watch Series 3 Deals – GPS + LTE
Now that the Series 4 is here, you can pick up the larger 42mm for a massive discount, too. You also get John Lewis' excellent 2-year warranty.
Best Apple Watch Series 3 Deals – GPS
You won't find a cheaper Apple Watch Series 3 than this spectacular deal on John Lewis.
Buy the Apple Watch Series 3 on the Apple Store, and you'll get a £40 Apple Store Gift Voucher to go towards your next Apple purchase.
Apple has made a huge push to market its watch as the go-to fitness accessory, and it shows. The Apple Watch's Activity Rings keep fitness tracking simple while still providing you with all the details you want at the flick of a wrist.
Taking a step back from the OS, it's hard to deny that the Apple Watch is pretty damn stylish. Sure, it might look like a miniature version of the obelisk from 2001: A Space Odyssey, but its bold nature only adds to its desirability. For the Apple Watch Series 4, you can expect to fork out a hefty sum but the Series 1 model can now be obtained for a fraction of the price.
Other (Fitbit, Tizen, smartwatch hybrids, etc.)
This is where we've collated the best deals on smartwatches that don't run Wear OS or Watch OS, the renegades that have made a name for themselves through other means. Fitbits fall into this category as they use their own in-house operating system. Similarly, you'll also find hybrid watches here that incorporate some smartwatch features but retain the design of a traditional analogue watch – handy for any technophobes out there.
Best Smartwatch Deals – Other
We may earn a commission if you click a deal and buy an item. That's why we want to make sure you're well-informed and happy with your purchase, so that you'll continue to rely on us for your buying advice needs.