Google presents 'Evolution of Search' with Lens, Activity Cards, Collections and Discover
Credit: Google
Google Search turns 20 this week, and it's hard to overstate the impact the pioneering web tool has had on society. Not content with completely upending the way much of humanity obtains information, Google is now looking to the next two decades.
Today, the firm announced a number of new features as part of a so-called 'Evolution of Search'. Those include a new Activity Card tool, which will appear at the top of search results. This will include previously visited pages and also previous queries about the topic in question.
In a blog post, Google executive Nick Fox explained this will help users 'retrace their steps' within Search.
"When you revisit a query related to a task you've started in the past," he writes, "we'll show you a card with relevant pages you've already visited and previous queries you've done on this topic. This helps you retrace your steps when you might not remember which sites had that useful information you'd found earlier."
This will be joined by a Collections feature, which enables users to save stuff from the activity cards and will enable Google to make recommendations on new content. The company is also introducing a new way of dynamically orginising the results it shows, which it says will make it easier for users to decide where to go next.
Fox, the VP Product & Design, Search and Assistant says if uses are searching for Pugs, for example, they'll be able to move between a number of subtopics. They could include breed characteristics, grooming techniques, names and then on to different kind of breeds…
Google also says it is moving forward with a shift from text to 'a more visual way of finding information' and is illustrating this with some new features. To start with, there's a new Featured Videos tab, which will help with visually previewing topics. This takes Google's understanding of the topic space and shows the most relevant videos for the subtopics commonly searched for.
"For Zion National Park, you might see a video for each attraction, like Angels Landing or the Narrows," Google writes. "This provides a more holistic view of the video content available for a topic, and opens up new paths to discover more."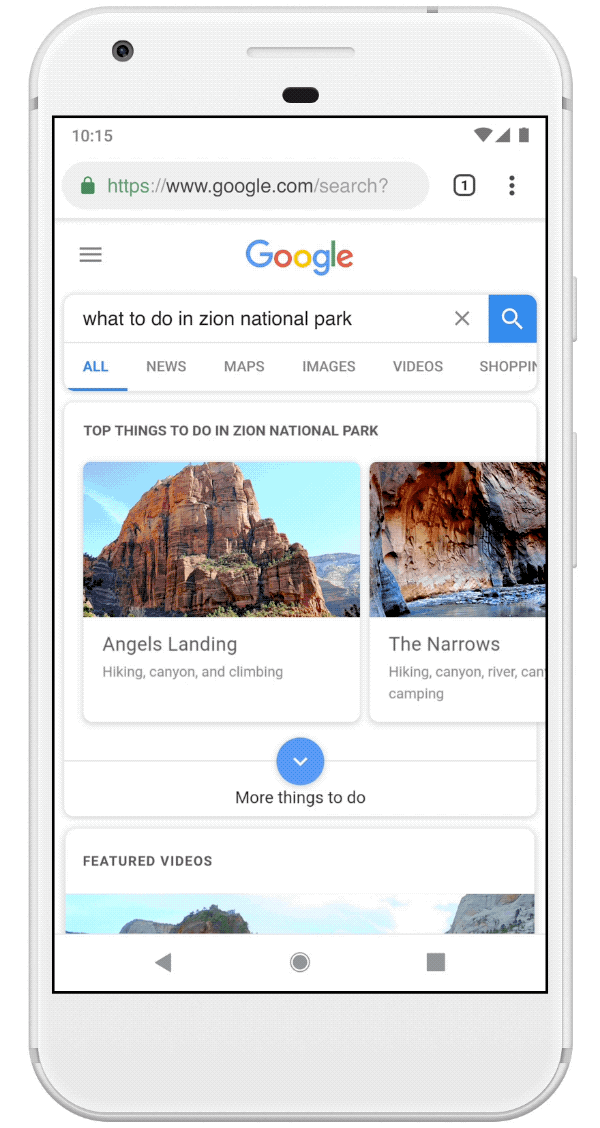 There are also changes coming to Google Images, with more context shown around the images surfaced. Google says this will help users understand the page behind the image.
The super smart Google Lens camera tool is also coming to Google Images. The company plans to scan the contents of pictures to suggest more product pages. On mobile devices users will be able to hand-draw on a part of the image in order to dive deeper into the search.
Google is also building on the personalised information surfacing 'Google feed' service. It'll now be called Discover and continues the mission to provide users with prevalent content information without them having to manually search. There's a fresh design, along with new and easy-to-follow topic headers, and more evergreen articles and videos.
Google says all of these advancements are underpinned by its enhancements in AI.
Which of the new Google Search features do you believe will be most useful? Drop us a line @TrustedReviews on Twitter.