Google Maps just got a makeover and a bunch of new features
To celebrate its 15th birthday, Google Maps has just rolled out a new look and a set of handy new features too.
After installing the new update, the first thing you'll notice is the redesigned icon, which is now shaped like the famous Google Maps pin.
It still sports the traditional Google colours, so it shouldn't be too difficult to find it amongst your other apps.
Related: Best Android apps
The new design is based around five main tabs, which sit at the bottom of the usual map layout. These tabs all have specific functions, which we've outlined below: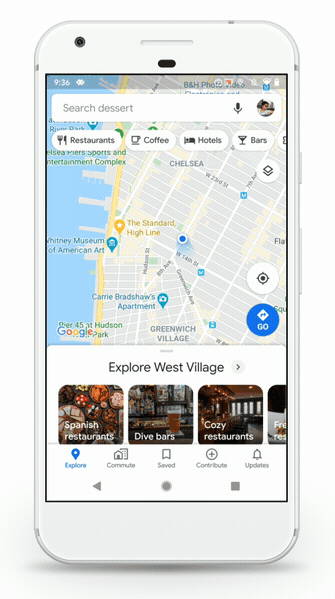 EXPLORE
Mainly useful for finding things like rating and reviews on local places, the Explore tab will let you search for nearby restaurants and tourist attractions.
COMMUTE
This should give you the best local route for travelling to and from your 9 to 5. There's also an option to get daily information on traffic and travel times for your commute.
SAVED
A fairly self-explanatory tab – using this, you can bundle together all your saved information, such as favourite restaurants, upcoming reservations and future travel plans.
CONTRIBUTE
Keyboard warriors, this one is for you. The 'contribute' tab lets you share local knowledge on things like roads and businesses. In theory, this should help people navigate unfamiliar territory – but in practice we're betting that locals use it to moan about potholes and hidden road signs.
UPDATES
If you're the kind of person that likes unbearably hip cafes which are only in vogue for about a month (looking at you, cereal café) then this will soon be your favourite tab. It rounds-up local trending places that have been bigged-up by individuals and publications.
In March, Google will also update some new transit features that could actually be pretty useful. For one, it will tell you the temperature on transport based on previous travellers' reports. This should let you know if you need to bundle up for the journey or take off a few layers.
More importantly, it will also create a new 'Accessibility' display, that lets users know if their mode of transport has staffed assistance, accessible entrances, and accessible stop-buttons too.
Related: Live View is the best new Google Maps feature in ages
In regions outside the UK, Google will also roll out additional bits of transit of info such as the presence of women-only carriages, on-board security and number of carriages per train. The company is also going to improve its augmented-reality offering in the coming months, by improving the functions in Live View.