The battle to be the voice assistant to dominate our homes has well and truly begun. While the Amazon Echo took an early lead by virtue of being released first, Google has upped its game for its Home range of speakers. Now, with the Echo on its second generation, which one is best for you?
Google Home vs Amazon Echo – Versions and price
While we're looking at the main Echo and Google Home speakers in this article, it's worth thinking about how you may want to kit your home out for future use. Amazon has the biggest range of smart speakers. The Echo is the all-rounder, which costs £90, down from the original's £150. If you want a smaller speaker, the tiny Echo Dot costs £50, making it cheap enough to fill your home with. Its sound isn't great if you want something for music, but you can use Bluetooth or the 3.5mm audio jack to hook it up to a better set of speakers.
For smart home enthusiasts, there's the new Echo Plus (£140), which has a built-in Zigbee hub for controlling devices, such as Philips Hue bulbs. It's a great idea in theory, but it's not quite ready for the primetime.
Then, there's the Echo Show, (£200) which adds a touchscreen to the Echo, so you interact with the assistant in a completely different way, and view visual content, such as a security camera's feed.
Buy Now: Google Home at Tesco from £129
Google has just two products. The original Home is the main product, which competes against the Echo in terms features and price (£89). Then, there's the newer Google Home Mini (£50), which competes with the Echo Dot and is cheap enough to spread throughout your home. This product doesn't have any audio outputs, so you can't connect it easily to an external hi-fi system (well, not without this handy Google Home 3.5mm audio jack hack, that is). Google currently has no voice assistant with a built-in screen.
While Amazon wins on range, if you're not interested in having a device with a built-in screen, then the core products from both companies are roughly equal.
Both companies are also working with external partners, launching a series of smart speakers powered by the voice assistant. We've already seen the excellent Alexa-powered Sonos One, but there's a range of other products on the way, such as the Harmon Kardon Allure. Google is following suit, with the Sony LF-S50G and Panasonic SC-GA10 among others.
Get the Amazon Echo now for £89.99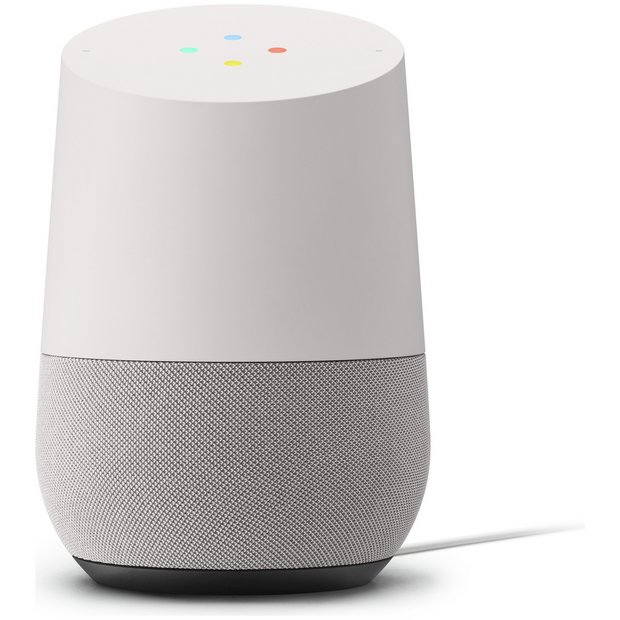 Get the Google Home now for £129.00
Google Home vs Amazon Echo – New Google Home features
Google has announced a load of new features coming to Google Assistant, many of which will improve Google Home and narrow the gap between it and the Amazon Echo. There are three stand-out features coming soon (date in the UK to be confirmed). First, Continued Conversation will let you ask a question, and then follow up without having to repeat the "OK Google" bit. It should make conversations with the Google Home more fluid.
Second, Multiple Actions will let Google do more than one thing. So you could ask to turn on your dining room and kitchen lights, using a single phrase, rather than taking each as a separate action. Or you can ask what the weather is like in multiple locations. This will be a far more natural way of interacting with Google Home.
Third, Custom Routines will let you control multiple smart home devices at once, running a pre-configured script. For example, you may want to turn off everything when you go out. Amazon has this already, so it was about time for Google to introduce a similar feature.
Related: Google Assistant Guide
Google Home vs Amazon Echo – Design
Both the Amazon Echo and Google Home are voice-controlled speakers, which you can shout at without using your hands. While Google used to win the design battle, the second-generation Amazon Echo ups the stakes.
Whereas the first Echo was a little basic and industrial looking, Amazon as made the new smart speaker far more attractive, and there's now a choice of six finishes: three material, two wood and a metallic choice. This makes it far easier to find the product that suits your home decor.
The Google Home remains a good looker. It has a curvier shape, which Google says was inspired by wine glasses and candles. Its bottom casing can be swapped out for different shells to match your furnishings – there are six shells, available in fabric or metal. It has a sloped top, with four LEDs to provide visual feedback.
Amazon's approach is entirely mechanical, with physical buttons for mute, activation and volume. Arguably, the volume controls have been downgraded from the original's rotating dial. Google has gone for a capacitive touch panel, so you'll be swiping to control your music, but there is a physical mute button at the back.
Both units have microphones with far-field technology, which promises to pick up your voice from across the room or down the hallway.
Google Home vs Amazon Echo – Voice assistant
The Amazon Echo features the Alexa digital assistant, while the Google Home is loaded with the imaginatively named Google Assistant.
Alexa is capable of understanding simple commands, or even a series of simple commands, but they're fairly basic. And the default search engine is Bing. Alexa also requires you to phrase things in a particular way for her to understand you, and the language you have to use is not always natural.
Amazon's other problem is that it's one wake-up word (Alexa, by default, but you can choose to have Echo, Amazon or Computer) means that the voice assistant often wakes up by mishearing what you've said.
By contrast, Google Assistant has the distinct advantage of, well, Google. As such, Assistant doesn't just have a wealth of information – it's built right into Google's overall architecture. Tell Google Home your shopping list and Assistant will be able to reproduce that in your Pixel phone later. And, by using a two-word wake-up phrase, Google Home goes off less often by accident.
Google Assistant also boasts two-way conversation based on Google's own natural language processing algorithm. Assistant is context-aware, so conversation should be more natural and less like a stilted list of commands.
For example, you can say, "What's the weather like tomorrow?" to get a forecast. Follow up with, "And tomorrow", and Google knows that you're after a follow-up weather report.
The power of Google means that you can ask for directions or traffic reports to anywhere, with the results being pulled from Google Maps. In comparison, the Echo can only give you traffic information to one address that you enter into the Alexa app.
That's not to say that Google wins everything hands-down, as Alexa can do some things that Google can't. For example, Alexa can pull information from a G Suite Google Calendar (that's a paid-for account), whereas the Google Assistant still can't.
And, when Alexa can't do something, there's an app store full of Skills that let you expand capabilities far beyond what Google Home can do. There's everything from tube status updates to bedtime stories in the mix.
Both devices now support multiple users, using voice recognition so that you can get tailored calendar and route information.
Related: Echo 2 vs Echo – what's the difference?
Google Home vs Amazon Echo – Smart home
Smart home control is one of the main reasons to buy one of these voice assistants, letting you turn on lights or control your thermostat's temperature using your voice only.
Both products support the biggest names in the smart home world, including the Nest thermostat, Samsung SmartThings and Philips Hue lights. While Google is expanding support for smart home devices, Amazon is the de facto standard and is more widely supported. Before buying either product, then, check out which smart home skills are available and if your devices have support.
Amazon has taken a further step towards dominating the smart home, with its app revamp. Rather than just listing which smart home devices you have, some can now be controlled from the app, such as turning on your Hue lights and setting their brightness level. This, in theory, makes the Echo and Alexa the hub of your smart home, with multiple ways of controlling your devices.
But, it's not quite ready for the primetime yet. Not everything can be controlled via the app; for example, you can't set temperatures on a smart thermostat. And, the organisation of the app leaves a lot to be desired, with devices simply listed in alphabetical order. Still, it's a step in the right direction.
Amazon also has Routines, which lets you control multiple devices with one phrase. For example, "Alexa, goodbye" could turn off your lights, stop Sonos and switch your heating system to Away mode. Again, it's not perfect and some devices can't be controlled. For example, you can't do anything with a Nest thermostat in a Routine at the moment.
More recently, Amazon has added the option to add Echo devices to smart home groups. For example, you could create a group of products that sit in your lounge, including lights and a smart radiator valve. Once done, control becomes much simpler, and you no longer have to name the device that you want to turn on, as the Echo understands where it sits. You can just say, for example, "Alexa, turn on lights", and she understands which lights you want to turn on.
You can still control devices in other rooms using the full name of the device ("Alexa, turn on dining room light"), but for general use this update greatly simplifies smart home control. Google, currently, doesn't have anything like this for the Home.
In terms of overall control, the Amazon Echo is best for most smart homes, with more supported devices and a wider range of control options.
Buy Now: Amazon Echo at Tesco.com from £89
Google Home vs Amazon Echo – Music and video
The Google Home and Amazon Echo are small speakers, so they'll play music. The Echo unsurprisingly can stream from Amazon Prime Music, while Google will play content from Play Music and Google Cast. Both feature Spotify and TuneIn radio, but Google also offers Pandora (US only).
Both devices let you create groups for streaming to multiple devices, which gives you multi-room audio, too. The control isn't quite as simple as with a dedicated system, such as Sonos, which lets you add and drop speakers to a group more easily.
Google Home's advantage is it's Cast support. With this you can send video to a Google Chromecast (Netflix and YouTube), and control playback for your voice; no more scrabbling for your phone to pause the action when your front door rings. Cast support extends to speakers, too, so you can voice control your music to any supported device, too.
Amazon lets you link an Echo to a Fire TV device, giving you similar video playback options, but it doesn't have the same ability to broadcast music.
Google Home vs Amazon Echo – Calls
Google and Amazon both have features built in, so that you can use the devices for communication. With Echo, you can call other devices in your home or even to friends over the internet, and with the Echo Show that turns into video calling. There's also a Drop In feature, where you can listen-in to another Echo, which is a handy way of having a chat or calling the kids down for dinner. For security, you can block Drop In and calling features on each Echo.
Google has a Broadcast feature, which sends a recorded message out to all of the speakers in your home. It's not quite as convenient or as useful as Amazon's feature.
Google now has its hands-free voice calling feature available in the UK. With this, you can make high-quality calls for free to local mobile phones and landlines. This could be a great thing for anyone with a mobile plan that doesn't come with many voice minutes. And, if you set your caller ID in the Home app, calls go out as though you made them on your own mobile phone.
Voice quality is excellent on both the Google Home and Google Home Mini, easily beating the best hands-free option on any smartphone. Calls can be made to any contact in your address book, or to phone numbers found in local search results, such as a takeaway restaurant. Smartly, Google Home can pull in different contacts based on the user it recognises, so each person in your house can make their own calls to people they know.
Amazon has launched a similar service in the US, although there's no UK release date for this feature yet.
Google Home vs Amazon Echo – Conclusion
Both are great products, and the choice between them is likely to come down to what you want to do. Google Home is more natural to converse with and a little smarter out of the box. If you're largely looking for a personal assistant, it's the best choice. Google's Cast integration makes it brilliant for anyone with a Chromecast or Cast-enabled speakers, too.
That said, Echo has a wider range of speakers, including the fancy screen-enabled Echo Show. While Alexa is a little trickier to talk to, its huge range of Skills means that the Echo can do more than Google Home can. The wider range of smart home Skills also makes Echo better if you want to control your house. Add in Echo's device-to-device calling, and it ups the stakes again. For most people, then Echo will do more of what you want.
Which of these assistants do you want to, er, assist you? Tweet us @TrustedReviews