Black Friday and Cyber Monday Camera Deals 2018: Looking to get the perfect shot this Black Friday and Cyber Monday? Take a look all of these flashy deals with discounts as high as £891. For more great deals like this, check out our Black Friday Deals hub.
Black Friday and Cyber Monday Camera Deals
We may be approaching the end of Black Friday's spectacular 2018 show, but that doesn't mean it isn't planning to bow out with a spectacular encore called Cyber Monday.
There are still some great savings to be made and some of the better deals, like Amazon's impressive Fujifilm X-A3 discount, have actually gone live today.
Check out the best deals that are still live below. And if you need help deciding which one to go for, scroll further down for our tips on what to look for based on factors like size, controls and your preferred shooting style.
All prices were correct at the time of publication, but do tend to change quickly. Act fast if you want to snap up a bargain.
Jump to camera deals:
Amazon | John Lewis | Currys PC World |  Argos | AO
---
Black Friday and Cyber Monday Camera Deals – Amazon
Amazon still has some excellent camera deals. The standouts are 43% off the Fujifilm X-E3 and the Sony A6000 deal, which comes down to a record low £369 with a kit lens thanks to Sony's Winter Cashback deal.
---
Black Friday and Cyber Monday Camera Deals – John Lewis
John Lewis has some brilliant deals on Fujifilm's X Series, including the X-T20 and X-T2, which benefit from a combination of discounts and cashback offers. As usual with John Lewis, you also benefit from long and often unrivalled warranty lengths.
Best John Lewis Camera Deals
---
Black Friday and Cyber Monday Camera Deals – Currys PC World
The standout Cyber Monday deals in the Currys PC World listings are just £219 for the black version of Panasonic's Lumix DC-GX800, which is a real cracker for anyone starting out in photography. For those who are a little more advanced, its deal on the Canon 80D, a super-reliable DSLR, is also well worth checking out.
Best Currys PC World Camera Deals
---
Black Friday and Cyber Monday Camera Deals – Argos
Looking for an affordable holiday camera? Argos still has some strong deals on sub-£150 models, including Canon's PowerShot SX620 and the Canon Ixus 185. The latter even comes with a carry case and an SD card for £80, which is the definition of Cyber Monday madness.
Best Argos Camera Deals
Its specs might not blow anyone away but the Cacnon IXUS 185 is a solid shout for someone looking to buy their first camera, plus it comes with a handy carry case and 16GB SD Card. Not too shabby.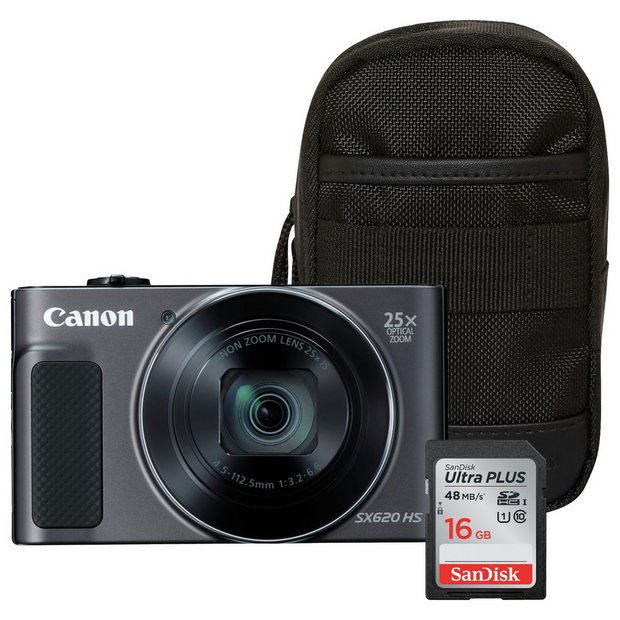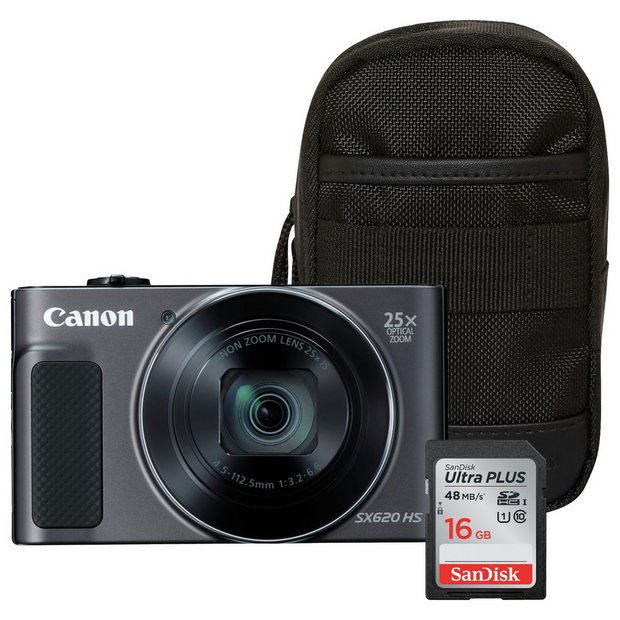 As a step up from the IXUS, the PowerShot still nabs you 20MP but you'll also have a 25x zoom on board for those perfect shots that are just over the horizon.
---
Black Friday and Cyber Monday Camera Deals – AO Camera Deals
If you want a GoPro but don't need the latest flagship version, then AO has a good deal on the GoPro Hero 7 Silver – this new model is £60 off, making it a fine alternative to the GoPro Hero 5 Black Master Kit deal that you can find on Amazon. For other GoPro deals, check out our dedicated Black Friday GoPro deals collection.
Best AO Camera Deals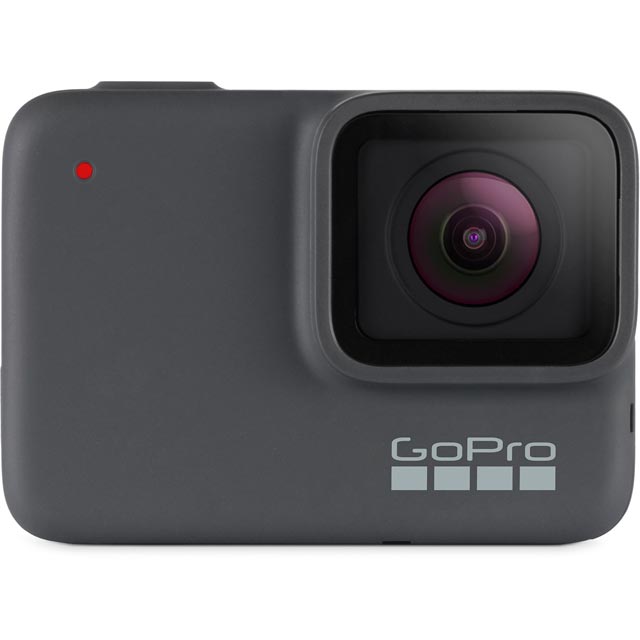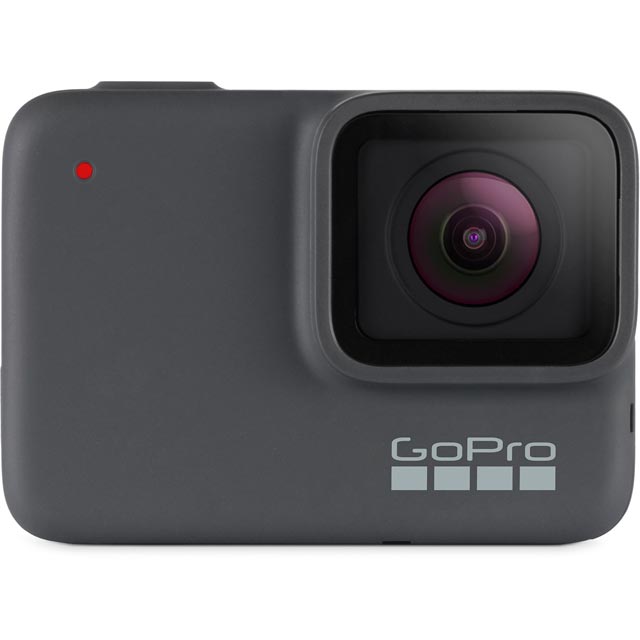 With some of the best video stabilisation tech on the market, the GoPro HERO7 is a must-have device for action photographers, especially with this tasty £60 discount on top.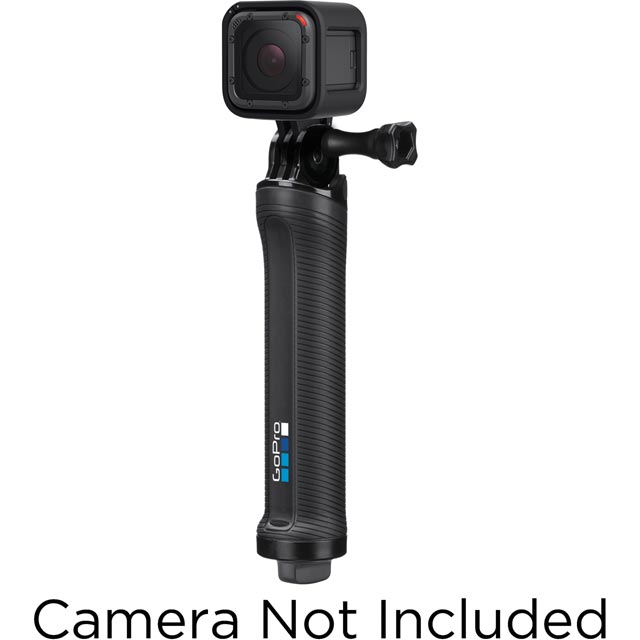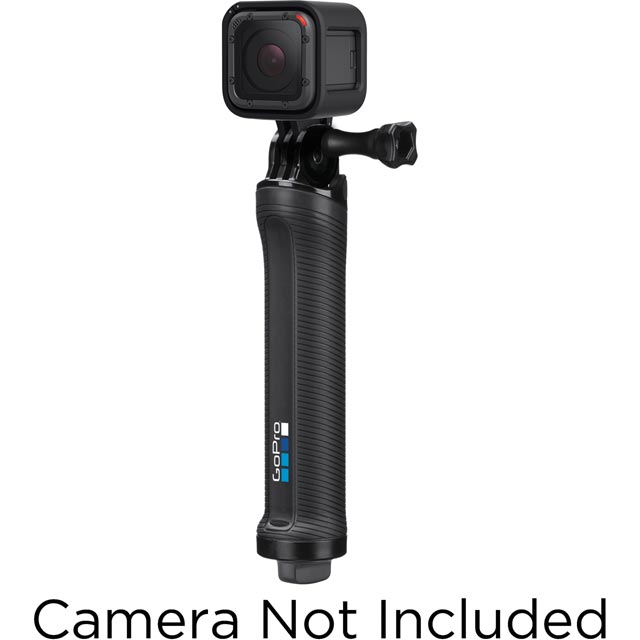 Getting to the heart of the action is what GoPro is all about, but sometimes you just need a steady hand. With this £10 saving rom AO, you can pick up an official GoPro mount on the cheap. Sorted.
---
Want to see more Trusted Reviews deals?
Consider these:
Choosing a Black Friday and Cyber Monday camera deal
What's your size?
There are two main (and often related) questions to answer when deciding which camera to go for.
Firstly, what size camera do you want? Despite huge advances in autofocus systems and sensor design, the fundamental physics of optics mean that cameras still range from pocket-sized to pineapple-sized and beyond, depending on which lenses you want to use (if any).
Which brings us onto the second question – how deep are you looking to get into the nuts and bolts of photography? If you'd prefer the camera to do most of the work, then a point-and-shoot compact model is likely to be best. For those who want to combine simplicity with the flexibility of huge zoom ranges, then a 'bridge' camera like the Sony RX10 IV is worth investigating.
But if you're really looking to dig into photography's creative possibilities, then an interchangeable lens camera with a viewfinder and some manual controls will be best. This covers both mirrorless cameras and DSLRs, with the main difference between the two being their viewfinders (mirrorless camera viewfinders are electronic, while DSLR ones are optical). The knock-on effect is that mirrorless cameras are smaller, but DSLRs have longer battery lives.
The golden rule is: don't be tempted to stretch to something larger and more complicated if it means you'll never use it. There's a reason why "the best camera is the one you have with you" is such an enduring cliché.
What's your style?
Another related question to ask yourself is what kind of photography you want to do. This isn't quite as crucial as it used to be – most of today's cameras are so accomplished that they'll confidently handle most situations, from moving subjects like kids to landscapes.
Still, deciding two key things will help guide you to a particular range and model – the kind of photography you'd like to specialise in (if any), and where you're looking to publish (or print) your photography.
For example, if you're looking to shoot a lot in low light, a camera with a larger sensor (APS-C or full-frame) will be best, as it can gather more light and give you greater shooting flexibility.
If you'll mostly be shooting high-speed sport or action, though, then smaller sensor systems like Micro Four Thirds (made by Panasonic and Olympus) tend to have higher burst speeds. Looking to get into street photography? A large sensor compact like the Panasonic Lumix LX100 II combines great image quality with a small form factor, which will help you get natural shots without intimidating your subjects.
Every camera is a compromise – the question is which compromise suits your shooting style the best.
The generation game
The best Black Friday deals are often on previous generation cameras that have recently been succeeded or replaced.
While getting last year's technology might be a little off-putting, today's cameras mostly move at the pace of 'marginal gains' – the fundamental tech behind two generations are often very similar or the same, which makes 2017 models excellent value.
Ask yourself whether you really need the extra tinsel (for example, a higher resolution viewfinder or speedier burst mode) on the latest model. If not, you'll be better off buying the discounted model during Black Friday and investing the money you've saved in a new lens.
Black Friday & Cyber Monday Camera Deals 2018 – What to expect
In the face of constantly improving smartphone tech, it can be difficult to justify buying a brand new camera but professionals and amateurs alike know that it's still a worthy expense. Fiddling your way through manual focus and seeing the final result is a reward entirely unto its own and there's simply no substitute.
As anyone who's invested in a serious camera set-up will tell you – they rarely ever come cheap. When you factor in the cost of the camera itself plus any required accessories (lighting, lenses, etc.), it's not unusual to expect a bill in excess of £1000. I think I speak for all when I say thank goodness for Black Friday 2018.
Throughout the sales extravaganza, we'll be updating this page constantly with the best deals from Nikon, Canon, Sony and so on, so be sure to bookmark it and avoid missing out. Last year brought about some incredible offers and savings that were just too good to miss.
One of the best deals to appear during last year's bonanza was for the Nikon D7500, with Amazon selling the camera with a staggering £420.99 discount. The retailer also knocked it out of the park with the fantastic Sony RX100 IV compact camera, bringing the price down from £1000 to just £569.
The GoPro Hero5 starter kit also saw a major saving, going for just £396.91, down from £494.97. These are just some of the many deals from last year's Black Friday sale, and we're expecting them to be far surpassed this time around.
Black Friday & Cyber Monday Camera Deals 2018 – is it a good time to buy?
Black Friday has a bit of a mixed reputation, with some shoppers rightly wary of misleading price drops and fabricated deals. Shop sensibly with the right advice, though, and there's no doubt it can be a great time to buy a camera for a record low price.
Use a Chrome extension like Camel Camel Camel on Amazon and you can see a history of each product's price over time, stretching back months and years, to make sure you're genuinely getting a good deal.
Or, if you don't want to faff around with that, let us guide you on the biggest bargains, using our knowledge of both the best cameras in each price range and our research on price histories.
The more flexible you are on features like colour, the greater your chance of bagging a camera bargain. In particular, it's worth considering cameras that are bundled with kits lenses, as they often represent the best value for beginners.
Because lenses tend to hold their value better than camera bodies, there tend to be fewer Black Friday deals on lenses – though we have seen some reductions on Nikon AF-S glass and Sigma's Art lenses this year.
It's also definitely worth considering camera bodies from 2017 – this year's upgrades have mostly refined existing features like viewfinder resolution and burst shooting speeds, rather than introducing brand new ones.
If you're relatively new to photography, it's quite possible you might not notice the difference between a 2017 body and this year's model in your day-to-day shooting. In which case, you're much better off buying the older model and investing in a reduced lens.
Finally, while the sales are called Black Friday, new discounts often appear over the course of the weekend, so it's worth keeping an eye out right through to Cyber Monday. So if you've missed out on one deal, it's likely that a similar bundle will appear later in the weekend. We'll be updating this page by the minute, so make sure to keep it refreshed for the latest bargains.
We may earn a commission if you click a deal and buy an item. That's why we want to make sure you're well-informed and happy with your purchase, so that you'll continue to rely on us for your buying advice needs.