Android 11 is now available, bringing screen recording and these great features
Following a few months in beta, Google has confirmed Android 11 is ready for prime time and is rolling out today. We've got all the details on the release as well as the best Android 11 features that have caught our attention.
In a blog post on September 8, Google announced it is 'turning it up to Android 11' with a release of the completed operating system. Android 11 is now rolling out for compatible Pixel phones (sorry original Pixel owners, you're out), as well as select devices from OnePlus, Xiaomi, OPPO and realme.
If you are reading this guide, you're probably interested to know just when you'll be able to get your hands on the full version of Android 11 for your own handset. Read on for all the info on the release schedules, features and if your phone will be able to get the latest version.
Android 11 release schedule
A couple of months ago, Google appeared to accidentally reveal a September 8 release date for Android 11. And wouldn't you know it, that has turned out to be true! Android 11 is here.
Google says the rollout for Pixel devices is underway and, this time around, devices from third-party manufacturers are included in the initial rollout. Google is promising owners of select phones from OnePlus, Xiaomi, Oppo and realme will begin seeing the update on their phones from today.
We would expect those companies to comment publicly on the release schedules for those handsets. Popular Android manufacturers like Samsung, Huawei, Motorola, LG and more are expected to announce their own schedules, but they are not part of this initial rollout.
Which phones work with Android 11?
Currently, Google has confirmed the following phones have support Android 11 from launch.
Pixel 2
Pixel 2 XL
Pixel 3
Pixel 3 XL
Pixel 3a
Pixel 3a XL
Pixel 4
Pixel 4a.
We're also positive the forthcoming Pixel 5 (and it's rumoured larger XL sibling) will launch with Android 11 out of the box. As mentioned above, now Android 11 is complete and out in the wild, third-party manufacturers will announce their own plans.
The third-party manufacturers who're rolling out the OS on select phones from September 8 are OnePlus, Xiaomi, OPPO and realme. Specific handsets were not mentioned by Google, but OnePlus has confirmed the update for OnePlus 8 and OnePlus 8 Pro handsets will soon commence.
Keep your eyes peeled to those makers' social media channels and blogs for updates.
What new features are in Android 11?
We now have a completed version of Android 11, which means a complete feature set. No more messing around with betas and hoping those changes make the final cut. Here's what we know about the final feature set for Android devices, headlined by this trailer from Google.
Distinct chat notifications
Messages sit separately from other notifications in Android 11's notification shade, with rich features that enable replies, reminders and the ability to set shortcuts to threads on your lockscreen. This should help distinguish between chat notifications and ones from your other apps. Google is also enabling users to set individual conversations as "Priority" which means they'll sit at the top of the conversation section, appear as a Bubble (see below) and even break through Do Not Disturb settings.
"In Android 11, conversations across messaging apps will be moved to a dedicated space in the notifications section, making it easy to manage your conversations in one spot. You can also prioritize conversations from the key people in your life so you never miss an important message," Google confirms.
Chat bubbles
We had been expecting Chat Bubbles to launch with Android 10, but that didn't happen, and the feature is now coming in Android 11.
By long-pressing a message notification, you'll be able to open the conversation in a miniature floating bubble that will be overlaid on top of everything else on your screen, in a similar manner to Facebook Messenger's floating heads. This means you won't actually have to open the chat application to interact with messages. It works across multiple messaging apps and you'll be able to move chat bubbles around too.
Easier Controls
One really nice new Android 11 feature is the new Controls panel hidden behind the lock button. Not only will this bring you quick access to your Google Pay cards, but it'll also bring smart home controls directly to the front without forcing you into the Home app to change the brightness of your lights. This screen is accessed by long pressing the power button.
Related: Best Android phones
Screen recording
Android 11 finally brings build-in screen reporting into play. The feature will be accessible in the Quick Settings menu, and once you've started a recording you'll see options to pause, stop, cancel and Chromecast the recording.
"Built-in screen recording is finally here: Now you can capture and share what's happening on your phone. Record with sound from your mic, device or both—no extra app required," Google announced.
Revamped media controls
Google says media controls have been completely designed to be a little more helpful. That includes the ability to quickly switch the device the media is playing on. So, when you get home from work, you can easily continue your playlist on the speaker by transferring from the headphones.
Wireless Android Auto
Google says all phones running Android 11 will support wireless Android Auto. This will, of course, require compatible vehicles, but it will negate the need to plug into a USB cable to access Google's excellent in-car infotainment system.
Privacy controls
There has been a lot of tweaks surrounding privacy in Android 11. For instance, you can now give apps one-time permission to use the mic or camera and permissions will auto-reset if you haven't used the app for an extended period of time. Apps will also need to get permission to access background data. However, this won't be enforced until 2021.
Google Pixel exclusive features
Google is promising Pixel device owners some exclusive features, which may convince some folks to consider a Pixel 4a or Pixel 5 smartphone. It's also great news for those who own a Pixel 2 and above. There's new Smart Reply options within the keyboard and more granular controls when it comes to screenshots. Here's a summary of what Google has announced today:
Live View with Location Sharing
If you're meeting up with a friend, this feature enables you to quickly find them using your phone's camera. Once the location has been sent, you can tap to open Live View, give the Pixel phone a second to analyse the surroundings, before it points you in the precise direction of the friend.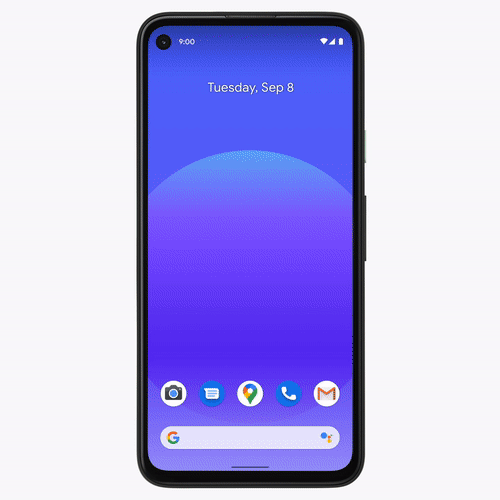 Smart App Suggestions
Similar to Apple's Siri Suggestions, Android 11 will suggest different apps for users based on their usage habits at different times of the day. Use Spotify on your way to work? You may see a suggestion in the morning. Call mum on the way home? Likewise.
Previously rumoured and tested Android 11 features
The above features are confirmed to have made it into the Android 11 consumer release, but loads of features have been rumoured and tested in recent months. We're currently examining the final release to see which have made the cut and will update as necessary.
Call recording
Conversely, new information suggests that call recording will not be allowed, despite being accessible in some early beta versions of Android 11. Call recording has been a feature requested by lots of Android users. However, there are a lot of concerns around safety and privacy that arise if call recording is included in the operating system.
Dark mode scheduling
Android 10 introduced a system-wide Dark Mode, but if you don't want to have it enabled all the time, Android 11 may allow you to set Dark Mode to switch on and off automatically at specific times of the day. For instance, it could turn on automatically at sunset, and disable itself at sunrise.
Muted alerts during camera use
With Android 11, your phone could automatically mute notification sounds and vibrations while you're using the camera app, which means you'll no longer be able to blame your friends for shaky video footage.
Related: Best camera phones
Better motion senses
The Pixel 4's gesture controls failed to convince, but Google looks set to enhance them in Android 11. There'll be a new pause gesture that works when you tap the air in front of your phone, and Android Police reports that the entire gesture controls system is being improved, and will work a lot more smoothly.
Double-tap functionality
There's a new "double-tap" gesture in the works for Android 11 too. By tapping the back of your phone twice, you'll be able to control a wide range of features. Here's the list of choices, according to XDA Developers:
Dismiss timer
Launch camera
Launch Google Assistant
Play/pause media
Collapse status bar
Silence incoming phone calls
Snooze alarms
Unpin notifications
Perform a "user selected action"
Improved gesture navigation
Android's fiddly gesture navigation system is set for some tweaks too, and Android 11 could let you increase or decrease the sensitivity of certain controls, like the back gesture, in order to make it easier to use.
Tools to improve 5G bandwidth and metering
Google is also getting ready for the influx of 5G phones in 2020, with tools to improve 5G bandwidth and metering. Android 11 will check if you have an unlimited 5G tariff and will boost the resolution of video in order to make sure you're getting the best viewing experience possible.
Related: Best smartphone
Refresh rate viewer
Whether fixed or variable, higher screen refresh rates are becoming increasing common on smartphones, and Android 11 could give you the option to view your display's refresh rate all the time. The number, most likely either 60Hz, 90Hz or 120Hz, will appear in the top-left corner of the screen.
New permission options
Last but absolutely not least, Android 11 will introduce a few new permission options, to help you keep on top of the data you're sharing.
When you first fire up an app, you'll have the option to grant it certain permissions on a one-time-only basis. That will appear alongside 'While using the app' and 'Deny'. Only apps that can justify it to Google will be able to offer you the 'Allow access all the time' option that currently appears in Android 10.
Apps will also be required to support Scoped Storage.