Looking for the best tumble dryer for your needs? We've reviewed and rated several models on the market to find the finest around.
If you have endless amounts of washing to dry on a daily basis then a tumble dryer is essential to get your clothes from the washing basket to your wardrobe super-fast.
Navigating your way around the different types of dryers available can be a minefield, however. Then there's understanding the features you might need, and checking those all-important energy ratings.
Thankfully, we've done all the hard work for you. We've laid out some keen buying advice below, and picked four of the best tumble dryers we've tested to make your buying decision easier. You're welcome.
But first some buying advice. If you know roughly which of dryer you want, however, you can skip down to the models we recommend by clicking here.
What to look for
Before you start looking for your new tumble dryer, you'll want to understand the different types of dryers that are available.
Vented
These are the more traditional tumble dryers, and often the cheapest. They work by pumping out damp air from the drum via a hose. This hose is either permanently vented through a wall, or placed out of a door or window whilst the dryer is on. As a result, there will be some limitations regarding its placement.
Condenser
Condenser dryers don't require venting, so are more flexible in terms of placement. Instead, they condense the damp air inside the drum and turn it into water. This is then collected in a removable reservoir, which is emptied down the sink once full.
Heat pump
Heat-pump dryers are essentially condenser dryers but with clever technology that reheats the air that passes through the drum, and as a result use less energy. They're usually the most expensive to buy, but the savings overtime on your energy bills can be substantial.
Gas
These are tumble dryers that run on gas rather than electricity. They're traditionally more energy-efficient than their electric counterparts, but they require special – or shall we say, pricey – installation by a Gas-Safe registered engineer. This, plus energy improvements on electric dryers means there are very few gas tumble dryers in the UK now.
Samsung Family Hub (Sponsored)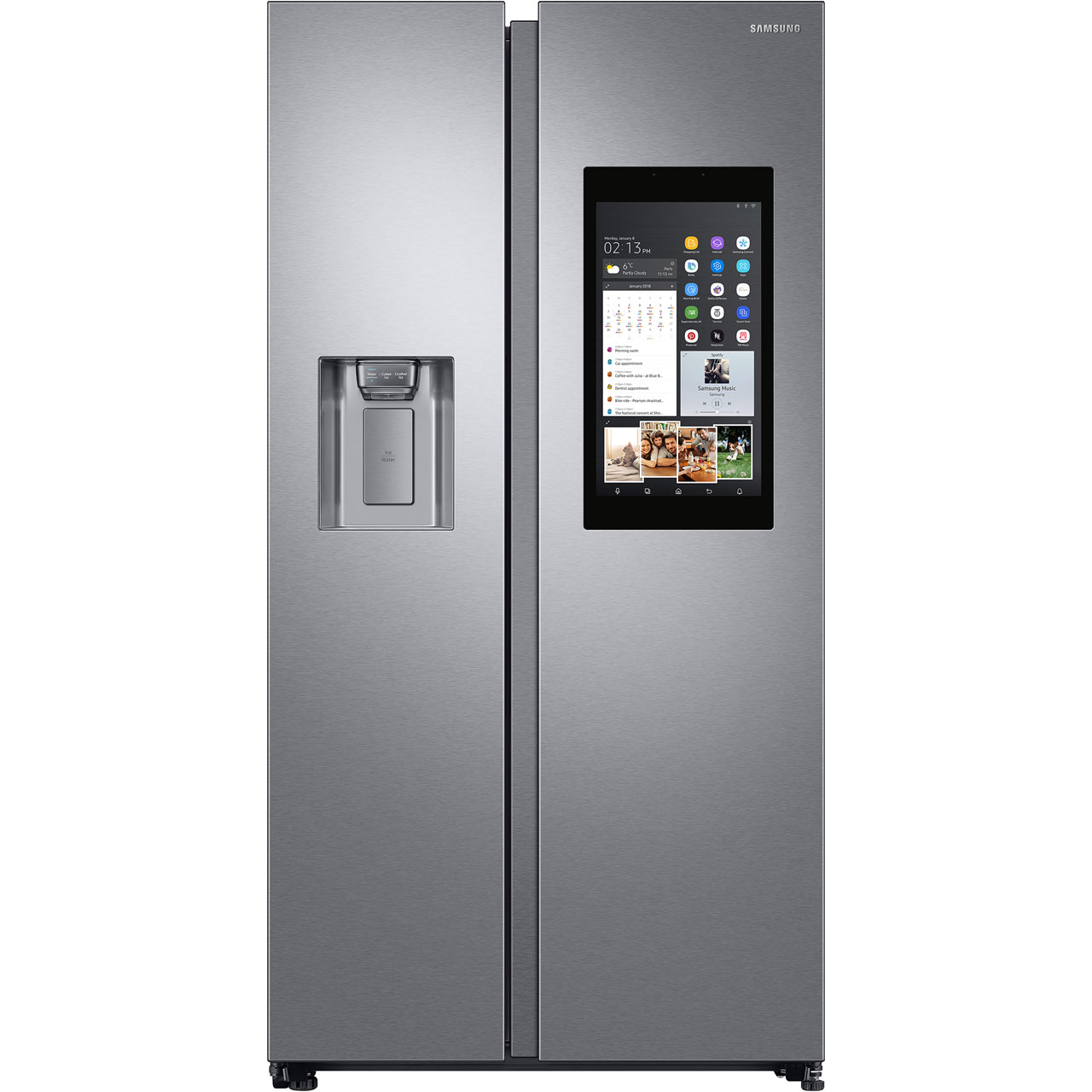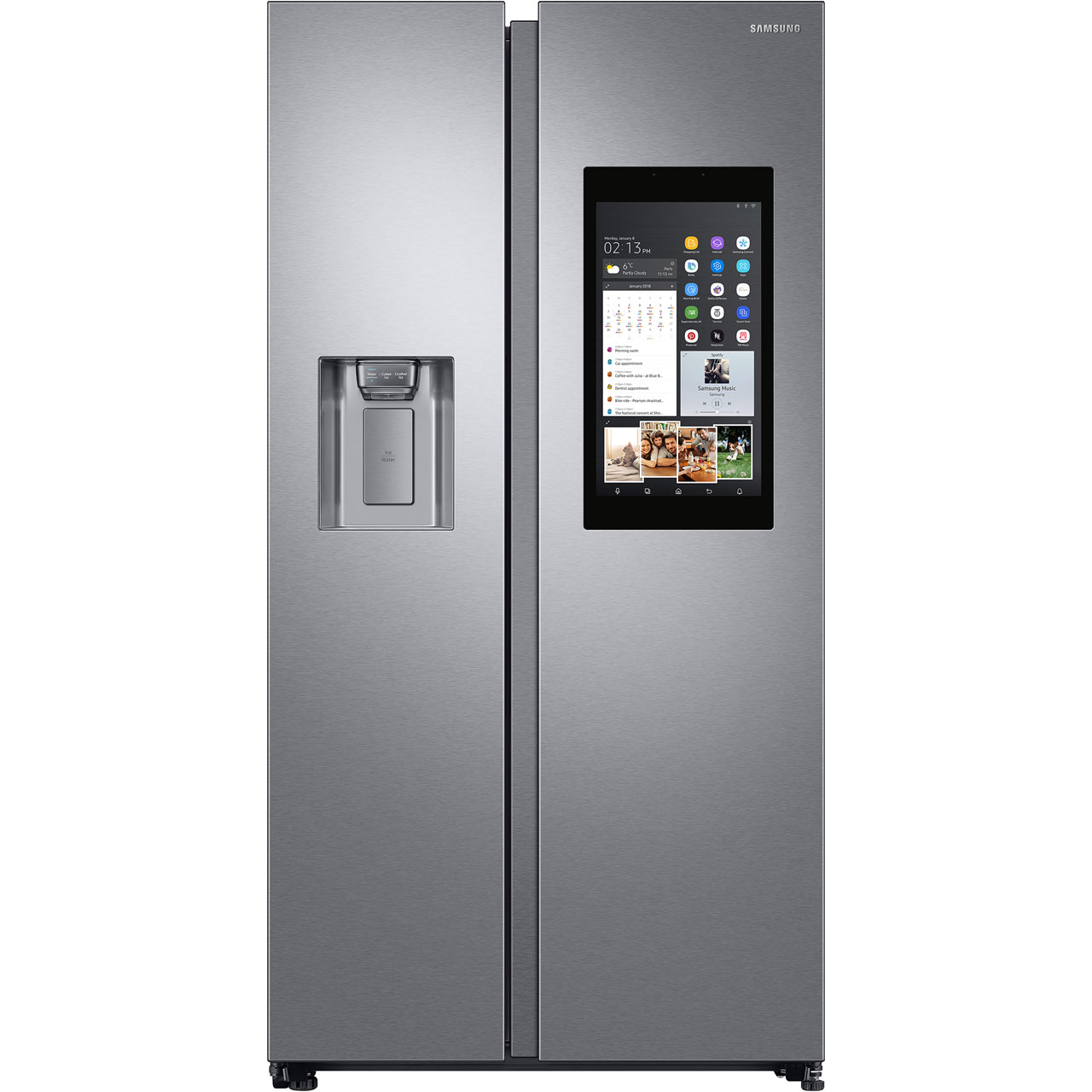 The Samsung Family Hub Fridge Freezer has an incredible amount of technology including a built-in display and food management cameras.
Other things to consider
Now you've chosen the type of tumble dryer that best suits your needs, what else should you consider?
Manual vs automatic
Many new tumble dryers include sensor technology that can automatically judge the weight of the washing loaded and select a drying time to suit, stopping when it senses it's complete.
These programmes are good when they work well, but frustrating when they don't. Be sure to read our reviews to see how they fare.
Manual dryers, on the other hand, rely on you setting the time of the cycle. This can mean you over-dry or under-dry clothes, but they'll usually be cheaper.
What size of drum?
The average tumble dryer offers a 6-8kg drum, with some going up to 10kg and tabletop dryers as low as 3kg. A family household will probably want to consider dryers of 8kg and up to be the most efficient.
Bigger machines take less time to dry more clothes, but will use a greater amount of energy in the process. If you're only ever getting it to half capacity, you'll be spending more on energy than you have to, so be sure to pick a size that suits.
Check the design
Before you buy, be sure the design works well for where  the unit will be placed. For example, some have reversible doors so you can change from a right opening to a left opening, and others have drum lights to make it easy to see what you're doing in darker rooms.
You might also want to check that lint- and micro-filters are in a convenient place for cleaning, and that the water reservoir in condenser dryers is at an easy height to empty.

Key features:
8kg max load
A+ energy rated
Heat-pump technology
16 programmes
Automatic sensor controls
The top-of-the-range Grundig GTN38240GCW is a decent – if not perfect – dryer, which has seen a price drop in recent months that makes it well worth a look.
It offers a generous 8kg maximum load capacity, 16 programmes that cater for the widest variety of materials, and some responsive touch controls that mean using it is really simple.
It uses super-efficient heat-pump technology to get your clothes dry, and comes complete with automatic sensor technology too, meaning there is no need to set a specific load weight – the dryer will do it all for you on selected modes.
Simply group your clothes into similar textiles, choose how dry you want them (extra, cupboard or iron dry) and when you want the drying to start, and the Grundig will do the rest.
It's not the quickest dryer we've tested, but it is efficient, producing excellent drying results across a variety of tested settings. It's cheap to run too, but a little on the noisy side. Not so much to intrude, but certainly to know it's there.
Read the full Grundig GTN38240GCW review
Key features:
8kg max load
16 programmes
A+ energy rating
Heat-pump technology
Automatic sensor controls
The Indesit IDPE 845 A1 Eco is an all-singing, all-dancing tumble dryer with stacks of features and functionality for every drying scenario possible.
As its flagship condenser model with heat-pump technology, the IDPE 845 A1 Eco offers sensor drying for up to 8kg loads, with A+ energy efficiency and 16 drying programmes.
These programmes are joined by several additional options and features, and while it's great to have the choice, it means it can be a little tricky to understand. You'll probably be making frequent visits to the user manual before you're sure about which setting does what.
Once you're clear though, its performance speaks for itself. It offers great drying results on the sensor programme, and plenty of manual and timed options for those who prefer things a little more traditional.
It isn't quiet by current standards, but there's no arguing its effectiveness and low energy consumption.
While it might be a touch complex in use, this is a modern, efficient tumble dryer with a solid performance at a good price.
Read the full Indesit IDPE 845 A1 Eco review
Key features:
8kg max load
16 programmes
A++ energy rating
Heat-pump technology
Automatic sensor controls
The neat-looking Blomberg LTS2832 is one of the best-value heat-pump tumble dryers we've come across.
For £450, you're getting a whole lot for your money, including sensor drying, a large capacity and a fully illuminated drum. It dries well, sips power and is easy to use, plus has a number of neat design features that show real thought has been put into this.
To keep things simple, it's controlled by just one knob and four buttons, with a generous choice of 16 programme settings. There are very few add-ons or features outside of this though – no options for half loads or crease guarding for example – the Blomberg just gets on with the job at hand.
And it does so very well indeed, performing within our ideal standards for dryness with each programme setting we try.
Our only niggle is its one-direction spin, which causes a little more creasing than machines with more advanced drum motions.
The Blomberg LTS2832W remains a superb value dryer in spite of this, mixing great drying performance, ease of use and outstanding energy efficiency in equal measure.
Read the full Blomberg LTS2832W review
Key features:
9kg max load
14 programmes
A++ energy rating
Heat-pump technology
Automatic sensor controls
Samsung's latest batch of heat-pump tumble dryers promise incredible energy efficiency and super-accurate sensor-based drying, all in a stylish, well-thought-out design.
The DV90M5000IW is the range's huge 9kg capacity model, and comes with a choice of 14 programmes, a drum light so you can see what you're doing, a shoe rack for filthy trainers and a single fluff filter for easy cleaning.
The DV90M5000IW is beautifully straightforward to use, working well on its automatic settings and reliably turning itself off when it reaches the required dryness level. It can even text you to let you know it's finished.
Most importantly, it's a consistent performer too, drying evenly and in good time, no matter the programme. Plus it's even quieter than quoted, so it won't cause a racket when it's on.
Put all this together and the Samsung DV90M5000IW tumble dryer simply blew us away. It offers excellent drying results, with great features and the lowest energy consumption per load we've ever tested. This is an outstanding all-round dryer.
Read the full Samsung DV90M5000IW review