What is aptX and aptX HD? What you need to know
AptX is the superior Bluetooth format. Here's everything you need to know for better audio quality.
A growing number of smartphone manufacturers are dropping the headphone jack from their devices. The ability to go wire-free when listening to music is becoming more important, particularly when you're inevitably likely to lose the fiddly wired adapter that comes in the box.
The only problem is that, traditionally, the audio quality of wireless music hasn't been able to challenge its wired counterpart. For many audiophiles, it never will – but there are technologies available that can get it sounding pretty close.
That's where aptX comes in. You might have seen it mentioned in some of our reviews – or plastered proudly on the box for headphones, soundbars and speakers – but not been exactly sure what it means. Worry not, we've got you covered with everything you need to know below.
Related: Best wireless headphones
What is aptX?
At its most basic, aptX is an audio codec that can be used to compress and decompress music when streaming via Bluetooth. It acts like the packaging of your audio parcel, while Bluetooth A2DP (the most commonly used Bluetooth profile) is the courier that delivers it.
It was first developed in the 1980s and went into commercial production in the 1990s, before being acquired by chipset manufacturer Qualcomm in 2015. As of 2009, aptX started to be applied to consumer electronics, and it has gone on to be adopted by some hundreds of leading audio brands.
It's an upgrade to the standard lossy SBC (Subband Coding) codec, which tends to support Bluetooth A2DP music transfer at something like 256kbits/sec. Translation: your device might be sending out good-quality audio files, but you won't be hearing better than MP3 quality at the other end.
AptX came about in an attempt to change that. It uses an improved proprietary compression to squeeze the music down to a size that's similar to SBC, but while keeping more of the audio's original frequency range.
This promises a "CD-like" transmission of your music, although the compression it uses means it can't quite mimic the 16-bit/44.1kHz quality you'll hear on a disc.
It does help to keep latency to a minimum compared to SBC, however. That's particularly useful for keeping dialogue in sync when you're watching video, and it will sound better too.
What about aptX HD?
In an attempt to improve things further still, Qualcomm launched aptX HD in 2016. This promised to offer support for wireless high-res audio, up to 24-bit/48kHz.
Despite its "better than CD" boast, technically it's still a lossy format, due to bandwidth restrictions that make it impossible to apply lossless coding at every step.
However, it's still considered "near lossless", since it maintains high-res qualities such as a dynamic range of at least 120dB and audio frequencies up to 20kHz.
It also promises a lower signal-to-noise ratio through encoding and decoding, less distortion and requires less processing power too, so it won't drain as much of your battery.
Related: Best soundbars
AptX vs aptX HD
The frustrating thing about aptX (and also, aptX HD) is that it needs both a decoder and a receiver to work.
That means that both your source device (whatever is sending the audio via Bluetooth), and the device on which you're receiving it (be it a speaker or a pair of headphones), must support the technology in order for it to work.
That means most Apple fans are out of luck (Macs support aptX, but iPhone and iPad do not), since the company doesn't recognise it. The majority of Android smartphones do, however, as will a lot of wireless music players.
If it's the best in audio quality you want, then aptX HD is still playing a bit of catch-up. However, more the 60 devices now support it, with manufacturers including Sony, LG, Audio Technica, Bowers & Wilkins and Naim adding the improved tech to their devices.
Related: Best Bluetooth speakers
AptX alternatives – AAC and LDAC
Of course, aptX isn't the only codec trying to give wireless audio quality a boost. Apple is working hard on its own attempt to improve the Bluetooth experience.
It uses the better quality AAC (Advanced Audio Coding) instead of SBC, which – just like aptX – requires AAC-supporting headphones in order to get the benefit. It's still lossy, but takes the fight to regular aptX for the amount of data it's able to transmit.
Paired with Apple's proprietary W1 chip in the iPhone 7 onwards and headphones such as the Beats Solo 3, the Bluetooth experience is simpler, quicker and more stable too. It's just a shame more third-party manufacturers haven't been able to get on board to spread the benefits further afield.
As for something that's challenging aptX HD, we have to look to Sony and its LDAC format. It's capable of transmitting around three times more data than standard SBC, and can support wireless music up to 24-bit/96kHz – so a little higher than that supported by aptX HD.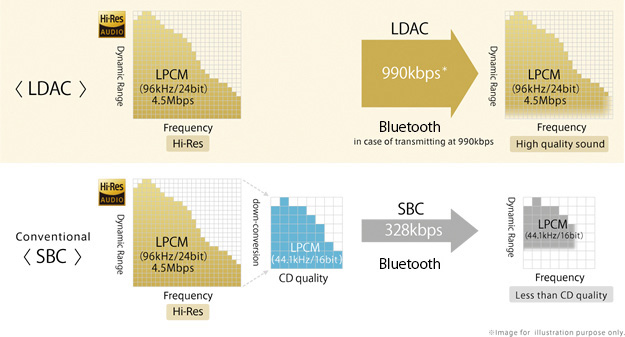 At this higher level, it remains a lossy format like the rest of them, due to the amount of compression required to transfer such large files – but it's close.
That's because Sony says that LDAC actually adds to the bit-rate of A2DP in order to transmit more data than would usually be allowed – managing up to 990kbits/sec at its highest quality.
This means CD-quality music should be transferred losslessly without bother, but high-res files will fall a little short of their original glory. They'll still sound far better than standard Bluetooth, though.
To get LDAC, you'll need compatible hardware. And since it's a Sony concept, it's little surprise that the majority of kit featuring support for the format comes from the Japanese manufacturer itself, like the Sony MDR-100ABN headphones.
That could be about to change, however. Sony, rather cleverly, has donated its LDAC technology to form part of Android Oreo.
With more smartphones able to get on board with the tech, it could mean Sony gets more licensing requests for LDAC to spread its wings to third-party headphones and speakers too. Watch out, aptX HD…