Black Friday Drones Deals 2018: Fancy yourself a high-flying drone for some slick acrobatics or pro-grade video? Then you'll surely find the perfect drone deal here, with Amazon, Currys and DJI all joining in on the Black Friday madness. For more great deals like this, check out our Black Friday Deals hub.
Black Friday Drones Deals
Black Friday and Cyber Monday are here, which means we've been eyeing up the drone deals like a very jealous hawk.
There are some excellent deals on DJI's current drone range, which will be available until 11pm on Monday 26 November.
If you can't quite stretch to a new mode, there are some excellent deals on previous generation drones too, which we've rounded up below.
For example, you can pick up DJI's original Mavic Pro for just £699, which is a massive £500 saving. Our favourite deal so far, though, is still the £100 discount on the DJI Mavic Air, which is a superb mid-range drone that's ideal for both beginners and hobbyists.
We'll be updating this page by the minute, so make sure to check back for the latest drone bargains.
---
Best Drone Deals – DJI
Most of the DJI store's deals have been equalled or bettered elsewhere, but it still has the lowest price on the DJI Spark, which remains the best budget drone for beginners looking to get into aerial snapping and videography.
Best DJI deals – DJI's Black Friday discounts
Looking for a beginner-friendly outdoor drone? The DJI Spark is still the best out there, thanks to its combination of a 1080p camera and its QuickShot autopilot modes. In this bundle it also comes with a controller.
Best Drone Deals – Amazon
Amazon has the best offers on DJI's drones, including the excellent £100 discount on the Mavic Air. You can also make a 22% saving on the Parrot Anafi, which is a great alternative to the Mavic Air for those who can't quite stretch to the DJI.
Best Drone Deals – Currys
Anyone looking for an affordable way to get into FPV drone racing should check out Currys PC World's offers on Parrot Bebop 2 bundles, which come with goggles and everything you need to start your drone racing career.
Best Currys Drone Deals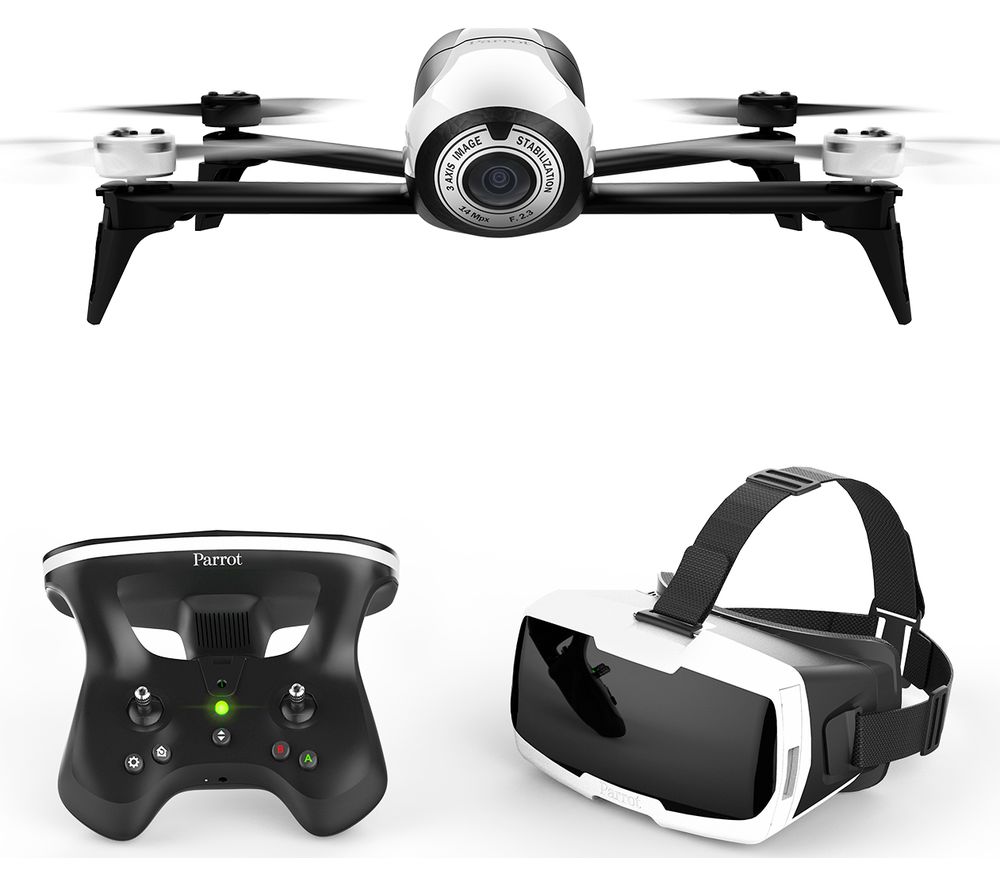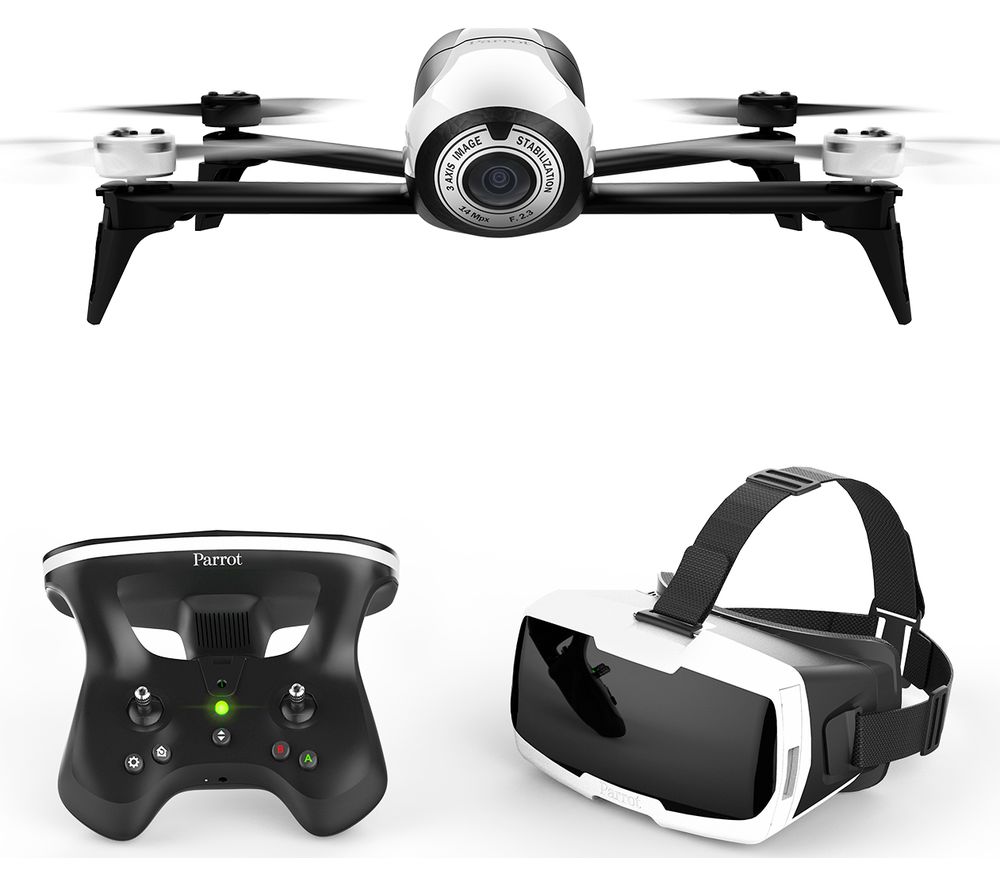 If you don't need the added benefits of the Bebop 2 'Power Edition' like a spare battery, then this deal is an excellent way to get an affordable taster of FPV drone flying via a pair of included goggles. The Bebop 2 can also record 1080p video and fly at 40mph.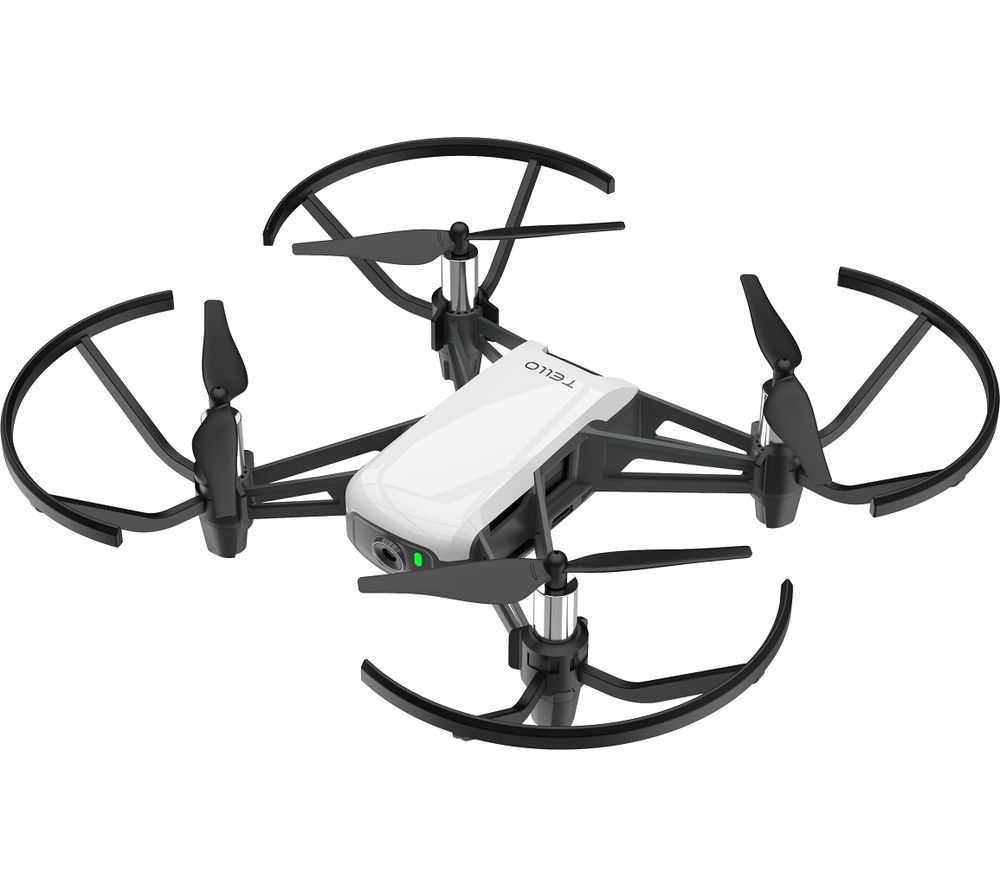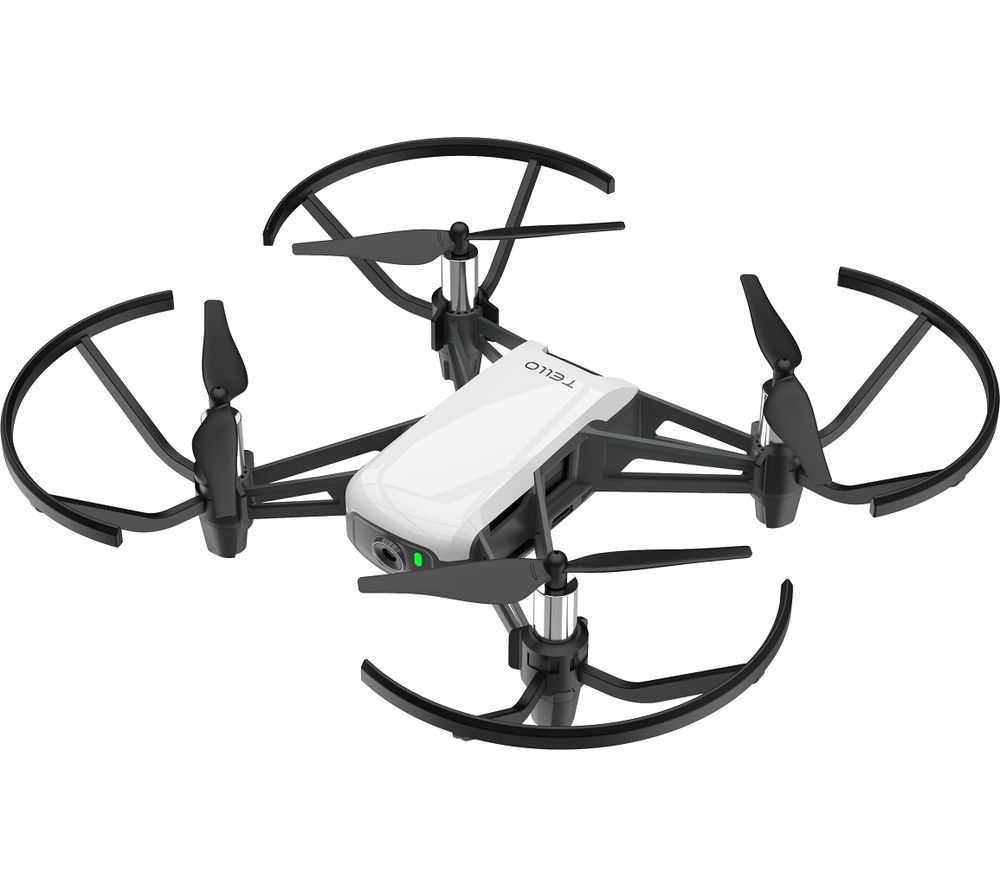 This dinky little drone is a collaboration between DJI and Intel and is a great introduction to drone flying. It's got clever tech inside and a very respectable 13 minute flight time for a drone of its size. It can also be used to learn coding, making it as educational as it is fun to fly.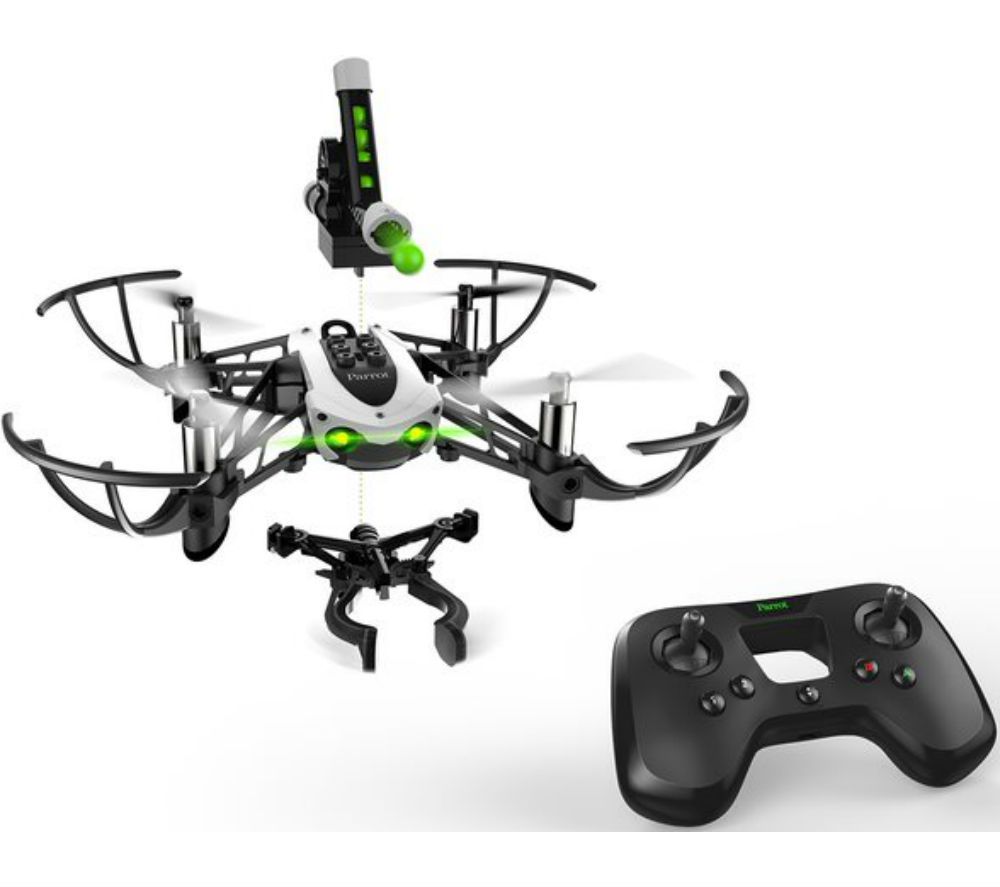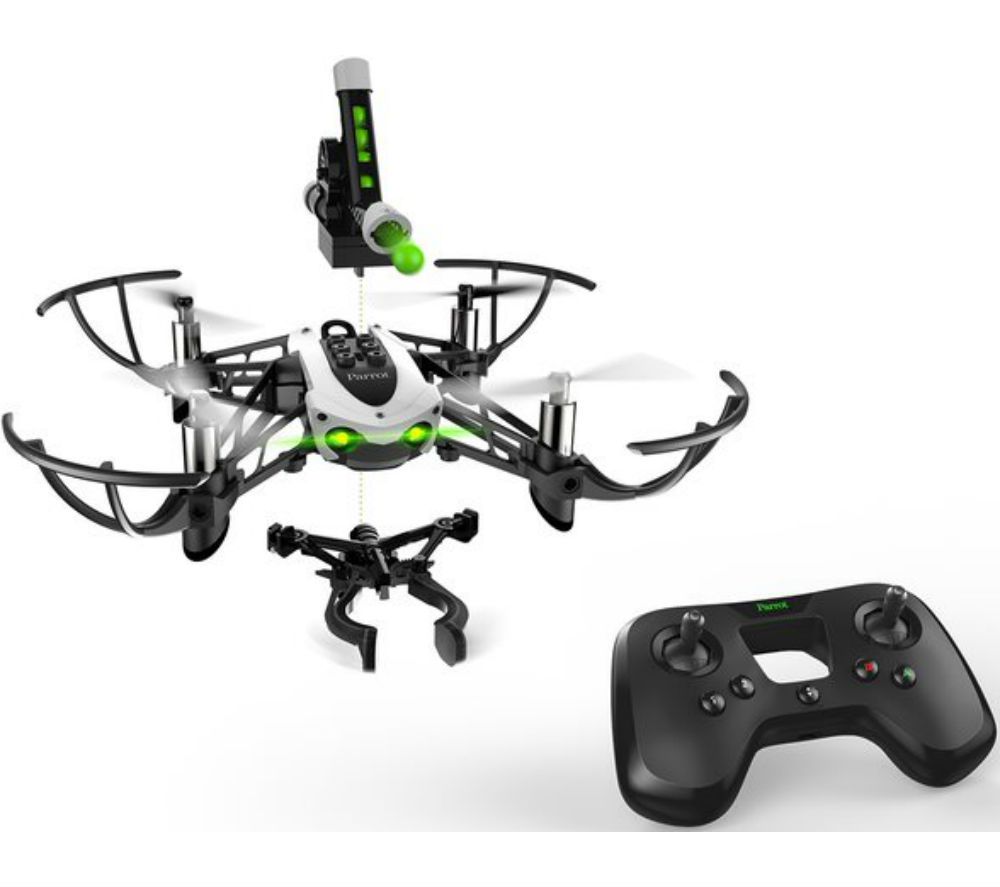 Save £130 on this excellent drone by applying the code MAMBO 120 at checkout.
Best Drone Deals – Drones Direct
Drones Direct has the best price we've ever seen for the previous DJI Mavic Pro, taking it down to an incredible £699. Its obstacle sensing and three-axis gimbal put it way ahead of rival drones at this price, aside from DJI's own Mavic Air.
DJI Mavic Pro – Black Friday drone deals
This is the lowest price we've ever seen for DJI's original Mavic Pro, which is still an excellent 4K drone with a 27-minute battery life. In this deal you get a staggering £500 off.
---
Want more Trusted Reviews deals?
How about these:
---
UK Drone Laws – where can and can't I fly my drone?
This year will be one of the last Black Fridays before new drone laws kick in on 30 November 2019. From then, all drones that weigh 250g or more (pretty much every drone) will need to be registered with the Civil Aviation Authority (CAA) and owners will need to take an online safety test.
The fundamental rules about where you can and can't fly your drone, though, will remain as they are now – this includes keeping distance from people and property, always keeping the drone in your line of sight, and staying below 400ft. For everything you need to know about safe drone flight, be sure to read our UK Drone Laws guide.
If you're in doubt about whether or not you can fly your drone somewhere, it's best to play it safe and look for officially approved zones, such as the drone flying field in London's Richmond Park. Most advanced drone apps will also automatically detect 'no fly' zones and prevent you from flying around dangerous areas like airports.
How to choose a drone deal
Where will you fly?
It's easy to get carried away with visions of your drone following you around like a loyal, flying robo-pet. But the rules around drone-flying in the UK (see above) are pretty strict, so it's worth thinking about exactly where you might take your new flying camera and if your top targets are a good fit.
This includes not just the size of the flying zone but also the typical conditions – if you're planning to shoot in really exposed areas like the coast, then it might be worth considering a hexacopter (which has six propellors) over a quadcopter (which has four props), as this can help with flying stability.
That said, some high-end quadcopters like the DJI Mavic 2 Pro are impressively stable in winds up to 15-20mph. Either way, drones with three-axis gimbals (mechanical ones rather than electronic) give you the best chance of smooth, vibration-free video in breezy climates, though this does also come at a cost.
Pilot episodes
Are you more excited by the idea of flying your drone or filming with it? If snagging spectacular aerial videos is more important to you than racing in sport mode, then it's best to pick a model with solid auto-flying modes and obstacle avoidance detection. Right now, DJI's drones are the best for both of those things.
The 'intelligent flight modes' found in DJI's drones, and others like the Parrot Anafi, are like your camera's 'auto' mode, taking control of the flying once you've chosen a particular route or spot. If you want your drone to automatically follow you around, you'll need one with 'Follow Me' functionality (which usually works via GPS) or DJI's ActiveTrack (which tracks you using software).
Many of these drones also have 'Sport' modes, which give them higher top speeds and sharper handling. But if you only want a drone to fly around rather than film with, then it's worth looking at a cheaper model that's designed for racing like the Parrot Mambo. Most organised races are done in FPV (First Person View), so if that tickles your fancy then check out bundles like the Parrot Bebop 2 Power FPV, which include a headset that lets you see the view from your drone's camera.
Boost your juice
As far as drone technology has come in the past few years, one familiar issue still holds them back – battery life.
Most 'travel drones', which are ones with folding designs that can easily fit into your backpack, can only stay in the air for 20-30 minutes on a single charge. And that includes taking off, landing, and potentially rescuing it from a tree.
That's why it's usually a good idea, if you can afford it, to buy your drone in a bundle that includes a spare battery, so you can double your flight time on a single trip. These are often called 'Fly More' bundles, and also include handy extras like spare propellors and cases.
If your budget doesn't quite allow for that, though, then consider models (like the Parrot Anafi) which support direct USB charging from external batteries. This means you can give your drone it a quick boost while you're on the road, rather than waiting to get home and plug it into the mains.
Black Friday Drones Deals 2018 – What to expect
Just a few years ago, drone flying was a hardcore hobby for dedicated obsessives with money to burn. Now, though, drones have well and truly entered the mainstream.
Your average drone is an awful lot of fun to fly, while automated systems make it relatively easy to get (and keep) these little devices airborne and safe from tree branch incidents.
The quality of drone cameras has also increased massively since the early days, with 4K footage and high-megapixel stills now on the cards. This has opened up a whole new world of amateur aerial photography and video capture.
All of which makes Black Friday 2018 a brilliant time to invest in your first flying camera. Despite recent advances in drone technology, the price of admission has actually gone down – and price tags will never be lower than in November's sales extravaganza.
DJI currently owns the drone skies, and we think it's worth keeping your eye on three of its drones in particular. Other than the entry-level DJI Spark, the DJI Mavic Air is the best all-round drone for beginners looking for a sub-£1000 model. It combines an incredibly compact, folding form factor with an excellent 4K camera and DJI's class-leading obstacle avoidance tech.
If you're looking for the pinnacle in consumer-level drones, then keep scanning this page for deals on the DJI Mavic 2 Pro and Mavic 2 Zoom, which are also likely to get Black Friday discounts. The Mavic 2 Pro features a large, one-inch sensor, which produces superb video quality, while the Mavic 2 Zoom features 2x optical zoom.
If those are a bit too pricey, there are also likely to be deals on drones that fly a little lower in terms of asking price. Look out for the Parrot Anafi, a 4K drone that's a fine, cheaper alternative to the DJI Mavic Air. And the best bet for Christmas stockings is the Ryze Tello, a mini starter drone that may see several pounds shaved off its already sub-£100 price tag.
We may earn a commission if you click a deal and buy an item. That's why we want to make sure you're well-informed and happy with your purchase, so that you'll continue to rely on us for your buying advice needs.