Best Apple Watch Deals: Apple has just announced the Apple Watch Series 4, which means there are some great deals to be had on older Apple Watch models prior to Black Friday.
If you're looking to get yourself a smartwatch and your chosen smartphone is an iPhone, there really is no choice to make. It's Apple Watch all the way.
You shouldn't feel too bad for this apparently lack of choice – the Apple Watch just happens to be the best smartwatch on the market. It's simply got the best balance of everyday smartwatch features and fitness tracking capabilities – and it looks and feels great, too.
Pre-order: Apple Watch Series 4 for £399 from Argos
---
Jump to: Which Apple Watch to buy?
---
The beautiful thing about the Apple Watch when it comes to snagging a great deal is that it's changed very little externally over the year. The Series 3 watch looks much the same as the original model, with the key differences being internal.
Add in Apple's typically strong legacy and app support, and it makes picking up an older Apple Watch for a knock-down price all the more appealing.
Whichever Apple Watch model you're after, read on to grab the best price possible.
Apple Watch Black Friday 2018
It's worth noting that the Apple Watch may well feature in Black Friday 2018 for anyone patient enough to wait. Last year for Black Friday 2017 we saw discounts as high as £60 off the usual price of an Apple Watch Series 3.
Last year, Apple was also offering £120 vouchers on certain purchases when buying direct, which made for a tasty discount for those looking to pick up other Apple devices down the line.
For those of you not wanting to wait a few more months to pick up an Apple Watch in Black Friday, we've rounded up the best Apple Watch deals you can pick up right now.
All prices were correct at time of publication but are subject to change. If you see a deal you're interested in, act fast before it's gone.
Related: Best iPhone X deals
---
Best Apple Watch Series 3 Deals – GPS + LTE
A massive saving on this 38mm model with more premium stainless steel case. It's reduced to clear so it might not be around for long. This also includes a 2-year warranty.
Now that the Series 4 is here, you can pick up the larger 42mm for a massive discount, too. You also get John Lewis' excellent 2-year warranty.
Best Apple Watch Series 3 Deals – GPS
The lowest price of entry for buying an Apple Watch 3 right now. Going through John Lewis also nabs you a 2-year warranty.
A big saving here now that the Series 3 is no longer the latest model.
Best Apple Watch Series 1 Deals
The Apple Watch Series 1 with Silver Aluminium Case and White Sport Band in 38mm.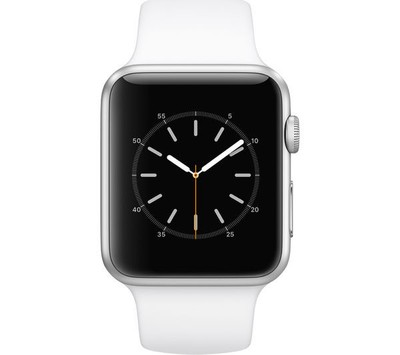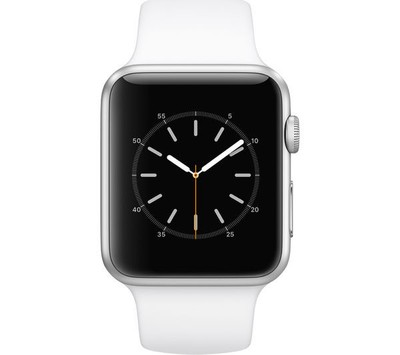 You can save £20 off the 42mm Series 1 white model courtesy of Currys on eBay.
---
Best Apple Watch accessories deals
UGREEN 4400mAh portable charger
If you need a way to keep your Apple Watch's battery topped up while you're on the move, perhaps when travelling for work, this UGREEN 4400mAh portable charger could be just what you need. Not only can it top up an Apple Watch's battery around eight times, there's an integrated Lightning cable so you can top up your iPhone, too.
It's charged over micro-USB and can also make for a handy charging desktop dock; you can plonk your Apple Watch on to charge while the UGREEN portable charger is plugged in at the same time. It works out cheaper than buying a second official Apple Watch charger.
---
Want more Trusted Reviews deals?
How about these:
---
Which Apple Watch model to buy?
There are now several different Apple Watch models available. Series 1 is the first-gen model revamped with a new, faster processor, but isn't water-resistant nor does it have GPS. The Series 2 is a little tougher to track down these days, but it first introduced built-in GPS and water-resistance.
The Apple Watch Series 3 introduced optional LTE connectivity in 2017, along with a healthy performance boost.
Most recently, Apple announced the Apple Watch Series 4 on September 12, 2018, with pre-orders going live on September 14. This significant overhaul boasts a more expansive screen, a rebuilt crown with haptic feedback, and advanced heart-tracking capabilities.
You can find out everything you need about how the models compare in our guides:
Apple Watch size options
Right up until the Series 4, all Apple Watch models have been available in two basic sizes: 38mm or 42mm. For the Series 4, that has expanded to 40mm and 44mm, though your old Watch bands will all still fit.
In all cases, the larger model costs a little more than the smaller option.
Consider the size of your wrist and how large or small you'd like the watch to appear before making your choice of model. While traditional watches are measured horizontally, Apple measures its watches vertically. The smaller size has a 38mm/40mm height, while the larger sits at 42mm/44mm. In terms of function they're identical but they do have different resolutions based on the size.
We may earn a commission if you click a deal and buy an item. That's why we want to make sure you're well-informed and happy with your purchase, so that you'll continue to rely on us for your buying advice needs.