Best Xbox One Deals for June 2018 – Bargain One S and One X consoles
Best Xbox One S and Xbox One X deals: If you're looking to shell out on a new console, look no further as we've collected up all the best Xbox deals to help you find the best console or bundle to get you gaming.
Thinking about getting an Xbox One but aren't sure where to begin? Microsoft's console now has plenty of different types alongside a bunch of exclusive games, so it can be difficult. But worry not, Trusted Reviews has compiled some of the best deals from across the web on consoles, games and more.
Related: Best Xbox One Games
If it's the entry level model you're after then the Xbox One S can help you save money without cutting back on button bashing. Or if you want to splash out on the latest generation of graphics, the Xbox One X is for you.
While both consoles will play all the same games, some of those on the Xbox One X will get a graphical boost to 4K, for a more immersive experience. The Xbox One S, as the more affordable option, has less power so you'll also get slightly longer load times. Just a few things for your consideration when looking at those price differences.
Xbox One X and Xbox One S deals change regularly so we will be updating these often.
Related: Xbox One X vs Xbox One S
All prices were correct at time of publication but are subject to change. If you spot a deal you like, snap it up before it's gone.
---
Best Xbox One Deals – Xbox One S
While the Xbox One S is the weaker of the two console options here, it's still no pansy. This is a powerful console that will render all the games you throw at it beautifully in Full HD. It also looks great and has plenty of storage with options available too.
The best part is you can get some great deals on the Xbox One S right now including some bundles that offer top end games for a price that is near to free when compared to buying the console alone. If you do want the console on its own to start, or a bundle, there are a few great options out there right now.
Best Xbox One S Deals
Grab the awesome Microsoft console in white with a whopping TB drive for a huge saving.
View Deal
Buy fromAmazon
If you don't need as much storage space, buy direct from Microsoft and you'll make a huge saving on this still brilliant games console.
View Deal
Buy fromMicrosoft
Best Xbox One S Bundle Deals
The console alone is price higher than this is some places so to get a top racing games and another thrown in for free is ideal.
View Deal
Buy fromAmazon
Grab the console for cheap, yet this price also includes a game to get you started. You also get sent a discount code to buy 6 months of Xbox Live Gold for just £9.99 (usual price £29.99).
View Deal
Buy fromAmazon
If you want a large capacity console and a whole bunch of games this is one of the best deals out there right now.
View Deal
Buy fromGame
---
Best Xbox One Deals – Xbox One X
The Xbox One X is, as we've said already, the don daddy of the Microsoft console offerings. This crams in all the teraflops of power which equate to the quickest load times and the highest 4K resolution games possible.
As a result you'll pay a bit more for this console. But there are still deals to be had, both on the console itself and bundles with great games. Here are the best ones out there right now.
Sign up for the newsletter
Get news, competitions and special offers direct to your inbox
Best Xbox One X Deals
Get this top console for a huge saving and even click and collect the next day from your local Argos with this eBay deal.
View Deal
Buy fromeBay
If you want to get your console directly from Microsoft you can get it for less than the original price now with free delivery thrown in.
View Deal
Buy fromMicrosoft
Best Xbox One X Bundle Deals
Get the latest console in black with 1TB storage and two brilliant games for less than ever.
View Deal
Buy fromGame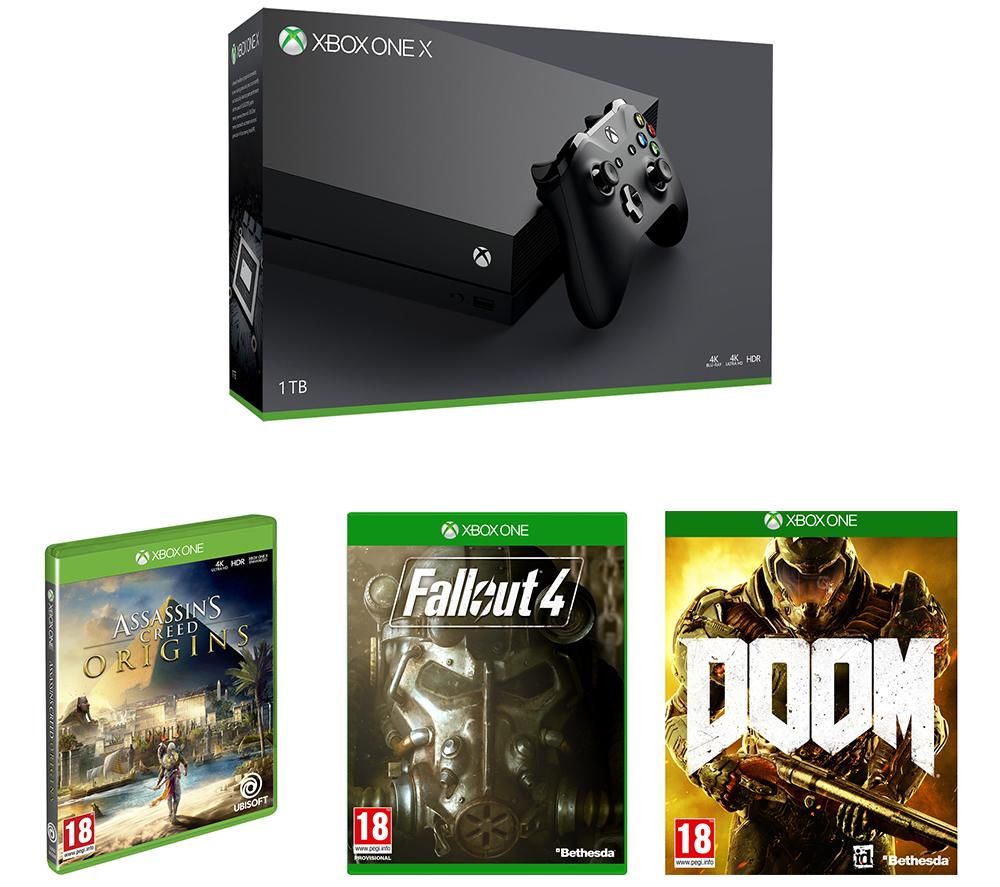 Grab the best Xbox console with some of the best games all for less than the price of the console itself not long ago.
View Deal
Buy fromCurrys
Related: Upcoming Xbox One Games
---
Best Xbox One Game Deals
Game deals sell out fast so be sure to check back regularly to see the best deals out there for the Xbox One X and Xbox One S.
FIFA 18 – £19.75
Fancy the biggest football sim on the planet for under £20? Amazon's got you covered.
Buy now from Amazon
Resident Evil 7 – £14.85
Capcom's survival horror masterpiece just got some downloadable content freebies, so now's a great time to pick it up on the cheap.
Buy now from Amazon
Stardew Valley: Collector's Edition – £14.85
Stardew Valley is a fantastic little game capable of draining dozens of hours without you even noticing. This neat little edition also includes a map, soundtrack and even more goodies for just shy of £20.
Buy now from The Game Collection
Monster Hunter World – £36.99
World is now Capcom's most successful release in history. This is for good reason, as the sprawling RPG is absolutely brilliant.
Buy now from Amazon 
Star Wars Battlefront 2 – £20
With a new update having just dropped for the space-faring shooter, under £20 is a nice price to pay.
Buy now from Amazon
The Evil Within – £4.99
Grab an insanely cheap deal on a game that could well send you insane, with fear – in a good way.
Buy now from Game
Titanfall 2 – £6
A measly £6 for a top mech battling wonder game? Yes please.
Buy now from Amazon
Best Xbox Live Gold Deal
If you want to get online then you'll need one of these – CDKeys is the cheapest retailer this week, with a sub costing you a penny under £34.99 for 12 months of membership.
Buy now from CDKeys
---
Want more Trusted Reviews deals?
Found an amazing deal online? Tweet us about it @TrustedReviews!