Best TV Deals: Cheap TVs in every size
Best TV Deals: If you're looking for a new TV, you've come to the right place. We have all of the best TV discounts across a range of brands and retailers.
With the World Cup right on the horizon, now's a great time to pick up a new TV. Thankfully, there are some bargains to be had on cheap TVs. This is because 4K TVs have become far more widely available, so much so that you'll probably struggle to find a TV today that doesn't support the Ultra HD resolution.
You might think that looking at 4K TVs for less than £500 will mean opting for unrecognisable brands and sacrificing features like HDR (High Dynamic Range), but that's not the case. Nowadays, you can get some sensational bargains without breaking the bank. You can even bag yourself a big-screen TV for a lot less money than you would think, with some 55-inch models coming in south of £500.
Related: What is HDR?
We've used our expert knowledge to find the best 4K TV deals that won't leave you with a severe case of buyer's remorse or a massive dent in your wallet.
Get a head start on Black Friday with some of the best TV deals broken down by the UK's biggest retailers.
---
Jump to: How to choose a 4K TV deal
---
Best TV Deals of the Week
All prices were correct at time of publication.
Best Co-op Electricals TV Deals
You can bag this excellent TV for a bargain price. We reviewed the 65-inch model for considerably more money and awarded it 8/10 Recommended. Be sure to use the code CT50 to get it for this price.
View Deal
Buy fromCo-op Electricals
Best Amazon TV Deals
Hisense make some of the best value 4K sets, and this one has gotten even cheaper, making it a great choice if you're in the market for a large 65-inch TV.
View Deal
Buy fromAmazon
After something a little more premium? Then you should check out the 4K, HDR ready Panasonic TX-65EX700B, which has had £800 cut of its price on Amazon.
View Deal
Buy fromAmazon
You can take off a whopping saving off this ginormous 2017 model from Hisense. This the lowest price it's ever been available for from Amazon.
View Deal
Buy fromAmazon
Best Argos TV Deals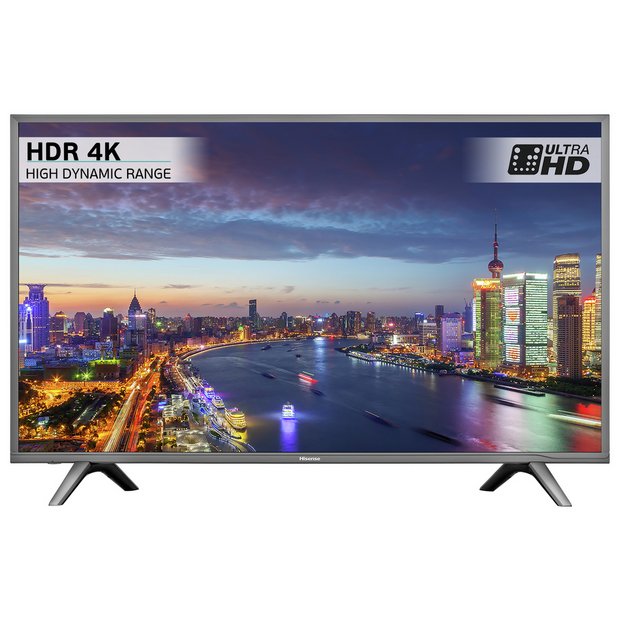 Your eyes do not deceive you. You can get a 43-inch 4K HDR TV for just £349.
View Deal
Buy fromArgos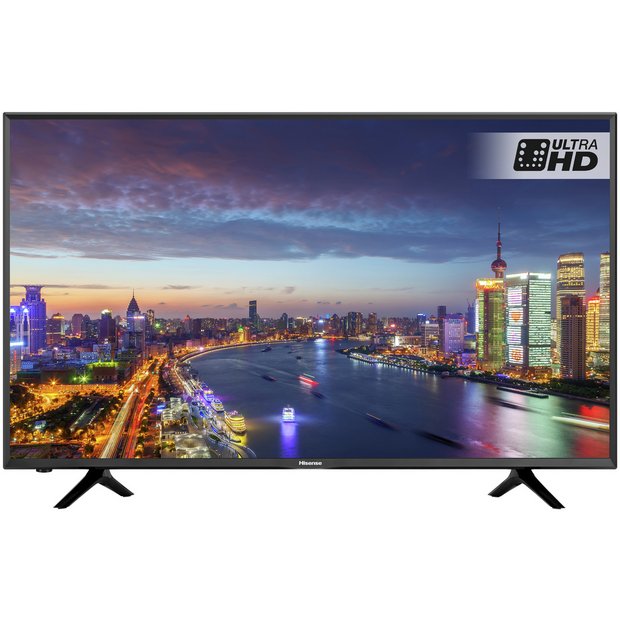 This is a fantastic deal if you want a bigger screen.
View Deal
Buy fromArgos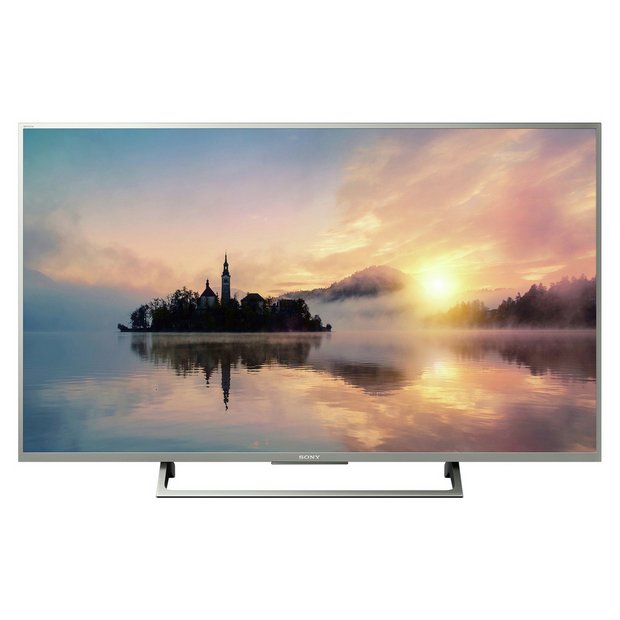 This stunning 49-inch Sony BRAVIA will look great in your living room and includes all the catch up and streaming services you could want.
View Deal
Buy fromArgos
Best John Lewis TV Deals
You can save a substantial £200 off this handsome 55" LG TV that includes Harman/Kardon tuned speakers and a central crescent stand, perfect if you only have a small TV stand. Also includes a 5 year warranty.
View Deal
Buy fromJohn Lewis
Best Very TV Deals
This massive Samsung 55-inch TV has had a massive price cut. This TV has plenty of smart apps to keep you entertained, from Netflix to the catch-up services. It also has 4K upscaling to make Full HD content look its best.
View Deal
Buy fromVery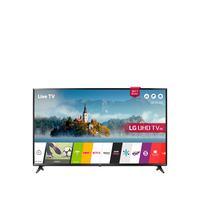 This big 55-inch LG TV includes built-in Freeview Play, letting you easily catch up on shows you've missed. It also runs webOS, LG's excellent operating system. It also supports Dolby Vision for even better HDR performance.
View Deal
Buy fromVery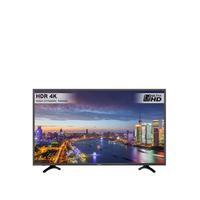 A massive 49-inch HDR TV for £350 sounds almost too good to be true, but it's a reality with a big £170 saving on this model.
View Deal
Buy fromVery
Want more Trusted Reviews deals?
How about these:
---
How to choose a cheap TV deal
Back in the day, 4K was a luxury limited to the very top echelons of the TV market. But since 2015 the price of a 4K TV has rapidly dropped to the point it's now pretty easy to pick one up without spending oodles of cash.
But before you go rushing off to buy the first 4K TV you see, be warned, 4K isn't the badge of quality it used to be. Nowadays, 4K, or Ultra HD as some manufacturers like to call it, is just a descriptive term telling you exactly how many pixels your screen can display at any one time. There are all manner of more important technical questions you need to answer before parting with your cash.
First of all, think about what size you need. The idea of a 65-inch beast may be appealing at first, but think if it'll actually fit in the space you plan to put it.
Sign up for the newsletter
Get news, competitions and special offers direct to your inbox
43-inch: If you're living in a small flat, or looking for a 4K TV for a spare room or bedroom, this is a good size. They're also generally the most affordable 4K TV option you'll find.
49-inch: Another common size point for most TV manufacturers and the one that will comfortably sit in most UK lounges.
55-inch: The breaking point where you enter big screen TV territory. The screens generally cost more than their smaller siblings, but if you have the space they're great for movie binging and split screen gaming.
65-inch: These are the biggest screens you'll get without having to sell a kidney. Though they're generally more expensive, there are still some cracking deals on 65-inch TVs if you know where to look.
There are a multitude of different operating systems being used on TVs at the moment, each of which features very different user interfaces varying features. If you're buying for someone that's not too tech savvy, you may want to stick with something they're already familiar with.
Related: Best 4K TVs
HDR is another important consideration. HDR is a new type of tech designed to let TVs offer better contrast, greater brightness levels and a wider colour palette – the end result being a much more realistic picture. It's being rolled out on numerous services and products at the moment. Big names offering HDR content include Netflix via streaming, and Apple with the Apple TV 4K. Gamers can also play select content in HDR if they have an Xbox One X or PS4.
The issue is, not all manufacturers are being entirely honest with their use of HDR branding. Some cheaper brands are claim to offer high dynamic range, when the TV doesn't actually meet the formal HDR standards more established players have agreed on.
As a rule of thumb, when buying a 4K HDR TV keep an eye out for UHD Alliance HDR or Dolby Vision branding/certification on the box if you want the best picture quality.
Spotted any great TV deals? Let us know on Twitter @TrustedReviews.